WesternU COMP-Northwest students assist at World Athletics Championships
October 14, 2022
Read 4 mins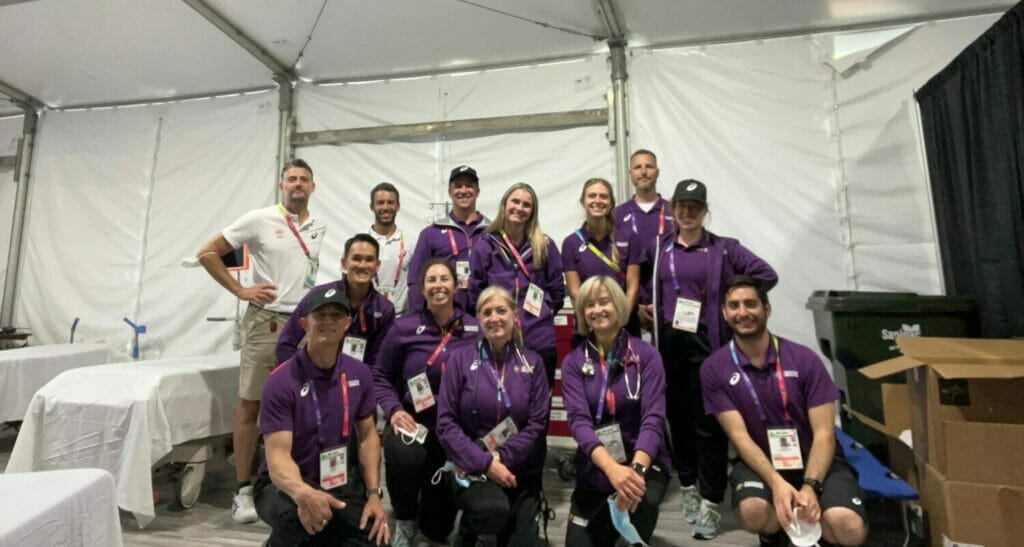 A group of 16 Western University of Health Sciences College of Osteopathic Medicine of the Pacific-Northwest students volunteered this summer at the World Athletics Championships Oregon22, the first time this event was held in the U.S.
More than 1,700 athletes from 179 countries (plus the Athlete Refugee Team) competed at Hayward Field at the University of Oregon. A record-breaking 29 countries won gold medals at these Championships, compared with 26 in 2017, according to the World Athletics website.
COMP-Northwest students joined more than 1,500 volunteers at the event, which brought together top athletes from around the world. Three world records were set in Oregon: Sydney McLaughlin of the U.S. in the 400m hurdles (50.68), Nigeria's Tobi Amusan in the 100m hurdles (12.12) and Sweden's Mondo Duplantis in the pole vault (6.21m), according to the World Athletics website.
The students' main task was to provide support for the onsite trainers and physicians. The medical director for the World Athletic Championships was Hans Notenboom, MD, who coordinated the medical student volunteers and made this opportunity possible for them.
"Dr. Notenboom facilitated the opportunity of a lifetime for our medical students in allowing them to see world renowned medical care firsthand," said Di Lacey, Associate Vice President for WesternU Oregon. "These athletes were competing for the top honors in the world. That level of pressure and performance demands the highest level of medical care and expertise. What an incredible privilege for our medical students to be able to observe and learn from this experience."
COMP-Northwest students were able to make connections with other medical professionals, including nurses, physical therapists, chiropractors, massage therapists, athletic trainers, and doctors, said second-year COMP-Northwest student Cesar Cornejo Ochoa. The doctors came from a variety of specialties including emergency medicine, sports medicine, and orthopedics.
"I was very impressed by how easily the medical teams all worked together and found creative solutions to problems due to things beyond their control such as missing supplies," he said. "Everyone was always willing to jump in and help with whatever was needed. No job was too small or menial for anyone in the team. My favorite part was how well we all worked together as a team to make sure the athletes were taken care off and able to compete.
"Finally, as far as medical things go, I loved watching the sonographer, Bill Medford, use point-of-care ultrasound to evaluate athletes," Cornejo Ochoa added. "It was impressive how easily he was able to use the ultrasound machine to make preliminary diagnoses, and I am excited that at WesternU we get to learn ultrasound before we go on to practice!"
The time spent at the WAC2022 was excellent exposure to how much goes into keeping watch over world class events, said second-year COMP-Northwest student Conor Davenport.
"From physical therapists showing their excellent knowledge of kinesthetic practices, to sports physicians demonstrating their preparedness to handle a broad scope of scenarios, everyone I had the chance to interact with at this event contributed something special to ensure the health and safety of the athletes," he said. "Even if it was in a small way, I was a part of a team that was out saving and improving the lives of others. This is why I wanted to get into medicine."
COMP-Northwest students learned more than just medical protocols. They also learned valuable lessons in logistics and communication.
"While volunteering at the WAC I was impressed by observing the physicians in charge and their ability to perform skills that are not taught in medical school but for some are innate and others learned from experience in leadership. Decision-making, organization, and common sense are just a few of the traits that I observed in my time volunteering," said third-year COMP-Northwest student Cortland Hutchinson. "I realized that those qualities were sharpened by personal experience, self-reflection, and post event team collaboration. I hope to not just focus on medicine in my next few years of training but also those leadership traits that I know will differentiate me from 'doing my job' and being a great doctor."
Communication was extremely important for the physicians at the World Athletic Championships, said second-year COMP-Northwest student Sam Arnot.
"Many patients came in for a short time or didn't understand English well, so the physician spent a lot of time communicating about the injury or even just something like allergies," he said. "One of the physicians would use analogies as a tool for understanding which seemed to help a lot. I observed the dedication of the sports medicine physician to the injured athletes and their team. The team cared deeply about the athletes like a family member. The physician didn't know them for too long but was clear about what the injury was and what was needed to be done moving forward. It was never too busy, and the athlete seemed to get as much time with the physician as they needed."
"It was interesting to see how quickly there was an established protocol each day, even though every day in every location there was a new group of volunteers to make up the medical team," said second-year COMP-Northwest student Kayla Baker. "Everyone was quick to share what they knew from previous locations/shifts, and note what had and hadn't been working previously, so every day the team was able to function more and more efficiently."