WesternU COMP-Northwest student to earn national award for her dedication to mentoring youth
Second-year WesternU COMP-Northwest student Madeleine Duncan will be awarded the prestigious United States Public Health Service Excellence in Public Health Award for 2022. She will receive the award during a formal ceremony in May.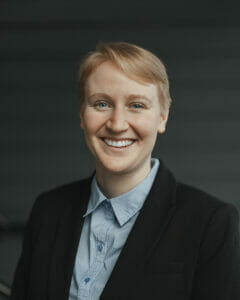 This national award is a distinguished honor and was achieved through the establishment of the medical student-to-high school student healthy lifestyles mentoring program in Sweet Home. This unique partnership between COMP-Northwest, Sweet Home High School, and the MIKE Program has been recognized as best practice in promoting the national Healthy People 2030 initiatives. Adolescent education on healthy lifestyles, rural health outreach, building healthcare workforce pipelines, and mentoring and inspiring adolescents in support of high school graduation and mental health are all key components of Healthy People 2030 for improved public health in local communities. Madeleine and her fellow medical student mentors have positively impacted the health and wellness of program participants, serving as role models for future physicians.
"We are thrilled for Madeleine Duncan to receive the United States Public Health Service Excellence in Public Health Award," said Justin Zellinger, Executive Director of MIKE Program. "Madeleine exemplifies what public health can and should be throughout this nation. Her work and leadership in mentoring health education for students at Sweet Home High School illustrates the very best of Healthy People 2030, Western University of Health Sciences-COMP Northwest and the MIKE Program, as well as what we can achieve toward improving the health of everyone."
Duncan said she appreciates the city of Sweet Home, the MIKE program, COMP-Northwest, her team of mentors and the high school students for trusting her to help grow and lead this program.
"Having this opportunity gave me the unique ability to improve my collaboration skills, teaching skills, and advocacy skills, all of which are vitally important when seeing patients," she said. "As future physicians, my colleagues and I need to understand the importance of knowing our patients as well as treating them with genuine compassion and respect. There are so many factors that play a role in health, and medicine is only one small part. Each of us can lead by example and encourage our co-workers in healthcare to recognize the social determinants of health and treat the entirety of each person."
WesternU Oregon Associate Vice President Di Lacey said the partnership with the MIKE Program and Sweet Home High School has been highly impactful.
"It has been incredible to watch the growth of our medical students in this near-to-peer health education and mentoring program, Lacey said. "They learn leadership skills, program development, community engagement, health coaching, and most importantly, how to authentically connect with people who have different lived experiences. These are the skills they can't Google. The skills they need to become exceptional future physicians."