WesternU COMP-Northwest medical students land residency programs
March 16, 2018
Read 3 mins
More than half of the Class of 2018 will go into primary care fields
Student-doctors from Western University of Health Sciences' Oregon campus celebrated another momentous by participating in Match Day, Friday, March 16.
Match Day is celebrated across the U.S. as fourth-year medical students learn which U.S. residency programs they will train in for the next three to seven years. The Match is hosted by the National Resident Matching Program, in which medical students obtain residency positions in accredited training programs. The Match represents the culmination of students' undergraduate and medical school education, which in most cases means a minimum of eight years of study.
Before opening their envelopes, Dean Paula M. Crone, DO, '92, offered the students a toast. "May you embrace your destination, wherever your match may be taking you, and know you are needed where you are going and that you are going where you are meant to be."
A total of 102 students from the College of Osteopathic Medicine of the Pacific-Northwest participated in the Match. Of those students, 55 placed into primary care fields including family medicine (24), internal medicine (21), pediatrics (nine), and OB-GYN (one). Students also placed into emergency medicine residency programs (10), anesthesiology (eight), general surgery (seven), and neurology (four), among other specialties. 
Almost 60 percent of COMP-Northwest's Class of 2018 calls the Pacific Northwest home, and community representatives who attended Match Day were pleased to hear students landed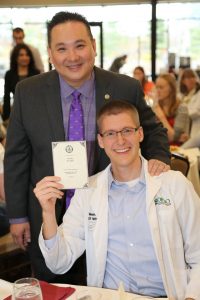 residency programs in Oregon, Washington, and Idaho. Seventeen students will complete their training in the Pacific Northwest. Of the 17, seven students will train in Oregon: four in Portland hospitals, and three at Good Samaritan Regional Center in Corvallis.
WesternU COMP-Northwest student Amanda Emmert was excited to learn her match on Friday morning. "I am going to Omaha, Nebraska for my residency in child and adolescent psychiatry," she said. The program, through Creighton University Affiliated Hospitals, was her first choice.
Emmert is the first Lebanon High School graduate to also graduate from WesternU COMP-Northwest. She has earned several local and state scholarships to help fund her education.
"I am very grateful to the community," Emmert said. "I have felt very supported, both while I was working on my bachelor's degree at Oregon State and as I continued onto medical school at COMP-Northwest."
After her five-year residency, she plans on returning to Oregon. "I hope it will give us some new perspectives, and expand and diversify my training. I hope to bring that back to Oregon and be an asset here," Emmert said.
Jonathan Shader also has roots in the Lebanon area, graduating from South Albany High School in 2005. Shader realized his dream of landing a residency in ophthalmology, which is a highly competitive program. Shader, his wife Rachelle and their two children will head to his ophthalmology residency at the Medical College of Georgia in 2019 after first completing a year at Kaweah Delta Medical Center in Visalia, Calif.
"I just can't believe that I'll get to do this every day," Shader said. "This is why I pursued medicine to begin with. I have always been fascinated with the eye – how systemic diseases can manifest in the eye, and how you can do surgeries to restore vision."
His father, John Shader, DMD, of Lebanon, has completed several mission trips to Africa to perform dental work in impoverished areas. Jonathan Shader has accompanied his father on the trips and plans on continuing the mission work.
"There are countries that don't have a cataract surgeon. I went on a mission trip to Africa and I saw some people with very mature cataracts and I was thinking a 10-minute surgery could take someone from no light perception vision – completely blind – to seeing 20/20," Shader said. "I love that and get so excited to have the opportunity to be able to help people with their vision. It's really a dream to help people here in the U.S. and go overseas and do mission work."
WesternU COMP-Northwest's Class of 2018 now counts down to Commencement, which will be Friday, June 1, 2018. This will be the fourth class of graduating physicians from WesternU COMP-Northwest. More information on the ceremony can be found by visiting https://commencement.westernu.edu/lebanon.