"I charge each and every one of you to always remember at the end of every action, every thought, every deed, there is a patient."
That was the parting message given to Western University of Health Sciences' College of Osteopathic Medicine of the Pacific-Northwest's newly minted osteopathic physicians at their Commencement ceremony on Friday, June 3.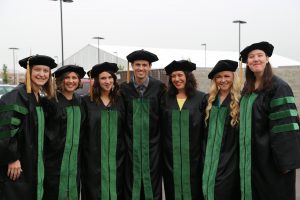 "Your patients and communities will come to recognize you as one of those special physicians from COMP-Northwest," said COMP and COMP-Northwest Dean Paula M. Crone, DO. "Those caring, compassionate, humanistic doctors that
no one expected still exist. I am proud to say that they do, and that all of you will carry that forward."
WesternU COMP-Northwest conferred diplomas to 105 new physicians at the ceremony, which was held on the medical school's campus. The Class of 2016 consists of 65 men and 40 women, the majority of whom have ties to the Northwest.
"I'm grateful and appreciative for all of the teaching and instruction, as well as the sacrifice on the part of my family," said Jonathan Wright, DO '16. "I'm just thrilled to be here in this culminating moment between all of the efforts of so many people."
Wright, who is from Medford, Ore., earned the President's Award for the Class of 2016 at a Graduate Awards Ceremony earlier in the week. He said the plan for his family is to return to Southern Oregon after he completes his residency training in emergency medicine at Norman Regional Health System in Oklahoma.
About 65 percent of the Class of 2016 hails from states in the Pacific Northwest. Of the 105 new physicians, 25 will complete their residency training in Oregon and Washington. Of that 25, 10 students will train in Oregon: five in Portland, four in Corvallis, and one in Klamath Falls.
Stephanie Duckett, DO '16, will complete her residency training in emergency medicine at Desert Regional Medical Center in Palm Springs, Calif.
"Despite the fact that we are moving to the desert, our plan is to come back to Oregon," Duckett said. "After my four years of training, we want to come back here so our children start high school here," she said of her three boys, a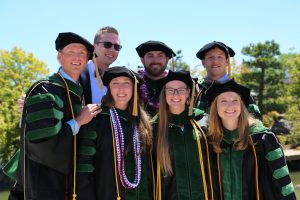 ges 9, 6, and 3 months. "Our identities are here, and they know they are Oregonians."
The majority of new physicians will complete residency training in primary care fields such as internal medicine (17), family medicine (25), pediatrics (four), and OB-GYN (seven).
The medical students are encouraged to volunteer their time with community organizations in the mid-Willamette Valley. Several members of those organizations attended Friday's ceremony.
"This class has continued the legacy of being an important part of our community," said Shelly Garrett, executive director of the Lebanon Area Chamber of Commerce. "There isn't a place in Lebanon you can go without seeing one of our COMP-Northwest students involved in the community."
At the ceremony, special recognition was given to Ethan R. Allen, DO, a founding member of the College of Osteopathic Medicine of the Pacific's Board of Trustees in 1977. Allen, 92, has practiced medicine in Southern California for more than six decades, and has continued to serve on the board since the College's evolution into Western University of Health Sciences two decades ago. He is currently the board's treasurer.
"This award is given for serving as an exemplary example, who rises to the level of giant in our osteopathic profession," said Dean Crone. "In the future, the award will be known as the Ethan R. Allen, DO Distinguished Service Award."
Keynote speaker Lori Sobelson, director of corporate outreach for Bob's Red Mill Natural Foods, spoke about the similarities between the four tenets of 4-H and the graduates' charge as physicians.
"The four H's simply stand for: head, heart, hands and health," Sobelson said. She encouraged students to use their head, especially their ears, to listen to patients' concerns, and their heart to practice with compassion.
"The third H is for hands, and these you will use to provide relief and healing in many ways," Sobelson said. "Not only through your skills in examining your patients, but also simply with the reassurance of a gentle touch."
For the final "H" – health – Sobelson encouraged students to convey the importance of nutrition in a patient's overall health.
"As doctors, you truly have an opportunity to change not only this generation, but in fact generations to come by educating and encouraging your patients with regard to the importance of good nutrition," she said.