WesternU COMP-Northwest celebrates Class of 2023 graduates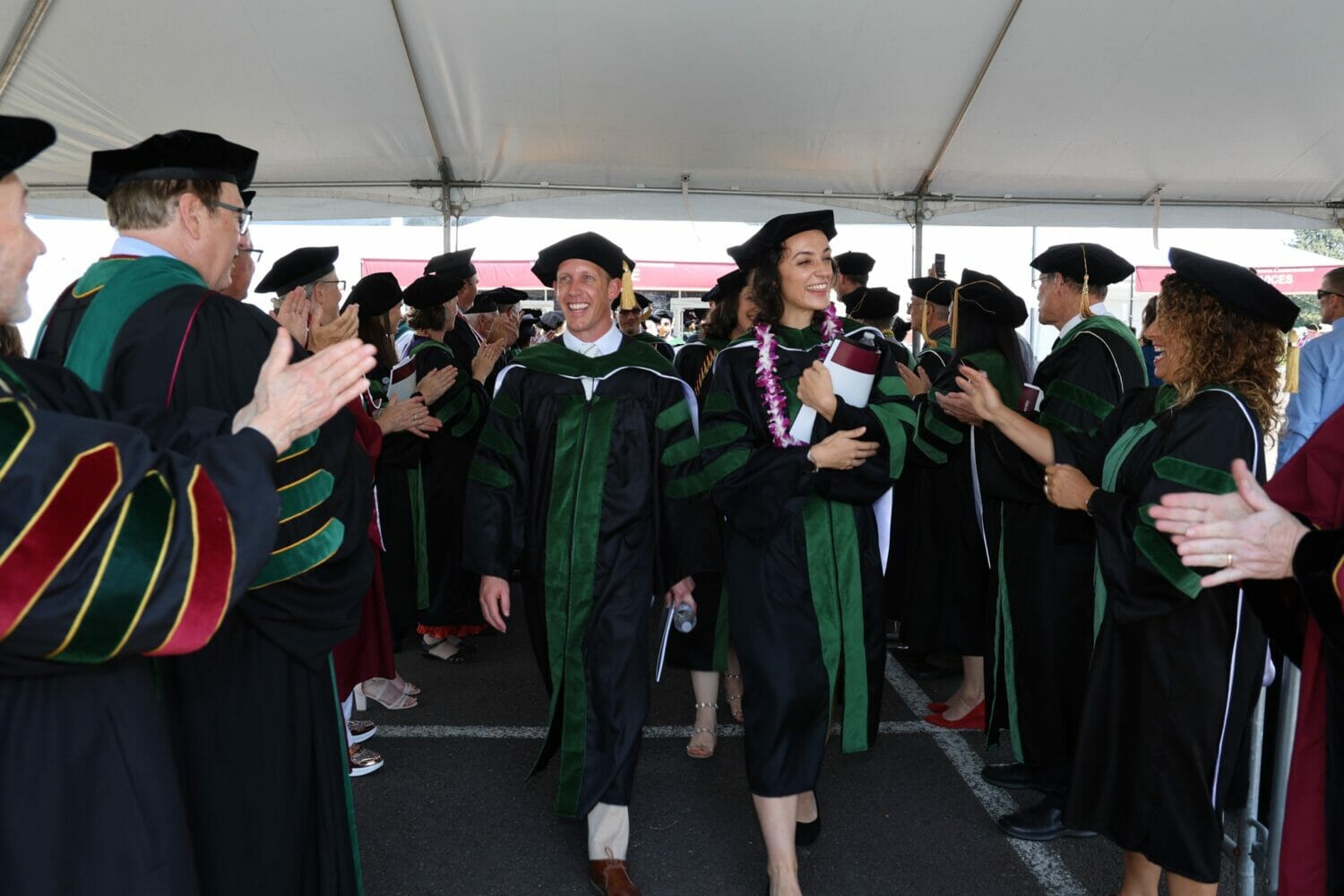 Western University of Health Sciences College of Osteopathic Medicine of the Pacific-Northwest celebrated 91 graduates at Commencement May 26, 2023, at Boulder Falls Center in Lebanon, Oregon.
This graduating class endured the COVID-19 pandemic, which caused nationwide shut-downs during their first year in medical school, along with massive wildfires and racial injustices nationwide.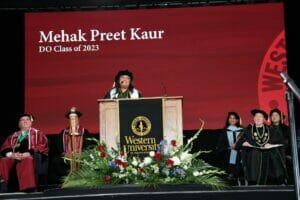 COMP-Northwest graduate Mehak Preet Kaur, DO '23, who was selected by her peers to speak at Commencement, reflected on everything this class endured and rose above in the past four years.
"This long iteration of the things that we have endured as a class isn't to trigger suppressed memories, rather to pay homage to you, your resilience, your unwavering faith in yourselves and in this vocation. It is to commemorate your spirit that despite it all, just keeps going," Kaur said. "It was your spirit that advocated for a diversity curriculum. It was your spirit that led vaccination clinics and Zoom tutoring sessions. It was your spirit that entered into the unknown of clinical years yet stood by your ventilated patients and consoled their loved ones. You took the unknown and made it your own. You found a world within yourselves even when the world was collapsing. Your existence in this moment attests to the strength of the very spirit that got you here. So let's continue to listen to that spirit. Let's take the time to really understand our patients, especially ones that are vastly different from us. Let's take this huge responsibility that's being bestowed upon us today and do something truly great with it.
Although this is the climactic end of one very special chapter, it's the start of another. And if you ever begin to feel the vociferous weight of your self-doubt creeping back in, I want you to look back at all you accomplished and remember, that if we can be here, if we can do this, we can do absolutely anything."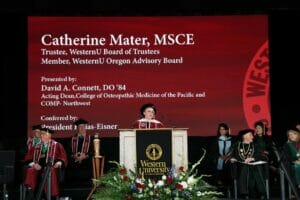 The keynote speaker was WesternU Board of Trustees member Catherine Mater, MSCE, LHD (Hon.), who is a founding Advisory Board Member for COMP-Northwest. She is a worldwide expert in sustainable forestry and forest product development for global markets and a recognized expert witness in U.S. federal court systems in sustainable forestry management and product manufacturing. She is working throughout the Middle East and Ukraine on forest health-human health issues.
Mater talked about WesternU's expansion plans in Lebanon, which includes developing a 150-acre riverfront campus on land donated by the Heatherington Foundation.
"And I want to say in very large part, the thanks goes to, of course, Dr. Jeff Heatherington," Mater said. "But I think you should also know that Trustee Heather McDaniel, Lebanon's one and only, had a huge part in making this happen, as well Dr. Paula Crone and President Farias-Eisner. Without these people at the helm making it work, getting it through to where it is today, I wouldn't be able to share this with you today."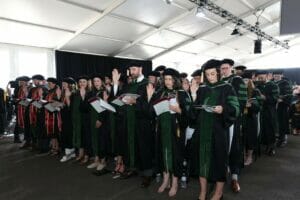 The plans also include opening a College of Behavioral Sciences and Mental Health and an Interprofessional Behavioral Health Institute, where education, research, clinical practice, and community outreach will all take place.
Mater has worked in Iraq, where hospitals often face power outages, bed shortages, and lack of drugs to treat patients.
"With all the messiness and warts and challenges that we have in the United States, you still live in a country in a part of the world where you not only have the right to be a physician, but you have the freedom to practice those skills without fear," Mater said. "So when the going gets tough, and it will on occasion, it happens to all of us, I would like you to think about your counterparts in Russia, Ukraine, Israel, Palestine, in Iraq and in Iran, and take a breath, sit back, be grateful, and then act.
"President Farias-Eisner referenced that you are the ambassadors, but I would submit to you that you are the ambassadors of not only your community, and not only of this country, but of the world right now," she added. "Giving back to that global community, that is on your watch now. You are the ambassadors worldwide. You are the future of medicine."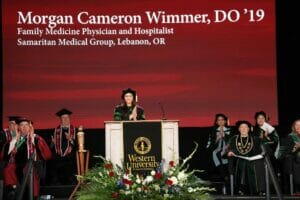 COMP-Northwest alumna Morgan Cameron Wimmer, DO '19, told the graduates that life doesn't pause when you enter medical school or your residency. There were days she would think, "only three more years of this and I'll be done," but that would result in more anxiety. So she made the decision to live mindfully and day by day.
"But on the days where I would force myself to sit in my car before getting out and going on to the new rotation, whatever I was doing that day, I would say to myself that my job today is to learn and not to be perfect, to take it one day at a time, and I felt more at ease and overall content," Wimmer said. "So when you feel stuck in that tunnel, always searching for the light at the end, consider looking up and seeing that the light has really been around you the whole time. Give gratitude to those around you, allow yourself to be proud of what you have accomplished, and remember that light. I know how much that helped me."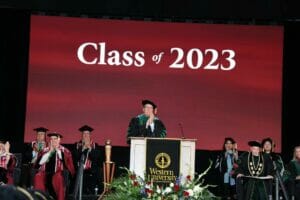 COMP and COMP-Northwest Acting Dean David Connett, DO '84, FACOFP, Dist., reminded graduates that "ethical behavior, professionalism, service to our fellow humans and the courage to uphold these values have always been at the core of the physician identity."
"Therefore I charge you to seek truth and pursue it steadily. Always conduct your lives with integrity and put patients first. Altruism and a deep sense of our shared humanity form the basis of your calling to medicine, and your capacity to care for others is what sets you apart," Connett said. "Furthermore, I encourage you to sustain your call to service and advocacy that brought you to COMP-Northwest. There is so much that needs to be done in our communities, in our country, and around the world. Strive to be the physician citizen, the physician officer, or the physician activist, that will make an impact beyond the exam room."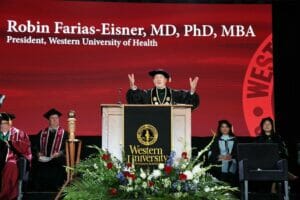 WesternU President Robin Farias-Eisner, MD, PhD, MBA, thanked the Lebanon community. "You've been like a family to our beloved students and we're so grateful to you." He encouraged the graduates to let humanism be their guiding light, and to put the well-being of their patients at the forefront.
"As physicians, we have the privilege and responsibility of caring for people at their most vulnerable. The ability to empathize with patients and families and to truly listen and to make genuine connections is what I believe sets exceptional clinicians apart, and I believe you have those skills," Farias-Eisner said. "Remember the heart of medicine and health care lies in the relationships you build with your patients and to that I am confident you will succeed. In a world where technology often dominates the conversation, never forget the importance of human interaction and a reassuring hand. Remember too that humility is essential in the practice of our art as you've heard today. Embrace these moments as opportunities to collaborate, listen and learn from your colleagues and patients."