WesternU COMP-Northwest alumna honored by American Osteopathic Foundation
October 11, 2018
Read 2 mins
Western University of Health Sciences College of Osteopathic Medicine of the Pacific-Northwest (COMP-Northwest) alumna Nicolette Rosendahl, DO '15, has been named the 2018 Outstanding Resident of the Year for Internal Medicine by the American Osteopathic Foundation and American College of Osteopathic Internists.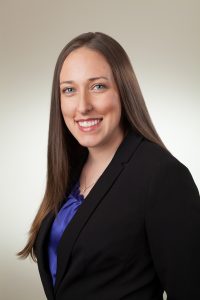 Rosendahl was honored during AOF's 2018 Honors Gala held Friday, Oct. 5 in San Diego, California.
She is a third-year internal medicine resident at Mercy Medical Center in Des Moines, Iowa. She is currently applying for a fellowship next year in osteopathic neuromusculoskeletal medicine.
Her philosophy when it comes to patient care is to look at the whole patient each visit. "It's easy to focus on the problem, but you can't stop there, you have to ask why. And you have to keep asking yourself and the patient why until you have a better understanding of what makes them who they are," she said. Rosendahl takes the approach of teaching her patients how to care for themselves, so they are empowered to take ownership of their health.
Rosendahl learned of the award during a noon lecture while on her ICU rotation. "When my program director called me to the front after our lecture to announce it, I was in shock and so happy," she said. "Having time to reflect on this award, I feel being nominated was enough. Winning and being honored by the leaders of the profession is humbling."
Rosendahl was nominated by Leatrice Olson, DO, Internal Medicine Residency Program director at Mercy Medical Center in Des Moines.
"She is very actively involved in teaching other residents and students and is a leader in the Internal Medicine Residency program," Olson said. "Nicolette is a very caring and compassionate resident and an excellent physician. She provides excellent care to many patients. I am honored to have had the opportunity to nominate Nicolette for this award."