WesternU COMP Dean Paula Crone named AOA Mentor of the Year
September 28, 2016
Read 2 mins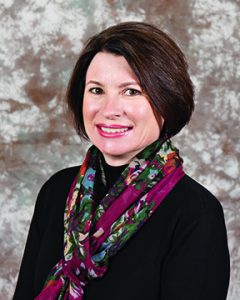 College of Osteopathic Medicine of the Pacific Dean Paula M. Crone, DO '92, is the American Osteopathic Association's Mentor of the Year.
The award honors DOs who help shape the future of the profession by sharing their knowledge, skills and distinct philosophy. Crone was one of three finalists for the Mentor of the Year award, from 119 nominated mentors.
Crone was nominated by fourth-year COMP-Northwest student Ginger Cupit, DO '17. Crone has mentored her since she became class president her first year in Lebanon, Cupit said.
Before Cupit's first clinical rotation, Crone took her aside and said, "Ginger, before you enter any room, leave all judgment out in the hallway," Cupit said. "For her, giving a place of acceptance is vital, not only for her former patients, but even now for her students and faculty. I carry that model into the clinic. Every time I see a patient, all judgment is left out in the hallway."
 Crone also changed Cupit's definition of success. It's no longer about entering a coveted residency or obtaining prestigious titles.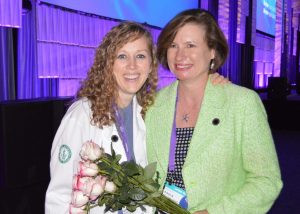 "For the dean, success means giving your best every day, because you'll never lose," Cupit said. "That's my idea of success now. For her, it's not about earning titles, it's about doing right by your patients, staff and all those around you."
Although Crone has served as her personal mentor, Cupit said she nominated the dean because she serves as a mentor and role model for all COMP students and faculty. Crone splits her time between COMP's Pomona, California and Lebanon, Oregon campuses, which have a combined 1,300 students.
"She is this abundant light source that people gravitate toward. We're so excited to celebrate her," Cupit said. "She makes incredible sacrifices, and always goes above and beyond to support all her students. She sincerely deserves this. She's an extraordinary role model to live by."
Crone received the AOA Mentor of the Year award at AOA's Annual Conference and Exposition (OMED 2016) Sept. 17, 2016 in Anaheim, Calif. At the same event, COMP Professor Clinton Adams, DO, received the AOA Distinguished Service Certificate for more than 40 years of advocacy on behalf of the osteopathic medical profession. Adams, former dean of COMP, is now president of Rocky Vista University in Parker, Colorado.