WesternU COMP brings together donors and scholarship recipients to share stories
Western University of Health Sciences College of Osteopathic Medicine of the Pacific (COMP) reimagined its Honors Day as a way to bring together scholarship donors and students.
The inaugural COMP Recognition Dinner, held April 20, 2023 at the DoubleTree Hotel in Ontario, California, was a change from past award dinners that might last three to four hours. COMP recognized students' accomplishments in a slideshow that played throughout the evening, as well as in a printed program.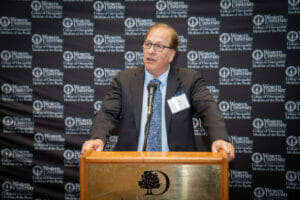 "The sponsors and donors have a story to tell. Students have a story to tell. Let me buy you dinner and some nice wine and allow you to enjoy one another," said COMP Acting Dean David Connett, DO '84, FACOFP Dist. "Get to know your sponsor. Get to know a student so you understand what this is about. I thought we would try something a little different tonight to go ahead and let everybody get to know one another and enjoy the evening."
COMP alumna Adeba Mohammad, DO '19, and four of her Class of 2019 classmates established the Dr. Beverly A. Sanks Guidry Leaders in Excellence and Empathy-Minority Advancement Award, honoring Senior Vice President of Student Affairs Beverly Guidry, EdD.
"Throughout my time at WesternU, I was involved in SNMA (Student National Medical Association), and Dr. Guidry was always there supporting me and my colleagues in every little way, whether it be mentorship, if we were going through anything that we needed help with, or anything that we were struggling with," Mohammad said. "She also supported us any time we went to conferences. She really motivated us to keep going and to give back to the community, especially underserved communities. And so we really wanted to honor her and give back given everything she has done for us."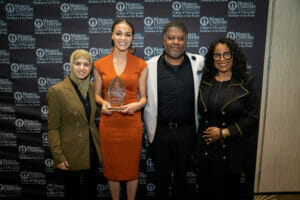 Dr. Mohammad, a first-year Loma Linda University School of Medicine Cardiology Fellow, sat with Dr. Guidry and award recipient and fourth-year COMP student Azaria Lewis. Mohammad said she enjoyed the event, which gave her the chance to touch base with faculty who has supported her throughout her journey.
"I think the scholarship went to somebody who very much fulfills the purpose of the scholarship, and I know that she will do well as a future doctor," Mohammad said. "Getting to meet the recipients, it's always good putting a face to where the donations are going and making sure it is well deserved. And it definitely is well deserved."
Lewis said receiving the Dr. Guidry Award is a touching honor since Dr. Guidry has mentored her since she was a Master of Science in Medical Sciences student.
"She has been such a source of support and love. She has been a prime example of what power and perseverance looks like. She is just a pillar of strength," Lewis said. "The students who invested into making this award exist, they were all strong students and people who are advocates for change, and it's an honor to be able to receive this gift from them while I stand on their shoulders as they are the giants that uplift me. I'm thankful to be able to make change and move it forward and continue to fight the good fight. And I will."
Lewis also thanked COMP Vice Dean Edward Barnes, MD, FACP, "because you are also one of those giants whose shoulders I get to stand upon. You supported me, you have been there every single major decision in my life, and so I thank you as well," Lewis said.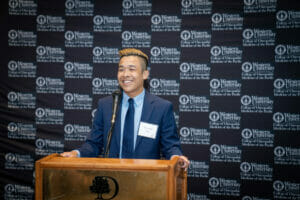 First-year COMP student Derek Tran received the Eric Jing Hung Young Scholarship, which is dedicated to supporting COMP students exhibiting high academic promise, leadership and a commitment to improving community health care. Tran said he appreciated learning more about Young.
"There is a lot of value when it comes to how you treat your patients. Not just what you're giving them medications, but also how you're treating them as a person and (how you're treating) the people who are around them," Tran said. "I'm just a first year, but it's important to go through medical school having that mentality, and he's inspired me a lot. It gives me a lot of hope for what to look forward to in the future and how I want to treat my future patients."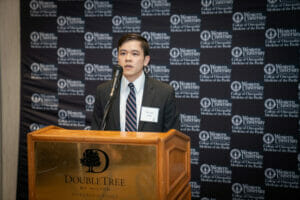 Second-year COMP student Jerry Trinh said community service has really been an integral part in his decision to apply to medical school.
"I think really being able to have that that interaction personally with patients from many different communities is one of the deciding factors to pursue a career in medicine," Trinh said. "Being able to continue those services in medical school has really been integral in shaping the values that I want to continue having as a doctor, especially in these preclinical years. We have our nose in our books constantly – science in and science out. And really being able to apply our clinical skills and personal skills and being able to see a patient for more than just a list of systems has been important to me."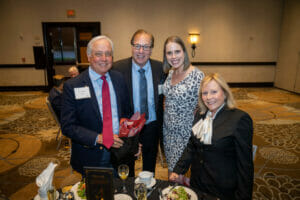 Norman Vinn, DO, a longtime WesternU supporter who has served as president of the American Osteopathic Association and Osteopathic Physicians and Surgeons of California, said he supports future generations of DOs because "we believe we have an outstanding model of care and we would like to see that carry forward in our culture and in our community."
It's important to connect donors and the students who benefit from these scholarships in order to close the loop, Vinn said.
"We know supporters of the school and alumni are trying to provide something for students, but it's great to have the loop closed and understand from their point of view the meaning of what we've done because it makes our support more relevant," he said.
When you invest in medical students and future doctors, you create ripples that go far and wide, Barnes said.
"So with that one student, the impact they are going to have on thousands of lives in the future with the care that they give is such an important piece to think about," Barnes said. "As we invest our time, effort, scholarships, and funds, we need to make sure that the care they give in the future is quality care."