WesternU COMP and COMP-Northwest students step into a new era of health care
August 7, 2020
Read 4 mins
Western University of Health Sciences welcomed more than 340 new osteopathic medical students to its Pomona, California and Lebanon, Oregon campuses Aug. 7, 2020.
The Zoom White Coat ceremony opened with a video featuring College of Osteopathic Medicine of the Pacific (COMP) and COMP-Northwest students and alumni giving advice to new students and welcoming them to the WesternU family. WesternU President Daniel R. Wilson, MD, PhD, also provided a video welcome message. COMP Professor Emeritus Alan Cundari, DO '85, offered words of wisdom from an alumnus.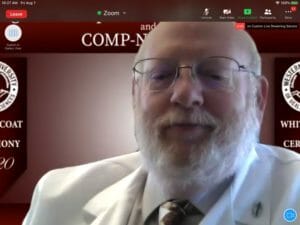 COMP alumnus and COMP-Northwest Assistant Professor Rob Richardson, DO '86, serves as the medical director of the Edward C. Allworth Oregon Veterans' Home in Lebanon. In his keynote address, he told the Class of 2024 students that entering medical school is more than achieving a goal, it is accepting a responsibility.
Richardson's life took a major turn on March 11, 2020, when the veterans' home received positive COVID-19 swabs back on two of the 151 veterans or their spouses. Within four weeks, the home had 21 confirmed cases. The medical director was exposed to and then came down with COVID-19, so Richardson inherited the primary management of COVID-19 at the facility.
"Needless to say, there were no textbook guidelines to follow. Using basics taught to me by Dr. Alice Oglesby in microbiology at COMP, we took steps to protect the staff and limit transmission between residents," Richardson said. "I sent my COMP-Northwest students scurrying into the literature about preliminary reports on this drug, hydroxychloroquine, and any other potential treatments. I contacted Dr. (Sebastien) Fuchs and other COMP basic scientists, and even Dr. Wilson himself to evaluate the risk and benefits of these novel uses of old medicines."
Richardson successfully used hydroxychloroquine in four of the veterans' home's initial patients, while avoiding its use in the most severe heart patients. Subsequent use did not achieve as many positive outcomes, but they never saw cardiac complications, Richardson said.
"Through our time, we never forgot the osteopathic principles of maximizing structure and function to facilitate the body's natural ability to heal itself," he said.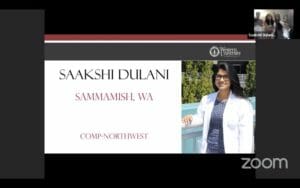 COMP and COMP-Northwest Faculty Assembly Chair Raj Kandpal, PhD, announced four awards, including a new award given to Richardson, the Standing in the Breach Award. The recipient of this award embodies service, compassion and humanism.
"During the continuing COVID-19 pandemic, when most people were concerned about their personal safety and well-being, Dr. Richardson was focused on serving others," Kandpal said. "He has consistently gone above and beyond the call of duty. With this award, Dr. Richardson, we salute the example of your service, your unparalleled dedication and your tireless efforts in protecting the veterans who protected us."
COMP Assistant Professor Adriana Pollak-Lazzaro, DO '90, MPH, received the Dean's Award for Excellence in Teaching. COMP Professor Xiaoning Bi, PhD, MD, received the Dean's Award for Excellence in Research. Associate Dean and Associate Professor Edward Barnes, MD, FACP, received the Dean's Award for Excellence in Service.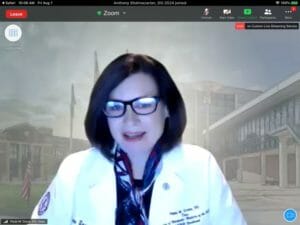 COMP and COMP-Northwest Dean Paula Crone, DO '92, noted that WesternU Founding Trustee Emeritus Ethan R. Allen, DO, and Harriet Pumerantz, wife of WesternU Founding President Philip Pumerantz, were watching and they "never miss a ceremony."
Students donned their white coats as their names were read. Throughout the ceremony, students, faculty and staff filled the chat box with words of encouragement and congratulations.
"Today marks a milestone for our students. We are here to celebrate these future physicians as they put on their first medical school white coat and take the Osteopathic Pledge of Commitment," Crone said. "The White Coat ceremony is a rite of passage signifying the importance of the life's work our students are about to embrace."
Medical education and health care delivery forever changed in March due to the COVID-19 pandemic, Crone said. It is not only a new era for medical education, but one filled with tremendous expectations and much need.
"We know that this next generation of physicians, our students, will help to lead and to transform health care, and we expect them to be able to do so while still maintaining their compassion, their empathy and their resilience," Crone said. "Students, this is not the year you had planned. It isn't the year we were originally planning for, either. But it is still the right time to be a medical student. More so than ever, your generation will be instrumental in shaping the future of medicine. More so than ever, your future patients and your communities are going to need you."