WesternU COMP and COMP-Northwest students earn awards at regional research conference
March 4, 2022
Read 4 mins
Western University of Health Sciences continues to increase its presence and garner impressive accolades at high-profile research conferences. Forty-four students from the College of Osteopathic Medicine of the Pacific (COMP) and COMP-Northwest participated in the Western Medical Research Conference in Carmel, California in January 2022.
The conference is organized by a number of medical organizations, including the American Federation for Medical Research. Faculty, fellows, residents, and medical students present the latest in basic science and clinical research. Five years ago, COMP and COMP-Northwest sent 10 students. This year, a University-record 44 students were invited to present their work as oral presentations and posters. Both campuses were well represented. COMP in Pomona, California, sent 37 students and COMP-Northwest in Lebanon, Oregon sent seven. Collectively, they presented a total of 51 research projects virtually and in person.
Second-year COMP-Northwest student Jackie Hu received the WAFMR/WAP Student Subspecialty Award for her work on "Are Renal Sparing Protocols Safe and Effective In Lieu of Randomized Trials in Heart Transplant?"
Second-year COMP student Kim Vo received the Edwin E. Osgood Award for her work on updating the staging of oropharyngeal cancer with investigators at the City of Hope. The Edwin E. Osgood Award is given to the most significant research abstract with the highest merit. Vo's abstract was selected out of about 600 submissions. She gave two oral presentations for her two abstracts. Vo said it was a challenging yet rewarding experience.
"With one abstract being a plenary session presentation (EE Osgood Award), I was very nervous despite having a great deal of preparation. My other abstract was on graduate medical education and diversity, equity, and inclusion for DO surgical subspecialties in underserved communities, which I thoroughly enjoyed. It opens up avenues for me to venture into public health policy and advocacy for osteopathic medical students," Vo said. "I realized that, if given the opportunity and safe environment to learn, anyone can do research. The experience was valuable as it helped push me to overcome my fears of imposter syndrome. Believing in your ability is one thing, but knowing you have done it, paves way for confidence. Research is a lifelong process that I continuously strive to improve and excel at."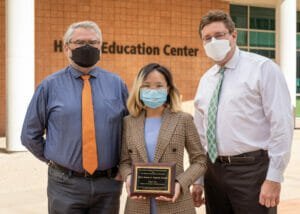 Vo said she is grateful for her mentors at City of Hope, Drs. Colton Ladbury and Arya Amini, and at COMP, Drs. Anita Nelson, Sebastien Fuchs, and Hendrik Szurmant. Her goal is to become a competent physician and an advocate for the patient population that she will serve.
"To confidently provide the best care for my patients, research is an important tool to investigate disease trends and risk factors and assess better ways to approach disease management and interventions," Vo said.
Providing better health care requires a balance on not just patient focus but also consideration for health care practitioners as well, she said.
"Sometimes we forget that physicians-in-training have struggles and challenges like anyone else. So, a huge part of me strives to become a physician for physicians," Vo said. "Research not only sheds light on clinical decisions, but also gives me the knowledge to better advocate for my peers."
COMP Associate Professor Sebastien Fuchs, MD, PhD, Professor Hendrik Szurmant, PhD, and Associate Professor Mathew Wedel, PhD, have been growing the research program. They agree that the students greatly benefit from this experience.
Fuchs said a fourth-year COMP student who attended the Carmel meeting two years ago told him that he talked about his research presentation at every interview session for residency.
"He strongly believes this presentation made a real plus in his application for residency, so I think this really has an opportunity to change the frame of possibilities for the students," Fuchs said. "A lot of students were afraid COVID would put an end to their ability to attend the conference in person. It was incredibly meaningful for the students to get that typical experience they get from attending a research conference that cannot be captured in a virtual environment."
Research in general will help students become better physicians whether they continue research or not, Szurmant said.
"In the end, research is the foundation to all medical knowledge we have. When students don't have access to research during medical school, it makes it harder for them to appreciate where the knowledge comes from that they eventually practice," he said. "Because of that, we feel research is a very important aspect of medical school. We're delighted that interest in research every year has increased among our DO students, to the point where more than half of our students are engaged in research projects."