WesternU COMP and COMP-Northwest named Apple Distinguished School
February 10, 2022
Read 3 mins
Western University of Health Sciences College of Osteopathic Medicine of the Pacific (COMP) and COMP-Northwest are pleased to announce that they have been recognized as an Apple Distinguished School for 2021-24 for the Digital Doctor Bag program. The program provides each osteopathic medical student with an iPad that is integrated into their daily activities, from lecture note-taking to learning telemedicine to communicating with each other and with faculty and staff.
Apple Distinguished Schools are centers of innovation, leadership, and educational excellence. They use Apple technology to connect students to the world, fuel creativity, deepen collaboration, and make learning personal.
"The Digital Doctor Bag program has transformed the way we deliver curriculum in the classroom and how we communicate with our students," said COMP and COMP-Northwest Dean Paula Crone, DO '92. "The selection of COMP and COMP-Northwest as an Apple Distinguished School, combined with positive feedback from students and faculty, highlight the Digital Doctor Bag program's success."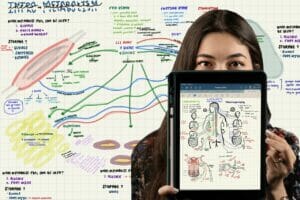 COMP and COMP-Northwest students interact with their peers, professors, and staff support on the iPad via the communications app COMP Connect, which was developed by the College. Student groups, clubs, and administrative offices leverage the capabilities of COMP Connect to host virtual events and push reminders to their devices. The app is also a repository of essential information housed in one location.
"The Digital Doctor Bag Program has been an essential tool for my learning. I use my iPad daily to take notes, answer questions posed in lectures, and for mandatory Zoom meetings and exams," said COMP-Northwest student Jeanette Helgerson. "Having this device that all students possess makes collaborating much easier. It also allows faculty to use programs that everyone can access on their iPad equally. I believe that the medical field is becoming more and more reliant on technology and digital records. By becoming fluent in using an iPad now, I believe we are better prepared for residency and our future practices because we will be able to navigate new technology smoothly and effectively."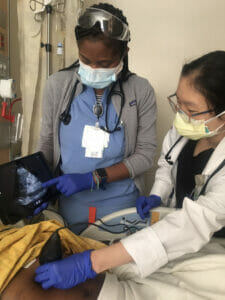 Faculty champions have found creative ways to integrate the iPad into their lesson plans and learning activities. The Anatomical Sciences team blended in an app on the iPad called Complete Anatomy to amplify the students' knowledge of the human body.
The iPad connects to the Butterfly IQ Ultrasound probe, putting this medical device directly in the hands of students in preparation for when they go into practice. The College's Telemedicine Elective utilizes a mounted iPad in patient care facilities, allowing students to remote into their clinical experience with a patient from offsite locations.
"The iPad has afforded us the opportunity to integrate different software and technologies, and gives us a way to pivot to meet our students where they are," said COMP and COMP-Northwest Vice Dean Edward Barnes, MD, FACP. "They are already familiar with mobile technology and now the way we are using the iPad has been of a great improvement in the way that we teach students, communicate with them, and give them the tools that they need to become the doctors that they are going to be."