WesternU COMP and COMP-Northwest hold military commissioning ceremonies
Western University of Health Sciences honored 24 osteopathic medical school graduates who are entering into military service as commissioned officers.
WesternU's College of Osteopathic Medicine of the Pacific (COMP) held its Armed Forces Commissioning Ceremony for seven graduates May 17 in Pasadena, California and COMP-Northwest held its ceremony May 26 for 17 graduates in Lebanon, Oregon.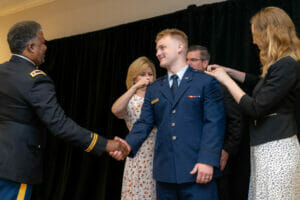 "We are happy to be back in person. Our graduates were able to start their military careers with their mentors and family members who helped them get here," said COMP and COMP-Northwest Vice Dean and U.S. Army Maj. (Sep.) Edward Barnes, MD, FACP. "I'm very proud of our military graduates and all they have accomplished so far, and in anticipation of all the great things they will do in whatever Armed Services they go into."
Providing words of encouragement and congratulations at both ceremonies were WesternU President Robin Farias-Eisner, MD, PhD, MBA, and COMP and COMP-Northwest Acting Dean David Connett, DO '84, who served in the U.S. Air Force from 1980 to 1991.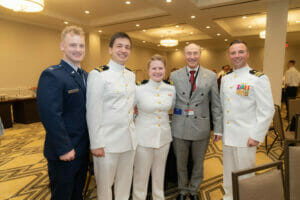 Farias-Eisner told the graduates they have a higher calling, not only to help their patients, but to serve their country. He assured them that they will always be a member of the WesternU family.
"You are very uniquely and superbly trained and we're very proud of you and what you have accomplished in these very difficult couple of years," Farias-Eisner said. "Your tenacity, your persistence and your perseverance are really unparalleled and we're grateful to you for that. So please join me in a round of congratulations to those who are graduating and those family members and loved ones that have supported them."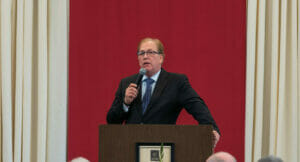 Acting Dean Connett told the graduates they have earned their military rank based on their medical degree, but every soldier, sailor, airman or marine has far more experience than they have.
"Be respectful and be humble. There is a lot you can learn from them. Because of rank you will likely be a team leader in either a clinic or hospital scenario," Connett said. "As you should have learned in the civilian hospital environment, the nursing team are critical personnel and you must have a solid professional relationship to do your medical mission. In the military, your non-commissioned officers, those are E-5 and above, are the backbone of the military. These individuals will carry you through. They are very huge assets in all branches of the military."
The keynote speaker in Pasadena was COMP alumnus U.S. Navy Lt. Cmdr. Aaron B. Hicks, DO '13, who told the graduates that their path may not always be linear, and that taking the road less traveled allows you to experience new and interesting things. His path led him to become the flight surgeon for the Blue Angels.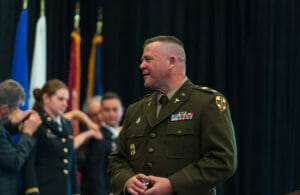 The keynote speaker in Lebanon was COMP-Northwest Assistant Dean Derrick Sorweide, DO, FACOFP, who is a Command Surgeon for Medical Training and Readiness for the Army Reserve Medical Command. The 17 COMP-Northwest graduating military class is the largest graduating DO military class in the nation this year, Sorweide said.
"On top of that, these officers have been rewarded for their hard work by being accepted into residencies at world-class institutions across this country and they are going to go on to serve the world," he said. "I have said it before, and it is with all sincerity. You are my heroes. You have taken this huge role of not only doctors, but you have taken it one step further. You have taken the oath that you will defend this great country of ours."
Sorweide told the graduates to be proud that they are part of the U.S. military medical machine.
"We are, bar none, the best in the world. Our allies know this. Our enemies know this. That's why they lean on us for care," Sorweide said. "If a servicemember anywhere in the world is hurt and still has a pulse when our medics get to them, they have a 98% chance of making it home. Nobody can beat those numbers. You are part of that team now, but you will have to learn to train to that level. Medical teams train at the same level as special forces teams. And, in fact, you may get to be both."
Three years ago, Sorweide told the military graduates that it was a near certainty that they would get deployed to a war zone sometime in their career. But the world has changed since then, and a bright new dawn is upon us, he said.
"For the first time in over a decade, I genuinely believe a new and better world is in its infancy," Sorweide said. "I'm damn proud it's you, our military medical students, who will lead the charge toward a better day."
COMP Class of 2022
U.S. Army
Capt. Laura Connolly
U.S. Air Force
Capt. Gavin Davis
U.S. Navy
Lt. Evangelina Din
Lt. Daniel Haddad
Lt. Amanda Miller
Lt. Nicole Popp
Lt. Travis Sherman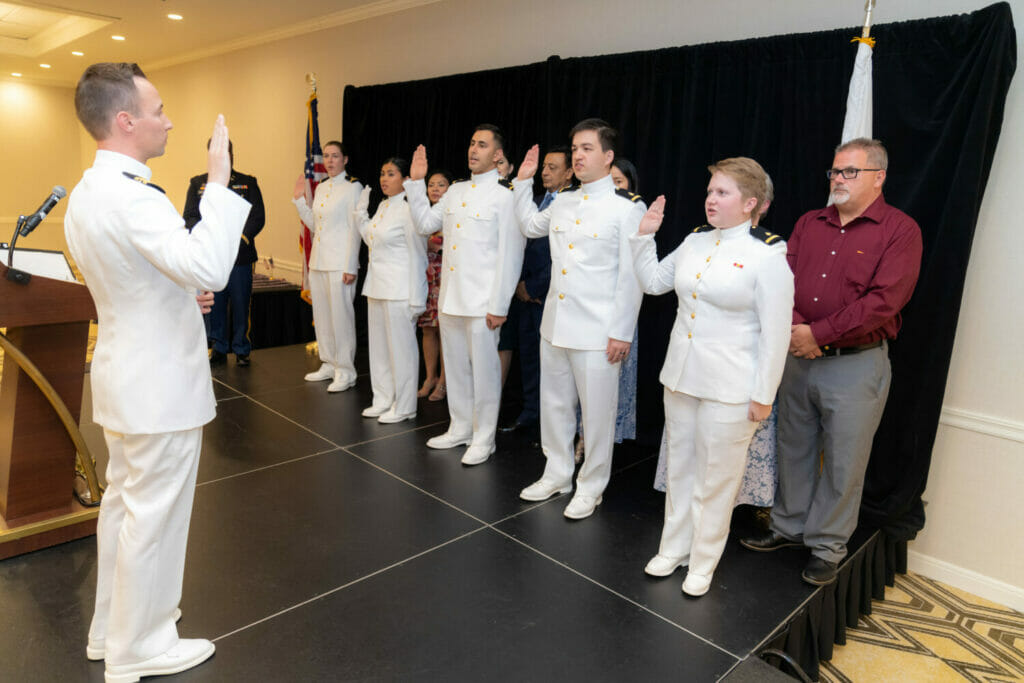 COMP-Northwest Class of 2022
U.S. Army
Capt. Alec Ajhar
Capt. Preston Danielson
Capt. Ariana Enzerink
Capt. Mary Kerby
Capt. Christina Kim
Capt. William Maloney
Capt. Zachary Smith
Capt. Nicholas Woo
U.S. Air Force
Capt. Daniel Carter
Capt. Dana DeKruyf
Capt. Mario Gaddini
Capt. Rachel Gantz
Capt. Rory King
U.S. Navy
Lt. William Crowley
Lt. Nathan Milojevic
Lt. Ciara O'Driscoll
Lt. Jeremiah Woods