WesternU COMP and COMP-Northwest celebrate 100% residency placement on Match Day
March 24, 2023
Read 1 mins
Western University of Health Sciences' College of Osteopathic Medicine of the Pacific (COMP) and COMP-Northwest celebrated 100% residency placement on Match Day, compared to the averages across all other medical schools with match rates of 91.6% for DO students and 93.7% for MD students. Match Day is celebrated across the U.S. as fourth-year medical students learn which U.S. residency programs they will train in for the next three to seven years.
All DO and MD medical students enter the same residency pool and will become residents together in the same post-graduate training programs. The Match is hosted by the National Resident Matching Program (NRMP), through which medical students obtain residency positions in accredited training programs.
COMP held its Match Day celebration on Friday, March 17, 2023, at the DoubleTree Hotel in Ontario, California. COMP-Northwest held its Match Day celebration at the Boulder Falls Inn Event Center in Lebanon, Oregon.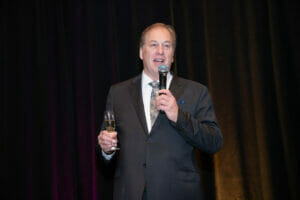 "Few realize the road that you folks have taken to get here today. Many of you have spent the last eight to 10 years of your life dedicated to what's going to happen in the next 30 minutes," COMP and COMP-Northwest Acting Dean David Connett, DO '84, FACOFP, dist., said prior to the Match Day reveal. "Your friends and your loved ones know what you've been through. There will be as stark a transition as it was from second to third year of medical school as it will be to residency, but it will be great in terms of the amount of learning and the launching of your career today. My congratulations to not only all of you but to all who have supported you."
Acting Dean Connett attributes the success of this achievement to the combined efforts of all faculty, staff and administrators delivering a quality curriculum for all four years of the student experience.
"We as a College find it especially important with our strategic imperative to embed our osteopathic medical students into dedicated residency teaching sites for the majority of their third-year clinical rotations, thus providing them with the essentials and experience to be extremely competitive during their fourth year of audition rotations," Connett said.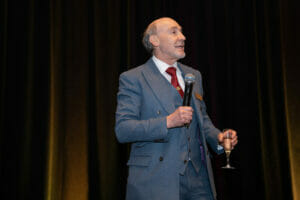 This Class of 2023 endured dramatic changes in their first year of medical school due to the COVID-19 pandemic. Yet they prevailed and made it through to this day, said WesternU President Robin Farias-Eisner, MD, PhD, MBA.
"Look at your amazing academic record and all of the hard work and sacrifice that you have all made to get here," he said. "This is well over a decade of extremely hard work, and that can never be underestimated. We are so grateful and proud that you are part of the WesternU community. And you will forever be part of our community and family."
COMP has a 100 percent placement rate for the 225 students in the Class of 2023, with approximately 59 percent entering primary care residencies, which includes family medicine, internal medicine, and pediatrics.
"It is such an honor and privilege to be a part of this incredible journey with the Class of 2023," said COMP Assistant Dean for Graduate Medical Education Lisa Warren, DO '01, MBA. "They are a class of resilience, dedication, and compassion and will make a great impact on their residency programs and the communities they will serve. I am so proud of them!"
COMP-Northwest placed all 90 students eligible for residency placement, with 61 percent entering primary care and 32 percent entering residencies in Oregon and Washington.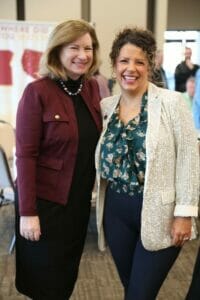 "Match Day represents the first day in the next part of a medical student's training journey," said COMP-Northwest Vice Dean Mandi Hudson, DO '09. "They will be called upon as a physician for the first time in this location. The past four years of literal blood, sweat, and tears were for this moment. We are incredibly proud of all of our students!"
Nationwide, there were 42,952 applicants who certified a rank order list in the 2023 Main Residency Match, which is the highest number on record and an increase of 403 applicants over last year, according to NRMP. U.S. MD seniors had a 93.7 percent Match rate, an increase of 0.8 percentage points over last year. U.S. DO seniors saw a 91.6 percent Match rate, an all-time high, and 0.3 percentage points over last year.
At the COMP and COMP-Northwest ceremonies, each student received an envelope with their residency written inside. They joined medical students across the country in learning where they are going for their residencies at 9 a.m. Pacific time.
Fourth-year COMP student Jennifer Kai-fei Lu reacted to opening her envelope with tears of joy and hugs with her family and friends. She matched into her top choice, a family medicine residency at Kaiser Permanente Woodland Hills Medical Center.
"Family medicine was by far my favorite rotation during third year. It felt like a natural fit. It didn't feel like going to work," Lu said. "After my rotation, I knew I wanted to go to Kaiser Woodland Hills. I liked the program's emphasis on community medicine, which I'm interested in, and the supportive environment. The residents seemed happy to be working there."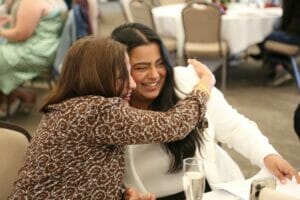 Fourth-year COMP-Northwest student Mehak Kaur placed into her No. 1 choice, a pediatrics residency at Oregon Health and Science University Doernbecher Children's Hospital in Portland, Oregon. She said she grew more nervous as Match Day approached but was also excited about what the future holds.
"There was a moment where before I even opened my envelope, I looked across the table and saw some of my best friends with huge smiles on their faces, tears brimming in their eyes, they just looked so happy, and that made me so emotional and so happy, so when I finally got my envelope open, I just felt this wave of relief and accomplishment fall over me," Kaur said. "There was a time when my imposter syndrome made me question my presence in medical school almost every day, especially during COVID; I struggled a lot and felt so defeated. To open that envelope and see that I had matched at my top choice solidified that I do indeed belong here, in this vocation, and I am so grateful for everyone who has helped me along the way."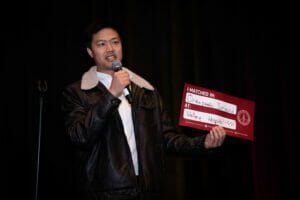 Fourth-year COMP student Kevin Mo matched into an orthopedic surgery residency at Valley Hospital Medical Center in Las Vegas, Nevada. He only applied to orthopedic surgery residencies, so Monday was more nerve-wracking than Friday as he waited to hear whether he matched. Once he knew he matched somewhere, he knew he would be happy with any of his choices.
"I knew I wanted to do surgery early on," Mo said. "I enjoy the operating room. I enjoy doing meaningful work and making definitive improvements in the lives of patients. Orthopedic surgery is high up there as far as improving quality of life, function, and overall well-being in a definitive manner. If there is a fracture, we fix it."
Fourth-year COMP-Northwest student Veronica Polyakova matched into an obstetrics and gynecology residency at Marian Regional Medical Center in Santa Maria, California. OB/GYN was her first clinical rotation. She compared subsequent rotations to OB/GYN and yearned to return to the operating room and Labor & Delivery floor.
"As fourth year came around, I was so happy to be back in my element during my OB/GYN electives," Polyakova said. "In my opinion, OB/GYN has the best of both worlds; you have the surgical aspect, but you are also able to connect with your patients and form lifelong connections in an outpatient setting. Plus, there is truly nothing more intimate than being there for a patient during their labor and birth."
Match Day provides an opportunity to celebrate the accomplishments, hard work, and resilience of not only the graduates, but all of the faculty, staff, and administrators who have walked alongside them on each of their journeys, said COMP-Northwest Associate Dean of Student Affairs Mirabelle Fernandes Paul, EdD.
"It's also a day to celebrate and cheer for our graduates' partners, parents, and loved ones without whom this day would not be a reality," Fernandes Paul said. "Today will rank as one of the most memorable days in each of our graduates' lives as they find out what field and location they are headed to. But I know in my heart that wherever they go, they will change lives for the better and make a difference to their patients and communities."