WesternU COMP alumna completing prestigious psychiatry fellowship
October 31, 2022
Read 3 mins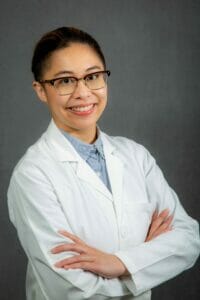 Western University of Health Sciences College of Osteopathic Medicine of the Pacific (COMP) alumna Kelsey Wong, DO '19, is nearing completion of the prestigious GAP Fellowship.
The Group for the Advancement of Psychiatry (GAP) is a think tank of leading psychiatric minds whose thoughtful analysis and recommendations serve to influence and advance modern psychiatric theory and practice. Members collaborate in small committees to produce creative and innovative projects on the interface between psychiatry and society. Important ideas are communicated to the mental health field and to the public through books, scientific papers, op-eds, blogs, and educational tools. Since 1957, GAP has chosen outstanding psychiatry residents nominated by programs across the U.S. and Canada to be GAP Fellows, according to GAP.
The GAP Fellowship is a program for outstanding residents and fellows who are given the unique opportunity to work collaboratively in an informal setting with leaders in psychiatry, according to GAP.
Dr. Wong, who serves as a Diversity Advisory Committee Resident member in the UC Davis Department of Psychiatry and Behavioral Sciences, said she is fascinated with where the field of psychiatry is going – especially at the intersection of mental health and culture.
"Since I am in a combined IM-psychiatry residency program, this is really grounding me in my work while I rotate in internal medicine," she said. "Understanding cultural formation and values and how these shape a person's beliefs become critical when evaluating a patient. My work with UC Davis and as a GAP Fellow approaches psychiatry through the lens of culture, diversity, and inclusion to advance the mental health and wellness of individuals, communities and populations."
Often there is a split between medical and psychiatric care – a patient would either get medical care from a primary care physician or referred to a psychiatry team for a psychiatric issue, Wong said.
"It felt like disjointed care there, and so I was hoping that through this residency I would learn how to meet the need," she said. "When people come in for mental health care, we think about this not just from the lens of a psychiatric or pharmacology type of thing. I think of how culture shapes a person's beliefs, and how it might interact with their mental health in the context of society."
GAP Fellows become members of working committees for four meetings over two years. Fellows contribute to the writing projects of their committees. In addition to their committee responsibilities, the Fellows develop a plenary presentation on a topic of their choice, presented to the general GAP membership at the Fellows' final meeting, according to GAP.
Wong will be discussing the history, current medical evidence, and advancements in psychiatric treatment with psychedelics for her plenary presentation.
"From this experience, I have been able to gain a better understanding of what it looks like to be in a career working to foster new ideas," Wong said. "It has been very impressive to see how some of the groundbreaking projects of the Cultural Psychiatry committee were developed over months and even years before I was a fellow."
Wong credits her WesternU experiences in humanism and interdisciplinary learning as foundational to her success.
"I really learned that each team member brings a unique gift to the health care team," she said. "This, along with the community service aspect of giving back to the community in a multitude of settings paved the way for me to think deeper about the patient I am treating and caring for. This is what WesternU is all about. When you say you're a DO from WesternU, people know what that is."