WesternU Commencement to feature keynote speaker Dr. David M. Carlisle
Western University of Health Sciences will celebrate the accomplishments of about 1,100 graduates with a weeklong series of online Commencement ceremonies May 17-21, 2021.
WesternU invited a longtime friend and distinguished colleague to serve as the keynote speaker for all 11 ceremonies: Charles R. Drew University of Medicine and Science (CDU) President and CEO David M. Carlisle, MD, PhD. CDU is a private, nonprofit, student-centered University that is committed to cultivating diverse health professional leaders who are dedicated to social justice and health equity for underserved populations through outstanding education, research, clinical service, and community engagement.
Dr. Carlisle is an esteemed clinician, educator, scholar and administrator, and, much like WesternU, CDU has a unique culture and distinctive mission, said WesternU President Daniel R. Wilson, MD, PhD.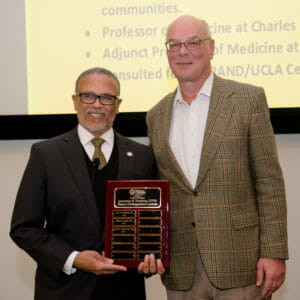 "Given both his personal background and professional standing, Dr. Carlisle is an especially apt speaker for our Commencement in this year of pandemic, economic, and social stress," Wilson said. "Dr. Carlisle is a fine colleague and friend I have known for many years. But he is truly a friend to all of WesternU.  He has long celebrated the vibrant relationship between our two universities with our largely parallel efforts in graduate health sciences education and service."
It is an honor and distinct privilege to serve as WesternU's Commencement speaker, Carlisle said. He became president and CEO of CDU in July 2011, and WesternU President Emeritus Philip Pumerantz, PhD, was the first university president to welcome him to Los Angeles when he arrived. Carlisle said he always felt welcomed by WesternU students, board members, faculty and administrators whenever he would visit campus.
"I was very happy to have a chance to celebrate that relationship and honor it as well," Carlisle said. "Most importantly, I'm happy to make a contribution in congratulating the Western University of Health Sciences Class of 2021. I know this has been an especially difficult year for this graduating class, not just at WesternU but in higher education in general. The graduates of WesternU are to be commended for their excellent work. I encourage all graduates to go forth and, especially now in this era, to do what we are trained to do, and the world will be a better place."
Categories: