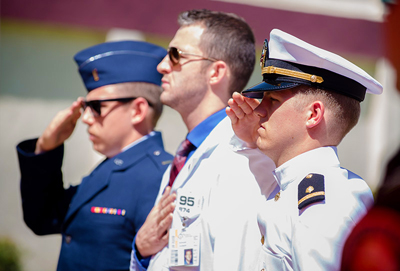 Western University of Health Sciences honored those who died in the September 11, 2001 terrorist attacks while calling on everyone to respond to tragedy by serving others.
WesternU's Military Medical Student Association held its annual memorial service on WesternU's Pomona campus Sept. 11, 2018. Among the guests were representatives from the Los Angeles County Fire Department and the Pomona Police Department. 
A monument in front of the Pomona Police station honors those officers who have lost their lives in the line of duty, said Deputy Police Chief Hector Rodriguez. Their names are engraved on the monument along with three words in Spanish, "Siempre con nosotros," which means "Always with us." Among the names is Pomona Police Officer Greggory Casillas, who was killed earlier this year in the line of duty. 
"Next to the monument is a flagpole with our nation's flag that has been lowered to half-staff in recognition of Patriot Day," Rodriguez said. "The victims of 9/11, along with all first responders who lost their lives in the line of duty, will always be with us." 
The Pomona Police Department has collaborated with the Los Angeles County Fire Department to help develop cutting-edge active-shooter training, Rodriguez said. This training allows police and fire personnel to form a rescue task force that would simultaneously eliminate a threat and rapidly treat anyone wounded in an attack. Training and tactics developed here are being taught across the country. 
"We are grateful for the strong relationship we have with many organizations such as WesternU, where some of this training has occurred," Rodriguez said. "Many thanks to the faculty and students of this beautiful campus for opening their doors yet again today to remember those who lost their lives in New York 17 years ago. Let us never forget September 11, and let us never forget our fallen heroes, because they are 'siempre con nosotros'." 
Second-year College of Osteopathic Medicine of the Pacific student and U.S. Navy Ensign Steven Patrick said when he thinks of September 11, he thinks of three things: loss, sacrifice and service. Nearly 3,000 lives were lost in the September 11 attacks, including 343 firefighters and 72 law enforcement officers, and more than 6,000 people were injured. 
"Seventeen years have passed and we still remember. We will never forget the loss, the sacrifice, and the service of those brave men and women," Patrick said. "To those who currently serve or continue to serve as educators, firefighters, police officers, nurses, first responders, chaplains, military men and women, thank you. I challenge everyone here to honor September 11, 2001 by always being willing to sacrifice and serve others like those who bravely made the ultimate sacrifice 17 years ago, and like those brave military men and women who continue to be willing to make the ultimate sacrifice for our freedom." 
Second-year COMP student and U.S. Air Force 2nd Lt. John Taylor Adams, president of the Military Medical Student Association, said the act of service is what is most meaningful in life. 
"Service can be those acts of heroism of going back into the building, of turning over rubble in search of those buried in the wreckage. It can also be acts of kindness, of empathy and sympathy, of reaching beyond our own insecurities and hesitancies to embrace those dealing with loss. It can be looking beyond our own needs to satisfy the needs of others while expecting nothing in return," Adams said. "As we commemorate this sacred day to honor those who have been lost, I challenge each of us to go forward from now with an attitude of service. 
"Let us not take for granted this precious time we have on this earth. Instead let us each seek opportunities to serve those around us, lift up those who are down, and build a better world by starting with the communities we find ourselves in. The world already has enough vanity and selfishness. To honor those who died, we should live with optimism and happiness by seeking out service — great or small, heroic or simple."
The ceremony opened with a performance of "The Star-Spangled Banner" by the WesternU Chamber Singers, and closed with Larry Icenogle of Bugles Across America performing "Taps" followed by a moment of silence for those who lost their lives on September 11 and those who gave their lives in defense of the United States.