WesternU College of Veterinary Medicine hosts Western Regional Iverson Bell Summit
April 4, 2018
Read 6 mins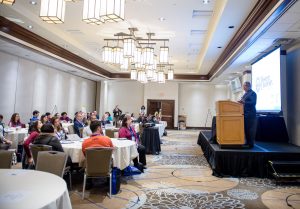 Western University of Health Sciences College of Veterinary Medicine created "brave spaces" to advance diversity and inclusiveness in the veterinary profession.
WesternU held the 2018 Western Regional Iverson Bell Summit Feb. 23-25, 2018 on its Pomona campus and in Ontario, California, with the theme, "Creating Brave Spaces: How do we engage in difficult dialogue in order to advance a diverse and inclusive veterinary profession?" The Western Region consists of veterinary medicine schools at UC Davis, Washington State University, Oregon State University, Colorado State University and WesternU.
The Association of American Veterinary Medical Colleges (AAVMC) holds the Iverson Bell Symposium every other year. The next one will be held in 2019. The primary goal of the conference is to promote diversity and inclusion in academic veterinary medicine.
AAVMC's Diversity Committee encouraged each region to examine diversity in the off years of the national Iverson Bell symposium, as the real impact desired is on local campuses, said College of Veterinary Medicine Dean Phillip Nelson, DVM, PhD.
"We have an opportunity to focus on a smaller number of institutions from a smaller region with a smaller scope of differences," he told summit participants. "We hope that you are able to take this back to your institution and we hope your administration learns something about the real climates that are occurring in our respective institutions."
Veterinary medicine is one of the last professions to really open its arms to both women and minorities, Nelson said. Despite some progress, biases and political positions still make it hard for minorities to achieve their dreams in any given profession, Nelson said.
The goal of the summit was to create an environment that challenged the thoughts and positions of the attendees in a way that made them rethink the consequences and impacts of practices on their campuses, Nelson said. In order to do that, everyone in the profession must have the courage to speak candidly and address issues courageously.
"We must learn how to speak about difficult issues that are based on primal beliefs in as nonthreatening a manner as possible. The fact that my primal beliefs are being challenged is threat enough. The possibility that they may be invalidated can be hurtful, and it's not something people will volunteer for," Nelson said. "This workshop was designed first to say that one can create a space safe for this kind of discussion. But in doing so, one must recognize that doesn't mean that you won't be discomforted or uncomfortable. You must have some courage to enter that safe space, and you must be brave enough to express your real opinions and to share your real experiences and counter those opinions and experiences so that a positive evolution might result."
Monae Roberts, assistant director of UC Davis' LGBTQIA+ Resource Center, served as summit moderator. In calling the attendees to action, she invoked the words of Frederick Douglass to "agitate, agitate, agitate!"
"I'm hoping after this you will be emboldened to educate yourself. Complicate the way you see things. Don't look at things as just black and white," Roberts said. "I'm hoping that you will be willing to advocate for yourself and for others who don't have a voice or whose voices have been silenced. Agitate. Create that friction. Go out and make problems, make trouble – the good kind of trouble. Then innovate. Through these dialogues we can create some amazing things."
Eleanor Green, DVM, DACVIM, DABVP, Dean of Texas A&M University College of Veterinary Medicine & Biomedical Sciences, delivered the keynote address. Her definition of diversity is that every single person who enters the university feels included, comfortable, and that they have come home.
"Who is every person? That's every student. Every faculty member. Every staff member. Every visitor. And all are unrestricted to be their authentic selves," Green said. "To build on that, every single person is supported and unencumbered in achieving his or her dreams. You feel at home and feel supported to achieve the best of you. I care about the success of all people in this college. I care about this profession. We are not diverse enough. We need to be more diverse for a lot of reasons."
Research indicates that discrimination is associated with multiple indicators of poorer physical and mental health status – smoking, alcohol abuse, cardiovascular illness, obesity, and depression. Sociologist Joe Feagin said, "The costs of discrimination for Americans of color are so serious as to constitute one of the nation's major public health problems."
Colleges examine graduation rates, but do we really look at the root cause of student performance? A sense of belonging and social integration into campuses, especially for underrepresented minorities, affects grades and graduation rates, Green said.
"If we have a more inclusive campus, those numbers are all going to go up. It's the right thing to do," she said. "The impact of discrimination is just unacceptable to us. Physical health, intellectual health, social health, they're all affected by discrimination."
Companies that are ethnically and gender diverse perform better financially, Green said.
"We're better together. You can appeal to your audiences on any level they want to, whether it's emotional, whether it's practical, it all traces back to diversity," Green said. "This is a very rewarding and fulfilling profession and I believe it should be open to all of us."
The WesternU College of Veterinary Medicine student club SCORE (Students of Color & Allies Outreach, Retention and Education) presented the results of a CVM student survey at the Iverson Bell Summit. The survey looked at respondents' views of diversity and inclusivity at CVM. Among the findings:
About three-fourths of those surveyed thought minority groups faced challenges at WesternU while less than one-fourth of those surveyed actually reported that they have felt discrimination at WesternU.
According to the majority of respondents, WesternU CVM's Problem-Based Learning (PBL) process promotes diversity and inclusivity.
A majority of those surveyed thought that WesternU CVM is more diverse/inclusive than other vet schools they have visited.
A majority of those surveyed still believe we have work to do and have not yet attained inclusivity.
"My overall experience on the results of the survey is that WesternU CVM embodies diversity but needs to work on inclusivity," said second-year CVM student Moriah Jenkins, who is co-president of SCORE and was one of the presenters. "Our PBL program is a huge tool in achieving this diversity and allows us to form relationships with our fellow students and staff.  My personal views align with the survey's overarching theme that there's always room for improvement when it comes to embodying diversity and inclusion.
"CVM's efforts toward achieving diversity and inclusion are very important, and the main reason I chose this university. These principles are important for us as future veterinarians and our interactions with coworkers/ clients, as well as for self-betterment."
Participating in the summit was a valuable experience, and she came away with lots of ideas for SCORE to implement, Jenkins said.
"Other students were in attendance from other universities. It was interesting to hear what their diversity clubs are doing, and we definitely will be sharing ideas with each other for future activities for our clubs," she said.
In the past, diversity in veterinary medicine focused mainly on recruiting underrepresented students and getting them into classes, said CVM Assistant Professor Suzie Kovacs, MSc, PhD, who served as co-chair of the Iverson Bell Summit. More recently, the college has started looking at inclusion, she said, including the best ways to create an environment inclusive to everyone.
Participants spent an emotionally exhausting weekend on self-reflection, discussing their identities, and intersectionality, Kovacs said. Each institution was given time over the course of the summit to present what it is doing to be more diverse. Attendees watched and discussed the documentary "13th," which analyzes the criminalization of African Americans and the U.S. prison boom.
Among the take-home lessons was that diversity and inclusiveness efforts cannot be compartmentalized, Kovacs said.
"It's everybody's responsibility. Efforts to be diverse and inclusive have to be embedded as an institutional commitment," Kovacs said.
By creating brave spaces, participants built a level of trust and engaged deeply with each other on the topics.
"People were willing to share. That was great," Kovacs said. "We felt people connected in a way you don't connect in at many other conferences because of the subject matter. It was very personal."
Categories: