WesternU College of Veterinary Medicine graduates celebrate Commencement and wedding on same day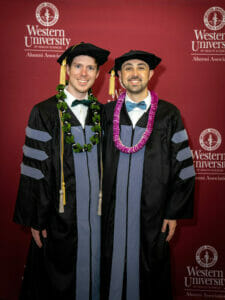 Western University of Health Sciences Commencement represents the culmination of a lifetime of hard work, dedication and sacrifices to reach the ultimate goal of becoming a doctor.
For College of Veterinary Medicine graduates David Green, DVM '23, and Jesse Maestas, DVM '23, Commencement was just the first milestone on the biggest day of their lives. After Commencement on May 19, 2023, Dr. Green and Dr. Maestas got married in Santa Monica. WesternU President Robin Farias-Eisner, MD, PhD, MBA, and CVM Interim Dean John Tegzes, MA, VMD, Dipl. ABVT, both shared the happy news during the Commencement ceremony.
"I'm overwhelmed with emotions," Maestas said prior to the Commencement ceremony. "I'm so happy and proud. I'm extremely nervous with all the big events that are happening."
Green and Maestas met at Northern Arizona University. They worked for the U.S. Navy as wildlife biologists for a few years before applying to veterinary school. Their goal was to get accepted at the same school, but they prepared for the possibility they would be separated. They were happy to both get accepted to WesternU.
"We liked the WesternU curriculum," Maestas said. "There is a lot of student-driven learning, which will help us long term in our careers."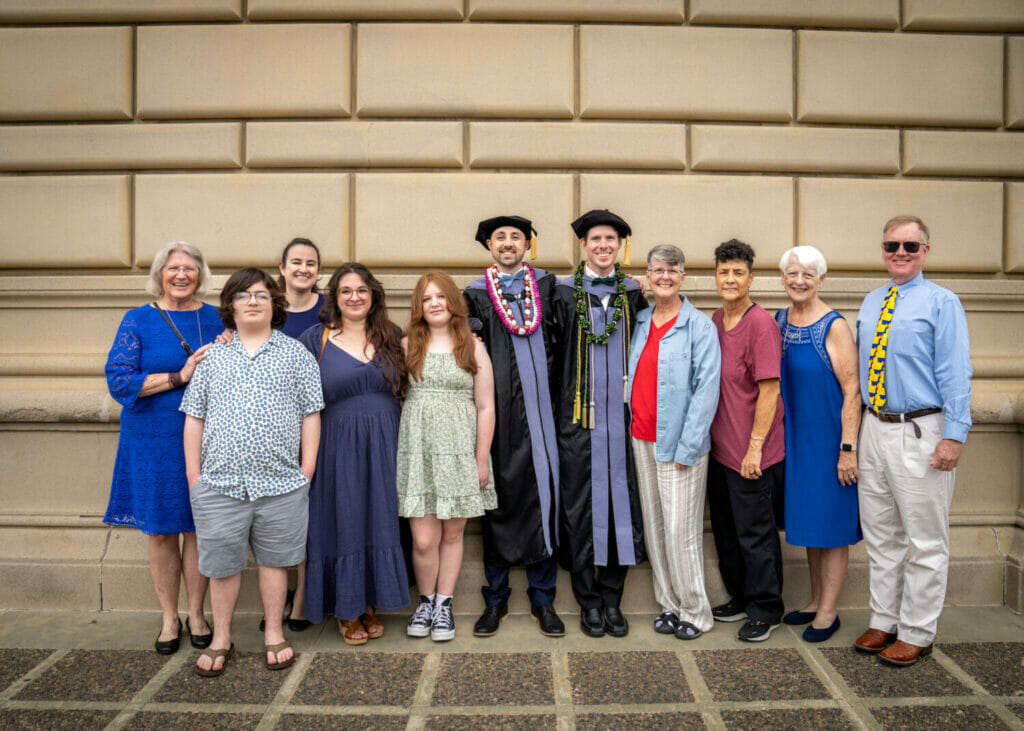 They were able to lean on each other in difficult times.
"It was really nice to have someone who understood what was going on," Green said.
"We could hold onto each other after an exam and cry," Maestas said. "He gave me so much support and encouragement before exams."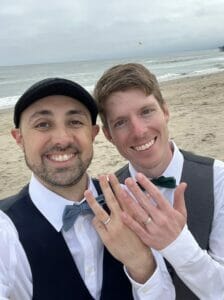 They got engaged before their acceptance into WesternU and had originally planned to get married as students, but COVID-19 restrictions and the rigors of veterinary school left them little time for that. A few weeks ago, they decided to get married on the beach in Santa Monica. Green's family traveled from New Mexico and Maestas' family traveled from Arizona for Commencement.
"All our family is going to be here, one of the few times that's ever happened," Green said.
"L.A. has such significance. We came here for vet school and we worked here as biologists (at San Clemente Island)," Maestas said. "It was a perfect place to do it."
Graduating together feels surreal, Green said, and being able to do it together means the world.
"I'm so proud of him that he's making it. He's becoming a doctor," Maestas said. "He's going to become an amazing doctor."
They are going their separate ways after Commencement and their wedding. Green is going to a small-animal rotating internship at Tufts University in North Grafton, Massachusetts. He ultimately would like to become a zoo veterinarian. Maestas is entering a small animal rotating internship at the University of Illinois. His ultimate goal is to become a wildlife veterinarian.
"Having all of our families there going through graduation and the wedding made for a day of overwhelming happiness for everyone," Maestas said via email about two weeks after their wedding as they prepared to settle into different cities. "It's a bittersweet time. We're excited to see each other pursuing our passions but are also sad with the knowledge that we will be divided soon. However, we feel more connected after the ceremony and the rings serve as a reminder that even though we will be far away from each other we know it will only be a matter of time before we are back together."