WesternU College of Veterinary Medicine Dean Phillip Nelson named AAVMC board president
August 8, 2017
Read 2 mins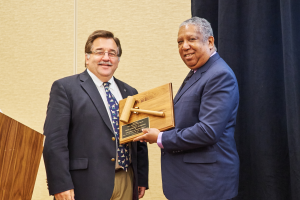 Western University of Health Sciences College of Veterinary Medicine Dean Phillip Nelson, DVM, PhD, recently began his one-year term as president of the Association of American Veterinary Medical Colleges (AAVMC) Board of Directors.
The 71-member international AAVMC provides leadership for and promotes excellence in academic veterinary medicine so that veterinarians are equipped to protect animal health, relieve animal suffering, conserve animal resources, promote public health and advance medical knowledge. It offers a leadership training program and scholarships, recognizes teaching excellence and is a participant in accreditation.
"I am honored to serve as president for such a prestigious collection of leaders in veterinary education," Nelson said. "I look forward to working with the professional staff of AAVMC, and hope to move our collective vision forward as we promote excellence in academic veterinary medicine."
Nelson took office on July 22 at the organization's summer meeting in Indianapolis. The gavel presentation ceremony took place during the 2017 American Veterinary Medical Association (AVMA) conference.
As president, Nelson is principal officer of the association and will provide leadership and direction to the 12-member board and association staff for his one-year term.
Nelson earned a bachelor's degree from Jackson State University in Mississippi, a DVM from Tuskegee Institute in Alabama and a PhD from North Carolina State University. He was appointed the dean of the College of Veterinary Medicine in 2007. In 2016, Nelson was awarded the AAVMC Senator John Melcher DVM Leadership and Public Policy award.
Categories: