Western University of Health Sciences College of Veterinary Medicine's virtual Oath Ceremony focused on the Class of 2020's resilience and gratitude.
CVM gathered 101 Class of 2020 graduates on Zoom for its Oath Ceremony May 14, 2020. The ceremony opened with video messages from graduates expressing their gratitude. CVM graduate Kathleen Rowan, DVM '20, thanked her classmates.
"Thank you for becoming my home away from home. Thank you for sharing the past four years with me – all the ups, the downs, the study sessions and celebrations," Rowan said. "With how competitive and often cold the application process was for veterinary school, I didn't anticipate my class to be such a sweet, caring, integral part of my life. Thank you for being there for me and for each other."
WesternU President Daniel R. Wilson, MD, PhD, gave an inspirational video message and WesternU Provost and Senior Vice President David Baron, DO, MSEd, also offered words of encouragement.
"I think we never really know how resilient or how tough we are until we face adversity. That's how we determine the true mettle of who we are and what we are," Baron said. "My most heartfelt congratulations for your accomplishments, for your ability to demonstrate your resilience and for being a member of this wonderful WesternU family. All your efforts have paid off in a way that you will only appreciate in the years to come."
CVM faculty also provided video congratulations. As each graduate's name was read, their photo and accomplishments appeared along with a live video feed, where they were able to give a quick shout out to classmates and thanks to the faculty and staff.
California Veterinary Medical Association President Bryan D. Halteman, DVM, administered the Veterinarian's Oath and CVM alumna Emalee Blumhagen, DVM '19, offered a welcome from the WesternU Alumni Association.
The commitment to attain something we really want gives us the courage to accept the struggle it takes to achieve it, said CVM Dean Phillip Nelson, DVM, PhD. Many graduates have wanted to be a veterinarian for as long as they can remember, and he believes they would still want to become a veterinarian even if they knew COVID-19 was ahead.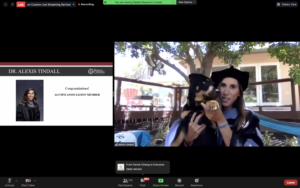 "The test is surviving the struggle, demonstrating the competencies required by our profession and developing the individual you have now become," Nelson said. "You have spent years of toil and tears to get to this day, only to be surprised that the actual DVM degree you coveted so much was only a ticket to something more important: the oath you have just taken to be a part of our profession and the acceptance of the responsibilities in that oath that we have collectively agreed to adopt to address for society's sake."