WesternU College of Podiatric Medicine white coat ceremony is a shared journey
August 15, 2023
Read 1 mins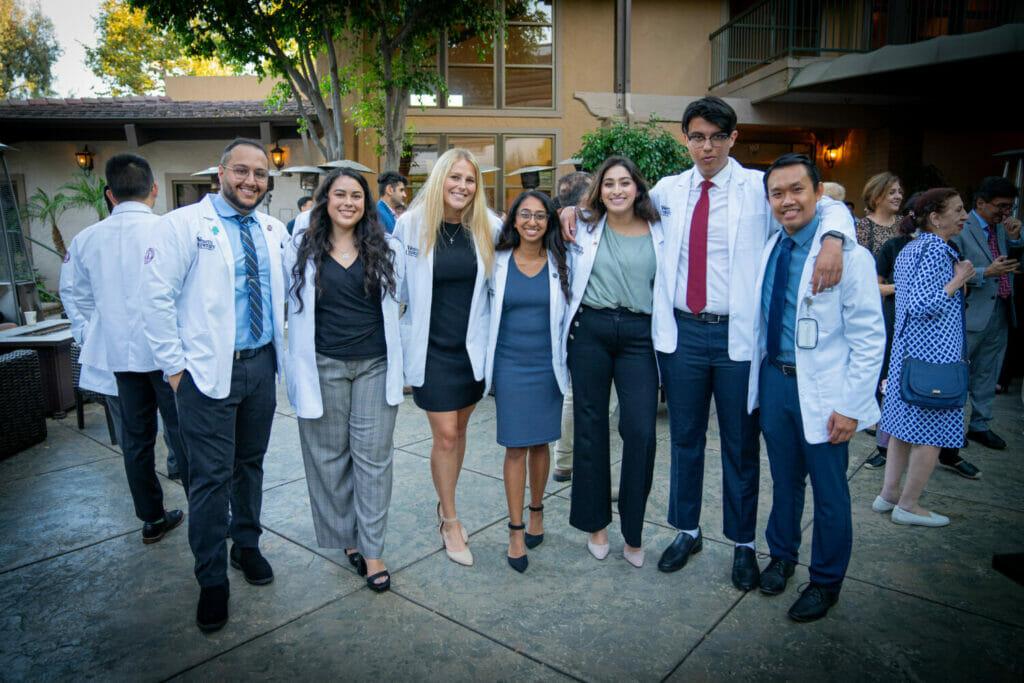 Life is a series of special moments leading to a lifetime of experiences and memories. For first-year Western University of Health Sciences students in the College of Podiatric Medicine (CPM), one of those special moments happened during their first week of medical school, the white coat ceremony, on Thursday, Aug. 10, 2023, at the DoubleTree By Hilton Hotel in Claremont, California.
With family and friends and University faculty and staff in attendance, the CPM Class of 2027 embarked on their journey to becoming doctors by donning their physician "white coats," making a personal pledge of commitment and taking the Podiatric Physician's Oath for the first time.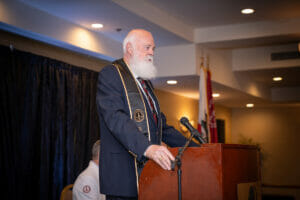 Western University of Health Sciences Board of Trustees member John Forbing welcomed the new students and acknowledged the white coat ceremony "brings to focus the true meaning of your choice: you must cure but also care. Wear it as a badge of pride symbolizing the choice to become a doctor."
Keynote speaker and CPM alumnus Byron N. Collier, DPM '15, DABFAS, DABPM, FACFAS, shared insight on his student experiences at WesternU.
"One wonderful thing about this University, it has a strong tradition in humanism. It will be reflected in your education. You have made the best choice in selecting a school and the profession," Collier said. "WesternU will provide you with a comprehensive, rigorous, and challenging education. I challenge you to embrace everything it has to offer."
First-year CPM student Sarah Zakhary beamed with joy talking about how special the week has been.
"It's going very well. I am having a good time. I honestly did not expect to like it so much. I thought it would be a lot more stressful," Zakhary said. "Earlier this week, it was surreal trying on the coats. It makes it a really real moment. To just be there and be here now."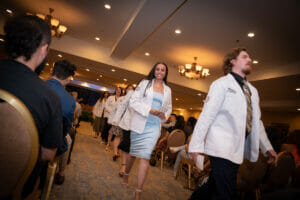 Zakhary is not alone on this journey. She has a team of family and friends who have supported her throughout her life academically and personally.
"I have a lot of people here tonight. Family and friends from home and college," she said. "My mom is over the moon. She always wanted me to be a doctor, to be a surgeon. I am really excited to make her proud."
Like Zakhary's mom, longtime friend Girgis Girgis was just as happy and proud.
"I think Sarah has always wanted to impact people. She is such a kind person. This is her passion," Girgis said. "We just can't wait to be with her and support her through the journey. Every successful person needs a support system and that's what we are here for."
The white coat ceremony is an annual, nationwide event and a rite of passage. The ceremony plays a vital role in instilling first-year students the values of their profession. It encourages the students to embrace the duties that come with their scope of practice, which includes excelling in scientific knowledge, demonstrating compassion towards patients, and upholding principles of integrity and honor.
California Podiatric Medical Association (CPMA) President and former CPM Assistant Professor Diane Koshimune Guadron, DPM, emphasized the characteristics of becoming a doctor.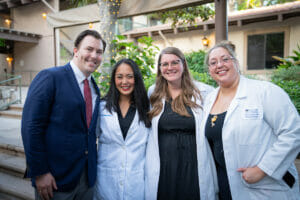 "The white coat denotes professionalism and dedication on your part and a mark of accomplishment and memory, but also incredible trust from vulnerable patients and their families," Koshimune Guadron said. "The coat symbolizes single-handedly so much. With it comes a moral obligation, to continue to strive to be the best version of yourself and to ultimately do no harm."
For first-year CPM student Kyle San Jose, Welcome Week and white coat have been emotionally gratifying for him.
"It's been good, meeting a lot of new people, absorbing everything that WesternU is offering," he said. "It's still not hitting me that tonight is our white coat ceremony. I am really excited to begin this chapter."
San Jose shared not only the importance of the moment for him, but also his family, especially his mom.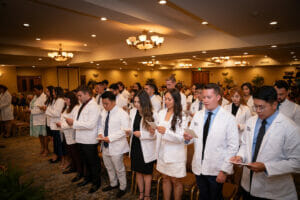 "My mom was crying on the phone today. Just talking and thinking about tonight's ceremony. She was just really happy for me," San Jose said.
As a first-year student, Scott Atkinson has embraced the moments of Welcome Week.
"It's been a lot of fun. I have met a lot of new people, new classmates, and friends. It's been enjoyable," Atkinson said. "I am very excited. I am a little nervous. I worked very hard to get here. I am excited to begin my journey at WesternU."