WesternU College of Podiatric Medicine to lead Special Olympics Fit Feet health screenings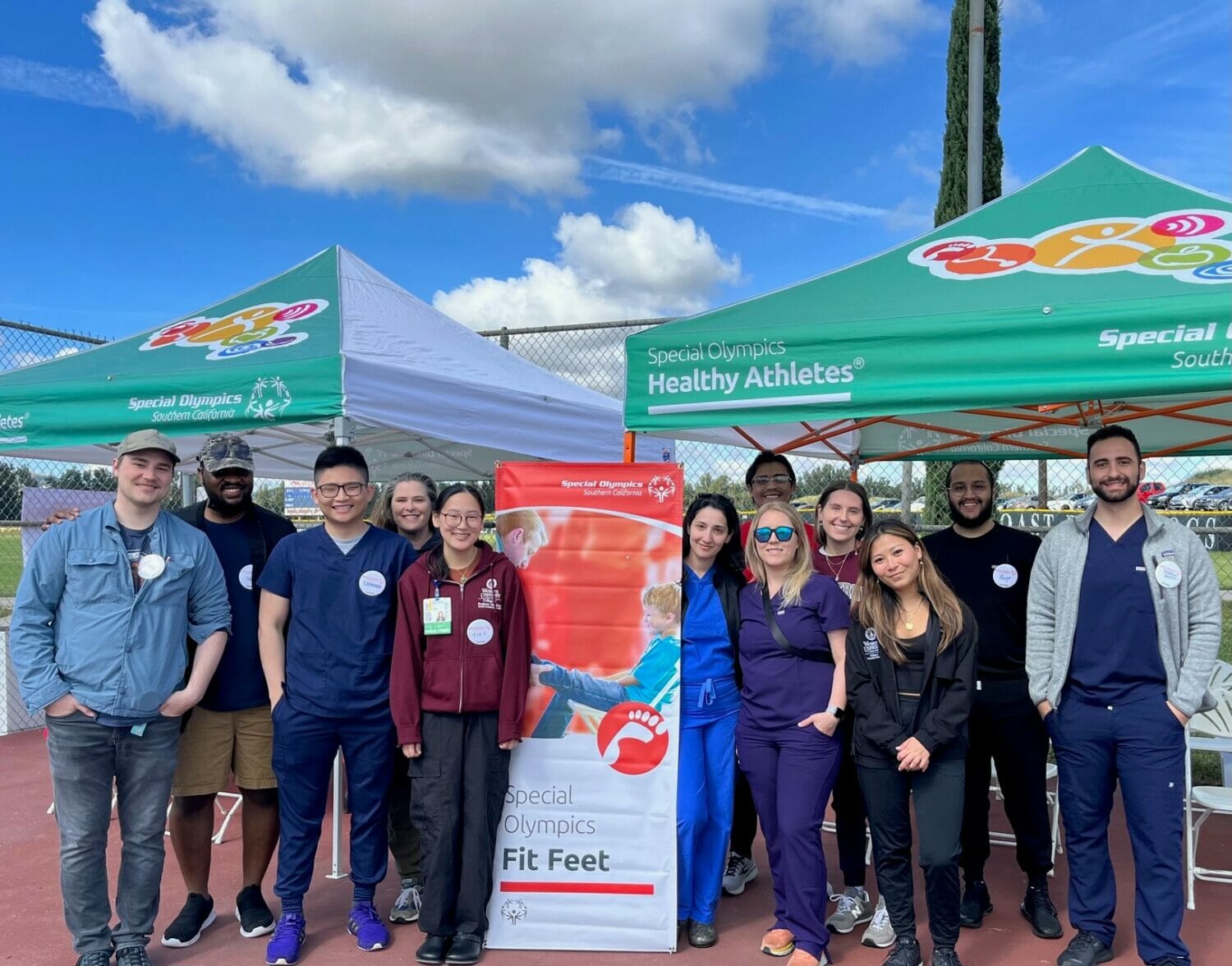 Western University of Health Sciences College of Podiatric Medicine Assistant Dean of Clinical Affairs and Faculty Affairs Rebecca Moellmer, DPM, FACFAS, FAAPSM, DABPM, and CPM Assistant Professor Chandler Hubbard, DPM '18, are both Special Olympics Healthy Athletes Fit Feet Clinical Directors.
They will lead CPM students and other volunteers at the foot screening and analysis areas at the Special Olympics Southern California Summer Games at California State University, Long Beach June 10-11, 2023. College of Dental Medicine faculty and student volunteers will also provide oral cancer/dental screenings, oral hygiene instructions, fluoride varnish, and boil-and-bite mouthguards.
Dr. Moellmer has been volunteering at Special Olympics since 2006 and has served as a Fit Feet Clinical Director for about eight years.
"I enjoy interacting with athletes and their coaches and family," Moellmer said.
Dr. Hubbard, who recently become a Fit Feet Clinical Director, first volunteered at Special Olympics as a CPM student in 2015, under the supervision of Dr. Moellmer.
"I loved the entire process," Hubbard said. "I wanted to do whatever events I could."
Student volunteers might examine anywhere from 75 to hundreds of athletes at any given event, "which is great experience for students. Hands on is priceless," Moellmer said. "They're not just seeing one person, it's an onslaught of athletes. We're really busy."
Special Olympics Fit Feet offers screenings to evaluate ankles, feet, lower extremity biomechanics, and proper shoe and sock gear to participating athletes. Many athletes suffer from foot and ankle pain, or deformities that impair their performance, according to the Special Olympics website.
In fact, up to 50 percent of Special Olympics athletes experience one or more preventable or treatable foot conditions that can affect their sports participation. Often, these individuals are not fitted with the best shoes and socks for their particular sport. During Fit Feet events, volunteer foot health care specialists work with athletes to evaluate problems of the feet, ankles and lower extremity biomechanics, according to Special Olympics.
Donations of socks, shoes and other prizes are given to athletes for completing the healthy athlete evaluations. Student volunteers get a lot of experience performing basic exam skills and they also see different biopathologies performing gait exams on the athletes, Hubbard said.
"Watching them walk is the most interesting part of the day," Hubbard said. "Students learned about (different biopathologies) and now they are applying what they learned."