WesternU College of Podiatric Medicine student creates non-profit initiative to address access to health care
A Western University of Health Sciences College of Podiatric Medicine (CPM) student and her brother started a nonprofit organization for the same reasons they are pursuing a career in medicine – "to be good Samaritans."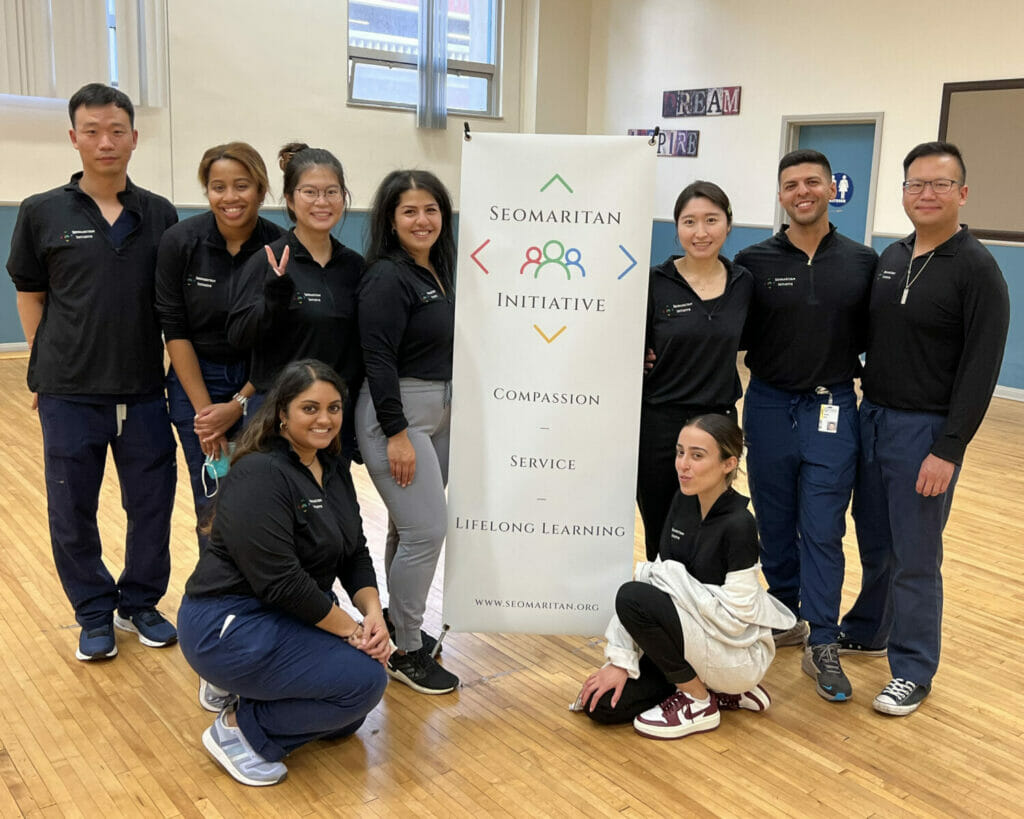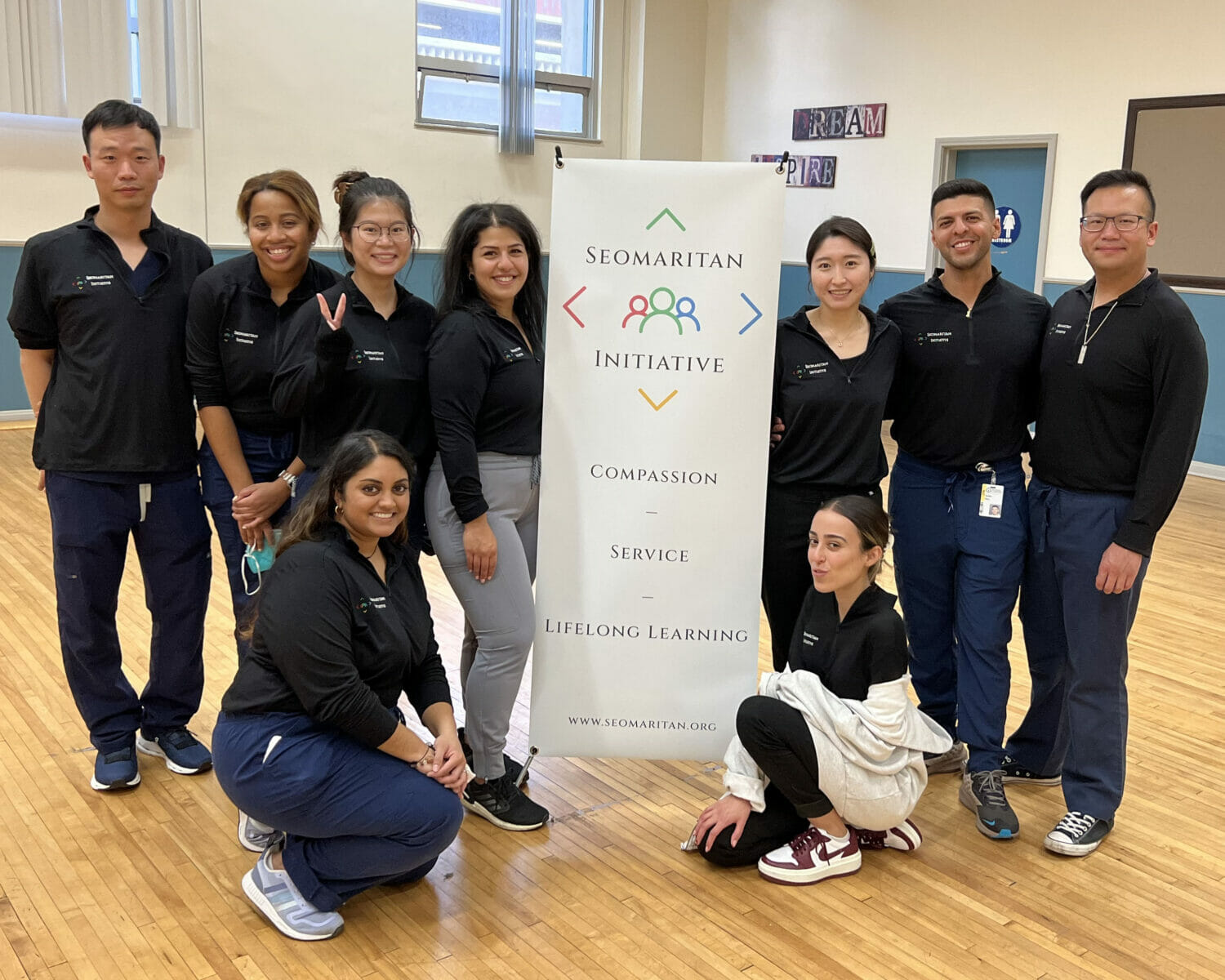 Second-year CPM student Sarah Seo and her brother David Seo started the Seomaritan Initiative in 2022 to help communities and underprivileged people improve their quality of life through better access to care.
"I believe that getting care and getting access to health care is a right, not a privilege," said Seo. "Our mission is to create a movement where we can inspire and mobilize members of our community to help achieve our collective mission of securing basic health care for every individual. It is our hope that the Seomaritan Initiative project will create a platform for health care advocates to collaborate and tackle the many challenges our health care system faces today."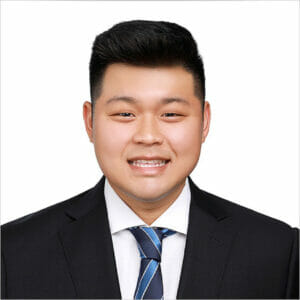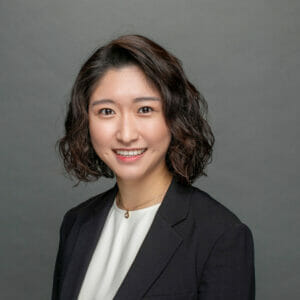 Seo said she would like to utilize the Seomaritan Initiative to stress the importance of foot health, believing the foot is one of the most undervalued parts of the human body.
"Our feet are like a 'second heart.' Our feet endure so much weight and pressure every single day and they play a crucial part in pumping venous blood back towards our heart," she said. "When people experience chest pain or abdominal pain, they are quick to visit their doctor but delay doing so with foot health. Proper screening and maintenance of foot health can prevent many diseases and possible amputation."
Seomaritan Initiative's first event was a free foot screening in partnership with Union Station Homeless Services (USHS) at Centennial Place in Pasadena. Seo recruited second-year CPM students to volunteer and her mentor, Dr. Sang Kim, to be a preceptor. They provided foot examinations, tested for vascular issues, neuro, assessed for musculoskeletal pain, dermatology, and when needed, provided debridement. Their second event was another free medical foot screening with USHS in Eagle Rock in collaboration with podiatric and osteopathic medical students. Dr. Kim was a preceptor along with a team of medical doctors who were handing out free shoes. On New Year's Day, Seomaritan provided warm meals for residents of the homeless shelter.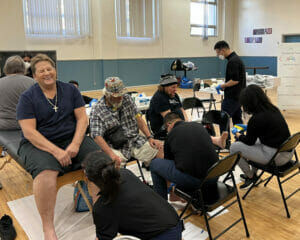 CPM students who have volunteered for Seomaritan are Donya Rabadi, Riley Thomas, Negin Esmailzadeh, Qi Chu, Emilio Rico, Daniel Chung, and Bhumi Patel.
CPM Dean Jonathan Labovitz, DPM, FACFAS, CHCQM, met with Seo to discuss how the College can support her initiative. There are plans for CPM to introduce Seo to potential preceptors near events she is planning and assist in marketing events. In addition, Dr. Labovitz is connecting Seo with the American Diabetes Association because Seo has a strong interest in the diabetic population. Her goal is to spread awareness, importance, and knowledge of proper diabetes management and how podiatrists can play a crucial role in the diabetes community.
"Sarah is taking on the daunting task of addressing access to health care that many have tried to fix before. Yet Sarah is accomplishing it by bringing care to communities and to underprivileged people in need," Labovitz said. "Her interest in diabetes is a critical element to helping those unable to receive basic care, especially with the disparities of care leading to Latinx, Indigenous people and Blacks being 1.5 – 4 times more likely to suffer an amputation due to complications of diabetes. Sarah's dedication and passion to serve these communities can greatly improve the quality of life and lifespan of many people."
Seo says she found out about the field of podiatric medicine during the medical school application cycle. She shadowed a podiatrist that summer, who became her mentor, and fell in love with the field.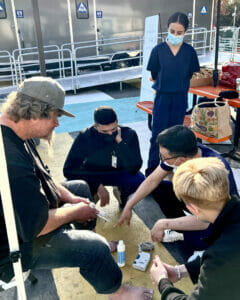 Because podiatric medicine is fairly a new field compared to allopathic or osteopathic colleagues, it's a field with numerous potentials, she said. As the United States struggles to fight the obesity and diabetes pandemic, the role of foot and ankle surgeons will be more valuable in the future, she added.
"WesternU CPM is the perfect place to learn and challenge yourself to become the most competent doctor for your future patients and I am grateful and thankful that I made this decision every day," Seo said.
Categories: