WesternU College of Podiatric Medicine endows Honors Day in recognition of Dr. V. Kathleen Satterfield
March 29, 2023
Read 1 mins
Western University of Health Sciences' College of Podiatric Medicine celebrates students' accomplishments every year at CPM Honors Day. Fittingly, the event will now also honor longtime CPM leader V. Kathleen Satterfield, DPM, FACPM, MAPWCA.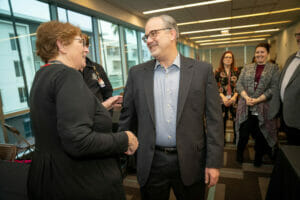 CPM surprised Dr. Satterfield with the announcement at a special gathering on Tuesday, March 21, 2023.
"We wanted to honor you in a way that you have honored us," CPM Dean Jonathan Labovitz, DPM, FACFAS, CHCQM, said to Dr. Satterfield during the surprise announcement. "You always praised us for all of our achievements. You praise the students for their achievements. And so we have now named Honors Day the Satterfield CPM Honors Day ceremony."
The Satterfield CPM Honors Day endowment was created to honor Dr. Satterfield and the commitment she made to the profession of podiatric medicine and to podiatric medical students. Contributions to the endowment will be used to fund the cost of celebrating CPM students' accomplishments during the annual Satterfield CPM Honors Day ceremony. To contribute to the endowment, visit WesternU's Alumni & Friends website.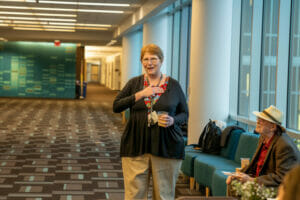 "I am humbled by this honor and especially that it includes my husband, Tim, who has partnered with me on everything I do. I certainly didn't need another plaque and this gift makes us feel that we will continue to be a part of WesternU long after we are gone," Satterfield said. "It is the most meaningful thing that has ever been done for us. Thank you to everyone who contributed to make this possible."
Satterfield has been an integral part of the College of Podiatric Medicine from its early days. She has worked at WesternU since September 2010 and provided leadership continuity when she served as CPM dean from May 1, 2019 to Oct. 31, 2022. She now serves as Professor and Dean Emeritus.
"It's been an honor for me to work with her side by side over the last 13 years and especially the last few years under her leadership," Labovitz said. "Thank you for everything. Just know how much you mean to all of us here and to this University and that we appreciate everything you have done for us."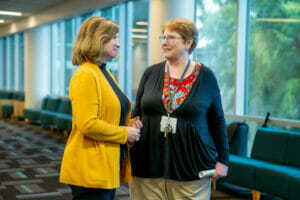 WesternU Provost Paula M. Crone, DO '92, served as dean of the College of Osteopathic Medicine of the Pacific (COMP) during Satterfield's tenure as CPM dean. CPM and COMP students have an integrated curriculum in their first two years, requiring tremendous coordination between the two colleges.
"I want to let you know how much I respect you and love you, and the honor that your faculty and friends have bestowed on you today is so deserving," Crone said. "To one of the most humble women I know, who on the other side of that coin is a true warrior with all the heart and determination to take care of those around her to the very best of her ability. She demonstrated that moment by moment, day by day, year by year. We are all so grateful for you. Know that your impact as a faculty member at WesternU, your impact as a leader, your impact as dean, and your impact as a friend to so many of us in this room will never be forgotten."