WesternU College of Pharmacy welcomes first class set to graduate in 3.5 years
August 17, 2023
Read 1 mins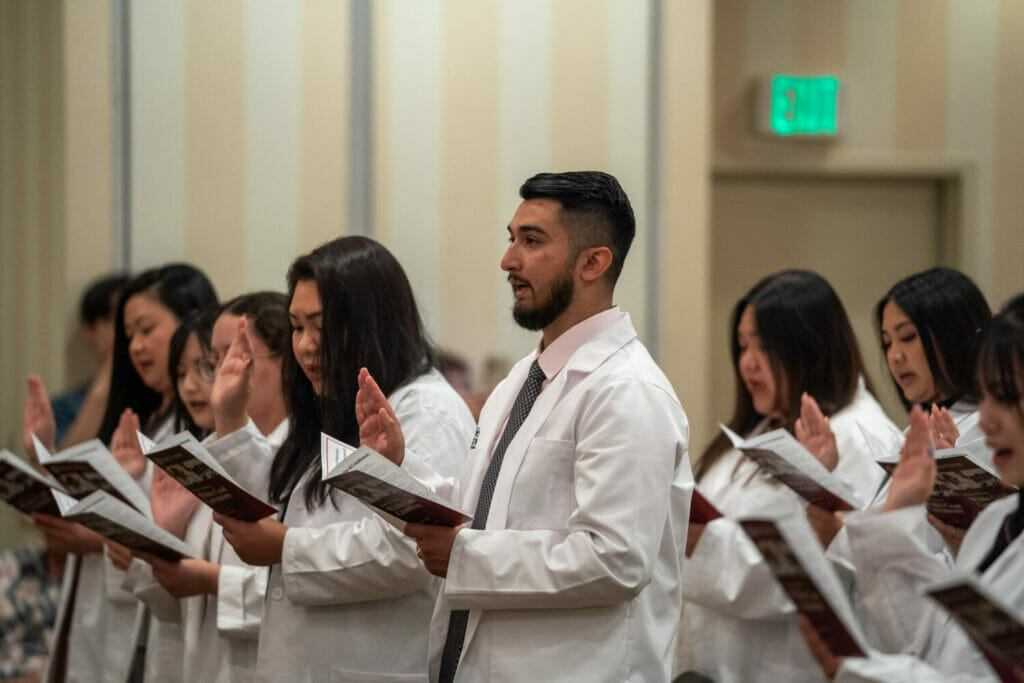 Most California pharmacy students beginning their education now will earn their Doctor of Pharmacy (PharmD) degree in May 2027. The incoming Western University of Health Sciences College of Pharmacy (COP) class will finish in December 2026 as the first 3.5-year PharmD program in California.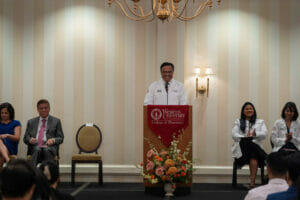 This trailblazing COP class capped off Welcome Week with its white coat ceremony Aug. 12, 2023, in Pomona, California. True to COP's motto, "Create. Care. Connect," the College has worked hard to develop this 3.5-year program, said COP Dean Sunil Prabhu, BPharm, PhD. Approximately 1,000 to 1,200 students graduate from pharmacy schools in California in May each year, so graduating in December will provide distinct advantages, he said.
"There will be no competition from other schools in the state in December," Prabhu said. "Our students will take the board exams early and thereby get into the workforce earlier than others. Our students will secure prime jobs as predicted by our employers. Employers have expressed their excitement as the hardest time to fill positions is during the first four to five months of the year."
COP students interested in residencies will have an advantage during residency interviews in January 2027 as they present research data from their capstone scholarly projects, Prabhu said. Most importantly, they will assure their residency program directors of guaranteed licensure by July of that year, something that other students from other schools cannot promise, he said.
"We will always be known as No. 1 in this state for this innovation," Prabhu said. "As I said to our students on day one on Monday, 'You are the trailblazers and the pioneers of this innovative program.' Today, as you start your journey as student pharmacists, remember that the faculty and staff will be with you every step of the way. That is ingrained in our culture. We want you to be successful in the program and beyond. However, you will need to do your part. Work hard, stay disciplined, and above all, make your parents and family proud of your achievements."
COP is consistently ranked nationally in first-time board passing rates and is ranked in the top 6 in research among all private schools of pharmacy in the country, securing significant NIH and other funding, Prabhu said.
"With our world-class faculty and excellent staff, I assure you that they're in good hands and will be provided all the resources at our disposal to make them into successful practitioners of our profession," Prabhu said to the students' families. "Thank you for your support as we embark on this new journey together."
First-year COP student Anique Sheikh said the 3.5-year schedule was a factor in deciding to come to WesternU, along with the high board pass rates.
"I felt like I can get it done faster and get my job faster," Sheikh said. "Like they said, when you're applying for a license and exams, you're basically competing just with your class rather than other schools. If you graduate in June, you're waiting for your seat for exams and licensure. It's about the timing."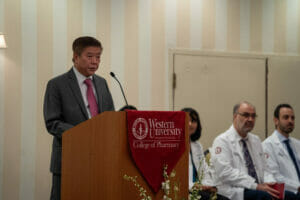 WesternU Board of Trustees member Tony L. Chan, PharmD, who has worked as a pharmacist for 45 years, said the students are embarking on a journey that will not only shape their career, but also impact the well-being of countless individuals.
"Our role extends far beyond just dispensing medications. Today, we have become stewards of wellness and confidants in times of health care changes," Chan said. "One of the most remarkable facets of this profession is the unique blend of scientific inquiry and human interactions it offers. As pharmacists we possess the knowledge to decode the intricacy of drug interactions as well as the privilege to interact with patients on a personal level, offering guidance, empathy, support, and lasting impacts on the lives we touch. Moreover, being a pharmacist grants us a remarkable vantage point within the health care ecosystem. We work collaboratively with physicians, nurses and other health care professionals, contributing our expertise in the intricate puzzle of patient care."
City of Hope Vice President and Chief Pharmacy Officer Wafa Samara, PharmD, served as the keynote speaker. During the COVID-19 pandemic, pharmacists became a primary touch point for patients, she said.
'The accessibility of pharmacists in multiple settings for prescribing, counseling, vaccinating, and rounding on hospital patients, that accessibility allowed many patients to have access to high-quality care during COVID," Samara said. "And that's why we all decided to be pharmacists. That's why we all are here. It's not about the paycheck, it's about the impact and the influence you are all going to have on people's lives."
Samara encouraged students to follow their passion, develop their soft skills – such as problem solving, adaptability, and interpersonal skills – and to build their professional network. She also told them they will have an impact on their patients and on the communities they serve.
"Together we will shape the future of health care and make a much lasting impact. This is our time as pharmacists to make an impact on health care," Samara said. "Congratulations, and let us begin this incredible, inspiring, rewarding, successful, healthy, and happy pharmacy journey. The sky is the limit."