WesternU College of Pharmacy tops CPJE passing rates for second year in a row
November 7, 2022
Read 2 mins
In two vitally important licensing exams for pharmacists, Western University of Health Sciences College of Pharmacy (COP) graduates once again ranked among the top in pass rates.
For the second year in a row, WesternU COP students have topped the California Practice Standards and Jurisprudence Exam (CPJE) with the highest passing rate of 79.7 percent, beating out all other pharmacy schools in California. The California state average is 66 percent.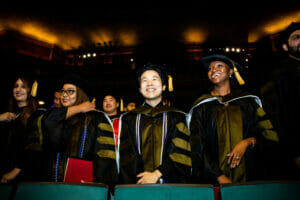 COP Class of 2022 graduates also had a spectacular showing in the National Pharmacy Licensure Exam (NAPLEX) with a pass rate of 94.8 percent, placing the College amongst the top 3 in California and the No. 1 private school in the state. Passing both exams is required to receive a pharmacist license.
"I would just like to take this opportunity to express my deepest gratitude to the tireless work of our faculty and staff who are selflessly committed to the success of our students, year after year. They are the reason for our students' success today, so I applaud each and every one of them for their time and effort," said College of Pharmacy Dean Sunil Prabhu, BPharm, PhD. "As I have said before, I feel extremely fortunate to be part of this great College and WesternU."
Prabhu congratulated the COP Class of 2022 in an email announcement about the test results.
"What a wonderful achievement! You have made your University, College, faculty and staff and all our stakeholders extremely proud of you and given them bragging rights to speak on your behalf," Prabhu wrote. "You are truly an inspiration to our current students and future graduates showing that hard work and perseverance pays off! You made the right choice by selecting our College four years ago and now I hope that you will proudly carry the WesternU COP badge of honor into bigger and better things in the future."