WesternU College of Pharmacy Dean elected as California Pharmacy Council Chair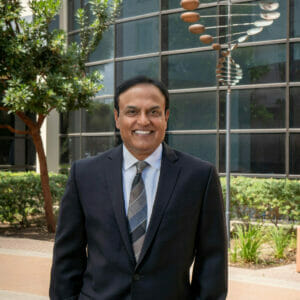 Western University of Health Sciences (WesternU) College of Pharmacy Dean Sunil Prabhu, BPharm, PhD, was unanimously elected as the Chair of the California Pharmacy Council (CPC) during the recently concluded California Pharmacists Association (CPhA) annual meeting in Las Vegas, Nevada.
The California Pharmacy Council (CPC) is a consortium of CEO deans of all 14 schools and colleges of pharmacy in California, leaders of the California Pharmacists Association (CPhA) and the California Society of Health-System Pharmacists (CHSP) along with representatives from their respective foundations. The California Board of Pharmacy is also represented in the CPC. The mission of CPC is to promote the pharmacy profession in the state through collective efforts of academia, pharmacy associations and the state board.
Although Dean Prabhu's two-year term officially runs from Jan. 1, 2024 to December 2025, he will assume the chair position beginning July 1, 2023 to serve out the remaining term of the current CPC chair, Dr. Michael Hogue, outgoing Dean of Loma Linda University School of Pharmacy. Dr. Hogue recently accepted the position of permanent CEO of the American Pharmacists Association (APhA) and will be moving to Washington, D.C. at the end of June.
In his closing remarks to the CPC membership, Dr. Hogue congratulated Dr. Prabhu on his unanimous election as chair of CPC and offered his assistance in transitioning into this new role. "Dr. Prabhu is a good fit for this position and will be a great asset to the advancement of our profession through this council" Dean Hogue said.
In his remarks, Dr. Prabhu thanked Dean Hogue for his leadership of the CPC over the last 1.5 years. "Much still needs to be done, and like you I will also strive to give our group a larger and stronger voice with regards to moving the profession forward in our state," Dean Prabhu said.
Categories: