WesternU College of Pharmacy creates linkage program with Fullerton College
December 5, 2022
Read 3 mins
Western University of Health Sciences College of Pharmacy has signed a Memorandum of Understanding with Fullerton College (FC) to create a pathway for FC students to become pharmacists.
The transfer admission guarantee agreement will provide Fullerton College students with a guaranteed seat in the College of Pharmacy's PharmD program upon completion of the prerequisites while maintaining a 3.0 or higher GPA.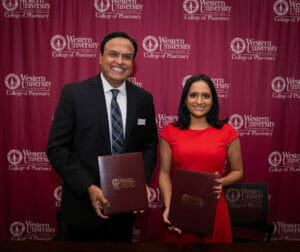 College of Pharmacy Dean Sunil Prabhu, BPharm, PhD, signed the MOU with Fullerton College Natural Sciences Division Dean Bridget Salzameda, PhD, on Nov. 3, 2022. The gathering included several faculty and staff from both institutions.
"When Dr. Prabhu and I first met to discuss this partnership, I was thrilled our students would be given a clear pathway for a career in pharmacy," Dr. Salzameda said. "This partnership will be an opportunity for students to go directly from Fullerton College to pharmacy school at WesternU. Our FC Natural Sciences faculty are enthusiastic to continue providing high-quality education, and with help from WesternU, we will provide resources to ensure this is a smooth transition for our FC students."
"This is the start of a beautiful friendship that will be long term for us," Dr. Prabhu said to the FC guests in attendance. "We want to increase our diversity as well as to bring in future pharmacists into our fold. You are the first College we have signed with, and we will make sure that it is successful going forward, and that your students really thrive at WesternU when they come here."
As part of its CCAPP (Community College Accelerated Pharmacy Pathway) program, COP will reach out to and support community college students and also connect with the high schools that feed into those colleges, said COP Assistant Dean for External Relations Eric Gupta, PharmD.
Dr. Gupta presented an overview of the PharmD program to the FC guests. COP emphasizes a team-oriented learning and practice environment. FC students who enter the CCAPP program will have opportunities to conduct research with COP faculty, and they will also provide community service through health fairs and student clubs.
"At WesternU, we provide the environment for our student pharmacists to be the best pharmacists they can be down the road," he said. "We're happy to have you sending your students to us and we want to help mentor them in the same way, and we're excited to start this partnership with Fullerton College."