WesternU College of Pharmacy Class of 2022 alumnus creates endowed scholarship
February 23, 2023
Read 1 mins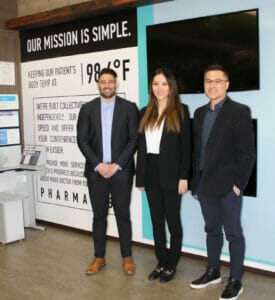 Western University of Health Sciences College of Pharmacy alumnus Dr. Kevin Mancilla, from the PharmD Class of 2022, joined with fellow donors Dr. Lilia Xu and Dr. Ken Thai to establish the 986 Hope Endowed Scholarship.
The $50,000 endowment will annually award a scholarship to one student who best meets the following criteria as determined by the College of Pharmacy Awards Committee: A PharmD student in good academic standing; demonstrates a desire for entrepreneurship and creativity in the community pharmacy space towards service for the underserved; and possesses a desire for community pharmacy ownership. The scholarship is expected to first be awarded in spring 2025.
"We started this scholarship in order to support student leaders who are using the pharmacy profession as a platform to help underserved populations and make a lasting impact in their community," Dr. Mancilla said. "We believe philanthropic leadership is a key component of our profession and we want to encourage and support these future leaders of pharmacy to continue the great work."
The scholarship donors are supporting this endowment because they also benefited from scholarships when they were students, Mancilla said.
"Scholarships have helped provide economic support to help with the financial impact of pursuing higher education. In addition to the financial benefit, the past scholarships we received allowed us to focus on our education, philanthropy, and leadership," Mancilla said. "We are grateful for those before us who contributed generously to support our development and careers in pharmacy and we are excited to pay it forward."
Dr. Mancilla is contributing to an endowed scholarship less than a year after graduation.
"It is extremely rare for new graduates to endow a scholarship award this early in their career," said COP Dean Sunil Prabhu, BPharm, PhD, "but knowing Kevin, his love for the College and the passion for the pharmacy profession, it is not surprising.
"Kevin has always been a trendsetter and continues to amaze us with his motivation and focus to move the profession forward," Prabhu added. "He has shown that it is never too early to give back to your alma mater and I hope this will inspire many of our graduates to do the same."
Dean Prabhu also recognized the contributions of Dr. Mancilla's partners, Dr. Lilia Xu and Dr. Ken Thai, who joined Dr. Mancilla to create the 986 Hope Pharmacy Scholarship Endowment Award.
"Dr. Thai has been a good friend of WesternU COP for many years and continues to support students through other endowed scholarships, and we welcome Dr. Lilia Xu as a new partner in our quest to prepare the next generation of pharmacists interested in independent pharmacy practice," Prabhu said.