WesternU College of Pharmacy Associate Dean Anandi Law elected AACP president
January 12, 2023
Read 1 mins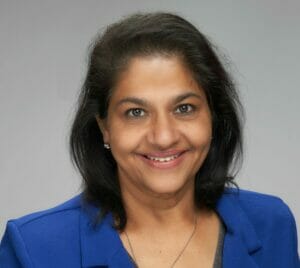 Western University of Health Sciences College of Pharmacy (COP) Professor and Associate Dean for Assessment Anandi Law, BPharm, MS, PhD, FAPhA, has been elected as the President-Elect of the American Association of Colleges of Pharmacy (AACP). She will be installed as President-Elect in July 2023 at the annual AACP meeting in Aurora, Colorado and will take over the presidential reins during the 2024-25 academic year.
"I am humbled, honored and very excited to take on this role to help advance pharmacy education," Dr. Law said. "I am deeply indebted to all my mentors who encouraged me. A special thanks to my colleagues for their continued support and belief in me, I hope to live up to those standards and expectations. I am very grateful to have this opportunity to represent academic pharmacy and very proud to represent my institution."
Dr. Law, who joined WesternU in July 1999, earned her Bachelor's degree in Pharmacy from the University of Mumbai, India and her Master of Science in Pharmaceutics and PhD in Pharmaceutical Administration degrees from The Ohio State University. Dr. Law headed the most recent accreditation self-study and strategic planning process at WesternU's College of Pharmacy. She also served as COP's Pharmacy Practice and Administration Department Chair from 2007 to 2018. She has served on AACP's Board of Directors as elected Chair of Council of Faculties from 2015 to 2018.
"This is truly a remarkable career achievement for Dr. Law, having worked so hard in various leadership capacities at AACP culminating in this spectacular recognition by her peers," said COP Dean Sunil Prabhu, BPharm, PhD. "This is also a moment of celebration for us as a College to have someone from our ranks achieve the highest office in our academy, definitely putting our College in the national spotlight."
Dr. Law has been named this academic year to the WesternU Provost's Distinguished Scholar Award. She maintains an active research profile focused on practice and payment transformation, health outcomes measurement, and pharmacist roles in improving medication use outcomes. She has several grants, more than 70 peer-reviewed articles, 90 peer-reviewed abstracts and eight book chapters in her areas of interest and several invited talks across the globe. Dr. Law directs an ACCP peer-reviewed Health Outcomes Research fellowship, which has graduated nine fellows since 2003.
Dr. Law recently headed COP's Diversity, Equity and Inclusion Task Force. Her teaching includes a Health Systems module, a course in Practice Management, a four-year longitudinal leadership curriculum, and a Stress Management elective involving Meditation, Mindfulness and Yoga.
In addition to being active in professional associations such as AACP, APhA and ISPOR, she has an active interest and role in advocating for expanded pharmacist roles. Dr. Law also serves on the Editorial Advisory Board of four peer-reviewed journals; she was former editor-in-chief of JCPhP and is currently Associate Editor for both RSAP and AJPE. Dr. Law belongs to Rho Chi National Honor Society and Phi Lambda Sigma-the Pharmacy Leadership Society. She is a graduate of the Academic Leadership Fellows program through AACP in 2010 and was named fellow of APhA in 2013.
Dr. Law said she feels that "Each of us in the health professions has a responsibility to improve the quality and delivery of health care in some manner. Service in professional societies is one such important and impactful approach."
"My work with AACP helped my growth as an educator and researcher at a personal level, but more importantly, I have witnessed the impact of AACP in moving the profession forward with curricular transformations and advocacy," she said. "My goals are to support innovative models that can help optimize the intense PharmD curriculum so we can continue to attract motivated applicants and prepare our graduates to best serve our patients effectively and efficiently. I plan also to continue partnering with other professional societies and advocating for better recognition and utilization of pharmacist roles as medication therapy experts in order to meet practice and societal needs."
Categories: