WesternU College of Optometry professor joins EyePromise as Chief Medical and Science Officer
July 27, 2023
Read 1 mins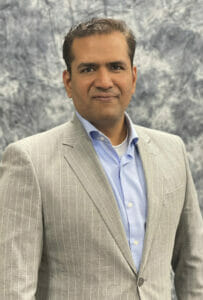 Western University of Health Sciences College of Optometry Professor Pinakin Davey, OD, PhD, FAAO, FARVO, is the new Chief Medical and Science Officer for EyePromise, the leading provider of evidence-based nutritional supplements for eye health.
As the Chief Medical & Science Officer, Dr. Davey will play a pivotal role in shaping and driving EyePromise's scientific and medical initiatives, according to EyePromise. His responsibilities will include overseeing the development and clinical evaluation of EyePromise's nutritional products and technology, collaborating with renowned experts in the field, and guiding the company's research and development efforts. Dr. Davey will also remain in his current position as a tenured Professor at WesternU's College of Optometry.
"I am thrilled to be joining EyePromise and working alongside such a talented team," Dr. Davey said. "I am equally excited for the opportunities this will provide for WesternU and College of Optometry students. Whenever I take on any responsibilities, I always seek ways to benefit WesternU students through internships and externships, research projects, and grants."
Dr. Davey earned his Doctor of Optometry degree from Southern College of Optometry and his PhD from Anglia Ruskin University in Cambridge, England, in corneal biomechanics and its influence on glaucoma-related measurements.
"Congratulations to Dr. Pinakin Davey on his prestigious appointment as Chief Medical and Science Officer of Eye Promise," said WesternU College of Optometry Founding Dean Elizabeth Hoppe, OD, MPH, DrPH. "With his exceptional medical acumen and unwavering dedication to advancing eye health, we at WesternU are confident that Dr. Davey will lead Eye Promise to even greater heights, delivering innovative solutions for better vision and well-being."
Dr. Davey's post-doctoral research fellowship at the University of Louisville for three years was focused on improving imaging techniques in glaucoma. He has authored over 75 international publications and has given over 500 conference and invited presentations both nationally and internationally. His research area is focused on retinal and optic nerve physiology and research methods of improving vision in patients with glaucoma and macular degeneration. Dr. Davey is a fellow of American Academy of Optometry (AAO), a fellow of Association for Research in Vision and Ophthalmology (ARVO), a member of Optometric Glaucoma Society (OGS) and the American Optometric Association (AOA).
"We are thrilled to welcome Dr. Davey to EyePromise as our Chief Medical & Science Officer," said Andreas Wolf, President of EyePromise. "His deep knowledge of medical optometry, clinical research, and nutrition will greatly strengthen our scientific foundation and accelerate our mission of providing innovative solutions for eye health. We are confident that Dr. Davey's expertise and leadership will guide us towards new breakthroughs and further establish EyePromise as the trusted authority in the field."
Categories: