WesternU College of Optometry professor and student honored at COVD Annual Meeting
Western University of Health Sciences College of Optometry faculty and students received top honors and presented research at the College of Optometrists in Vision Development (COVD) Annual Meeting April 25-29, 2023, in Toronto, Canada.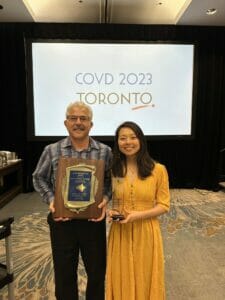 COVD honored College of Optometry Chief of Pediatric Optometric Service and Associate Professor John Tassinari, OD, BS, FAAO, FCOVD, with the A.M. Skeffington Award, which is presented to the COVD Fellow who has made outstanding contributions to the optometric literature in the areas of vision therapy and vision development.
"This is high-level recognition of optometric writing and publishing. Skeffington was a prolific writer. I have read hundreds of pages written by him, easily," Tassinari said. "The people who have won it before me are legendary. Seeing my name on that list, it felt really good. I was really honored and surprised."
COVD is a professional association for optometrists specializing in vision therapy and children's vision. COVD is also an advocate for optometric vision therapy. They have a great website that is frequently accessed by the public, Tassinari said.
"It's a place for those of us who specialize in children's vision and vision therapy to share ideas in journals, meetings, and other forums," he said. "COVD also has a Fellowship Certification Process for Vision Therapy specialists."
College of Optometry student Crystal Sin, who graduated on May 18, received the Laudon Vision Grant, awarded annually by COVD to a fourth-year student who is dedicated to taking the next step into their career in vision therapy.
"I am incredibly fortunate and honored to receive the Laudon Vision Grant from COVD for my passion in vision therapy alongside my mentor, Dr. John Tassinari, who received the A.M. Skeffington Award," Sin said. "One of my goals is to make vision therapy common knowledge to the general public. I have nothing but excitement for this next chapter of my journey. Thank you to those who have supported and guided me all these years!"
Sin has a strong foundation in terms of work ethic, organization, communication, professionalism, and demeanor, and she will be a lifelong learner as an optometrist, Tassinari said.
"She has the skills to be a leader, and she will be a very good optometrist in terms of her skills and in that she is just nice to people. It's amazing how much our patients like her," Tassinari said. "She is going to be one of our all-stars."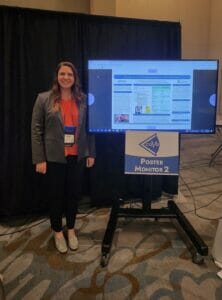 In addition to these honors, College of Optometry faculty Drs. Bradley Habermehl, Naveen Yadav and Valerie Quan, and CO student D'Anne Harp presented their poster, "Effects of Multisensory Table (OMST) Training on the Eye Movements VEP and Pupillary Responses on Patients with Moderate TBI."
Resident Optometrist Claire Michel, OD, and Associate Professor and Director of Community Outreach Kristy Remick-Waltman, OD, FCOVD, presented their poster "Torticollis with Vertical Misalignment Improved by Virtual Vision Therapy."