WesternU College of Optometry celebrates the Class of 2027
August 18, 2023
Read 1 mins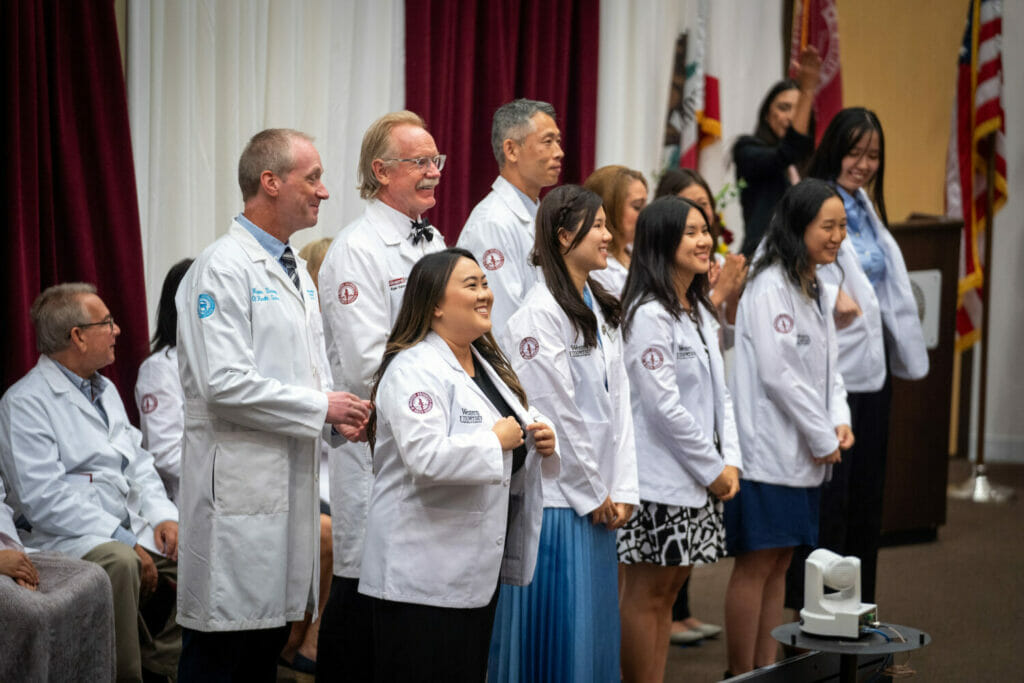 Western University of Health Sciences College of Optometry has nurtured a culture of celebrating moments big and small, and of encouragement and teamwork. That was evident at the white coat ceremony for its incoming Class of 2027 students held Aug. 12, 2023, on WesternU's Pomona, California campus.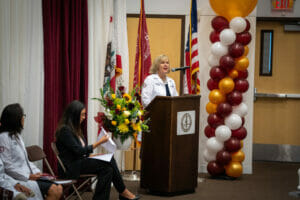 Each of WesternU's eight colleges plans individual white coat ceremonies in a way that fits the culture and personality of that college, said WesternU College of Optometry Founding Dean Elizabeth Hoppe, OD, MPH, DrPH.
"Part of our culture is that we celebrate. We celebrate the little steps and the big moments, and this is going to be a big moment," Hoppe said to the guests in the audience. "We want to think and reflect on how far these students have come and how far this first day on their journey will guide them for the years to come. WUCO also has a culture of encouragement and teamwork. We tell our students, 'You can do it. Work together and we'll help you.' I'm here to inform you on behalf of all of us that you are now official members of Team WUCO. As part of the team for today's ceremony, you will all have a very special and very active role."
She encouraged guests to celebrate the cloaking of the students with thunderous applause and cheering, and the crowd obliged throughout the ceremony.
"As part of our tradition of humanistic caring and scientific excellence, we believe this milestone marks an important transition," Hoppe said. "From this day forward, everything that your loved ones will be learning in class will be dedicated to perfecting their craft for the betterment of their patients, and the white coat serves as a reminder of that sacred calling."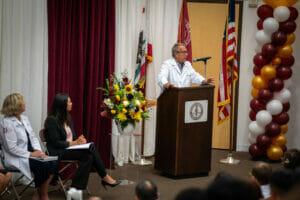 Keynote speaker David Krasnow, OD, MPH, MBA, has traveled around the world as part of his 44-year clinical career. He has earned four graduate degrees, but he was a "less than stellar" student, he said.
"When I went to optometry school, graduating more than 50 years ago, I was a mediocre optometry student. I had a fraction of the background in science that you folks have. You are probably going to learn probably two-and-a-half times what I learned in optometry school," Krasnow said. "But this blue-collar kid from a small community has traveled to 46 countries. I've given more than 100 invited presentations around the world, from Sweden to England to the Middle East…The essence is, if I can accomplish what I've had as a really average student, with probably half the brain power you folks have, anybody can do it. All of you can do it. The world is literally your oyster."
He encouraged students to "network, network, network. Keep a database of classmates who you want to associate with, study with, maybe even go into practice with."
He keeps a database of 6,000 names of health care academics and researchers and, in 2015, when he suffered a massive heart attack, calling on one of the top cardiovascular surgeons from his database saved his life.
That's why I'm telling you your network is crucially important. It may be as important as your studies," Krasnow said. "The people who you may practice with, professors who will give you a recommendation, people who can give you counseling on how to negotiate contracts are crucially important. Your future is in your hands. Make the best of it."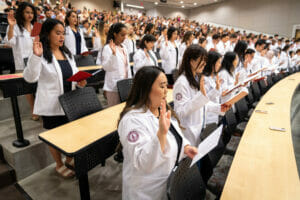 College of Optometry Assistant Professor Naida Jakirlic, OD, urged students to help each other.
"Be present for each other because you are going to go through this together. You may end up in practice with one another, so this is the beginning of your network," Jakirlic said. "Look to your left, look to your right, you all going to help each other get through the next four years. You're going to be the greatest help to each other, so make sure you form those really strong bonds."
The white coat ceremony is held in the presence of faculty, administration and family members to help students become aware of their responsibilities as healers from the very first day of their education, Jakirlic said.
"This ceremony encourages students to accept the obligations inherent in their scope of practice. And your scope of practice is massive," she said. "And to be excellent in science, to be compassionate, and to lead lives of uprightness and honor. Congratulations to all of you who made it here to put on your white coat. We're all very proud of you."
Everyone was very kind during Welcome Week, said first-year College of Optometry student Kaitlyn Monto.
"It showed everyone that we're all working together toward the same goal. There is no competition," Monto said. "We met new people and we are already making connections and friendships. I'm looking forward to starting class next week."