WesternU College of Health Sciences professor promotes NIH All of Us Research Program
February 24, 2023
Read 1 mins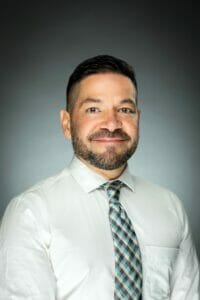 Western University of Health Sciences College of Health Sciences Assistant Professor and Assistant Dean of Assessment & Strategic Initiatives Josh Matacotta, PsyD, MA, CAHIMS, will present to the Louisiana Chapter of the National Hispanic Medical Association (NHMA) on Feb. 28, 2023.
Click here to register for this virtual event. The presentation will focus on using the National Institutes of Health (NIH) All of Us Research Program data to support HIV researchers and health care workers in providing care, increasing adherence, and promoting prevention strategies for vulnerable populations.
Dr. Matacotta serves as a Research Ambassador for the NIH All of Us Research Program. The All of Us Research Program is building a dataset to help transform the future of health research by equipping researchers with expansive health data from diverse populations, especially those underrepresented in biomedical research. The goal is to reach 1 million people, and it's at nearly 600,000 participants enrolled, more than 400,000 completing all initial steps, including contributing electronic health records data.
Launched in May 2020, the Researcher Workbench – which offers a curated dataset of individual-level data from the All of Us program – was re-released with an expanded set of tools and health data to drive new biomedical and behavioral science discoveries. Researchers who meet certain criteria have access to information about All of Us participants' experience with the COVID-19 pandemic through answers to survey questions on mental health, social distancing, and economic impacts. The latest release also includes Fitbit data with information about participants' physical activity, and genomics data (355,000+ biosamples received) are also available.
An institutional agreement is required to become involved as a researcher. The program continues to add to the data set as more people join.
"Broadly, I'm interested in multimorbidity patterns in people with HIV, with a focus on mental health and psychosocial stressors," Matacotta said. "I am able to browse the data and build cohorts of participants who have the conditions I'm interested in."
The people participating are historically underrepresented in biomedical and behavioral health research, Matacotta said.
"This program is designed to form trusting relationships and partners who are participating. We do not refer to them as human subjects. They are participants and partners," Matacotta said. "The researcher creates a project, describes the study, and when it is published, the results are made available to participants. Researchers are mindful in making sure the project they are conducting is meaningful."
Western University of Health Sciences is an institutional partner with the NIH AoU program. Matacotta worked with the WesternU Office of Legal Affairs and Vanderbilt University Medical Center to establish a Data Use Agreement for WesternU. This allows WesternU faculty and students to sign up and either create or join a Researcher Workbench to conduct research with the data and analytical tools. Anyone can visit researchallofus.org to explore aggregated overviews with identifiers removed. Users with access to the registered tier can access curated, individual-level data without direct identifiers. The controlled tier data is available to certain users and includes individual-level data with expanded demographics, genomic data, COVID-19, EHR data, and more. Before doing this, users have to have an eRA account with NIH, undergo training on the program and workbench, and then complete additional ethics training related to using the data.
This is a wonderful opportunity for WesternU students. The data is there regarding medications and treatments for prevalent conditions, and also information about quality of life, and whether these participants are accessing health services, and how they perceive their own mental health.
"If a student is interested in a particular population, they can launch a study that can be done in a reasonable amount of time," Matacotta said. "They do not have to collect primary data. Thanks to our participants, the data are there for exploration and analysis. More importantly, they immediately learn about the importance of diversity and the importance of the relationships you form with participants and their communities."