WesternU College of Graduate Nursing welcomes visiting scholar from Chile
July 26, 2018
Read 2 mins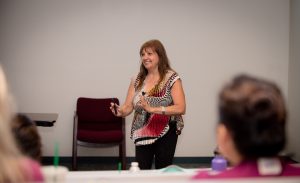 Western University of Health Sciences' College of Graduate Nursing welcomed its first visiting nurse scholar, who is sharing her expertise as a midwife nurse and sleep therapist while learning about CGN's distance learning model.
Maria Patricia Masalán, EM, Mg SP, associate professor in the School of Nursing, Pontificia Universidad Católica de Chile, arrived July 2 and will stay through the CGN white coat ceremony Aug. 11.
"This has been a wonderful experience," she said. "Everyone has been warm and welcoming. I'm very grateful for all the faculty and students who received me. I can take this experience to expand the programs in my country."
Masalán is learning about CGN's distance learning programs, which allow working nurses to earn a degree while continuing to work full or part time. Her university has postgraduate nursing and continuing education programs using classroom-based and hybrid strategies. An online master's program would help the university reach even more students.
"Because our country is long, we need people who in the north and south can take this master's program," Masalán said. "We are also thinking about expanding our program to Ecuador, Peru and other countries."
Masalán is a certified midwife nurse with a master's degree in public health and a specialization in health education from the Universidad de Chile (UCh). She has a postgraduate degree in Health Promotion from the Facultad Latinoamericana de Ciencias Sociales (FLACSO Argentina), a Diploma in Higher Education from Universidad Católica de Chile (UC), and a Certificate in Distance Learning from the California State University. Her other educational and professional credentials include Certified Therapist in Sleep and Hypnosis (Stanford University), and Clinical Therapist (UC Medical Sleep Center).
Masalán's professional interests include research and publications about sleep disorders in different stages of the life cycle. She is on the editorial board for the international research journal Horizonte de Enfermeria (Nursing Horizons), and routinely oversees the accreditation of health professions education programs in Chile.
"The main purpose of Professor Masalán's visit to our College is to establish a collaborative relationship between our respective institutions and exchange ideas about the delivery of high-quality postgraduate nursing education through classroom and e-learning strategies," said CGN Assistant Dean for Global Health Ivy Tuason, PhD, RN.
Masalán said her goal is to establish links with faculty for potential research and exchange opportunities. She will be sharing her research on sleep disorders through a series of lectures at WesternU.
"Health care knows no borders. Having a visiting scholar demonstrates the influence that nursing has on health care globally," said CGN Dean Mary Lopez, PhD, RN. "Professor Masalán is a nurse, nurse midwife, nurse researcher, and clinical expert in sleep disorders. She will be a perfect role model for our students to experience the multiple opportunities for nurses to impact health care."
Categories: