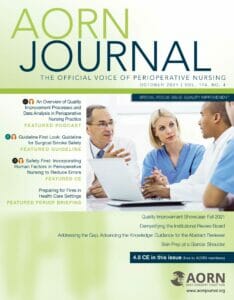 The October 2021 edition of the Association of periOperative Registered Nurses (AORN) Journal prominently features Western University of Health Sciences faculty, staff and alumni.
WesternU College of Graduate Nursing Associate Dean and Professor Rodney Hicks, PhD, RN, FNP-BC, FAANP, FAAN, served as the guest editor for the edition, which focuses on quality improvement. He also wrote the guest editorial "Looking Into Perioperative Nurses' Other Roles."
Three additional articles feature WesternU authors. The first is "An Overview of Quality Improvement Processes and Data Analysis in Perioperative Nursing Practice" by CGN alumna Shelly S. de Peralta, DNP, RN, ACNP-BC; Kari A. Dodge, MSN, RN, CNOR; and CGN Assistant Professor Renata A. Jones, DNP, RN.
"Perioperative care is heavily based on evidence.  Nurses need to understand the evidence and where the evidence comes from," Hicks said. "This fills in knowledge for all those perioperative nurses so they can better serve their organizations and their patients."
The second article is "Demystifying the Institutional Review Board" by Rodney W. Hicks, PhD, RN, FNP-BC, FAANP, FAAN; WesternU Pumerantz Library Scholarly Communications Librarian Kelli Hines, MLIS; and WesternU College of Dental Medicine Associate Dean and Associate Professor Bradley Henson, PhD, DDS.
"We found in talking to nurses across the country, they didn't understand what is IRB," Hicks said. "That was the genesis of the IRB article."
"I admire the motivation and dedication of Dr. Hicks and several faculty and staff at WesternU and congratulate them for their remarkable efforts in this noble cause with the ultimate outcome to enhance health care," said WesternU Senior Vice President for Research and Biotechnology Devendra K. Agrawal, MSc (Chem), PhD (Biochem), PhD (Med. Sciences), MBA, MS (ITM), FAAAAI, FAHA, FAPS, FIACS. "Indeed, details on the role of federally-mandated Institutional Review Board would highlight the absolute requirements and assurance in the protection of human rights and welfare as biomedical research participants, the clinical data or specimens, and thus conducting high-quality and effective research."
The third article is "Addressing the Gap, Advancing the Knowledge: Guidance for the Abstract Reviewer" by CGN Assistant Professor and MSN-E Assistant Director Gwendelyn S. Orozco, PhD, RNC-OB; WesternU Pumerantz Library Assessment and Public Relations Librarian Rudy R. Barreras; and Rodney W. Hicks, PhD, RN, FNP-BC, FAANP, FAAN.
"There are hundreds of articles on how to write an abstract, but there is not material out there on how to review an abstract once it's been written," Hicks said.
Hicks put a call out for experts and found several at WesternU who wanted to contribute.
"Fortunately, we have a lot of internal talent at WesternU who could step up and answer these important questions," Hicks said.
"As part of the Office of Mission Integration, the Pumerantz Library is involved in many facets of the University in accomplishing shared goals," said Pumerantz Library Director Karoline Almanzar, MLIS. "Specific to this group effort, Ms. Hines and Mr. Barreras bring their research expertise to the scholarly literature that is helpful to other professionals in the same way they use literature to support our faculty and students. Collaborations such as these build relationships and create true partnerships on campus that successfully exhibit talents of all involved."
Hicks brought in experts from WesternU's Harriet K. and Philip Pumerantz Library, the WesternU Institutional Review Board, the College of Dental Medicine and CGN faculty and alumni who could interpret data and draw from their deep perioperative experiences.
"We strongly believe at AORN the medical librarian is a very important part of understanding evidence. It was prudent to bring the nurses and library experts together," Hicks said. "The reason why this series came about was to bring extra knowledge to perioperative nursing. Most people in the public recognize a nurse's role in caring for patients. What is covered in this special issue are the silent roles and responsibilities that don't get a lot of public attention. This issue calls out very publicly three areas in the scope of practice for all health care providers."