WesternU College of Graduate Nursing celebrates STAND Scholars
July 16, 2023
Read 1 mins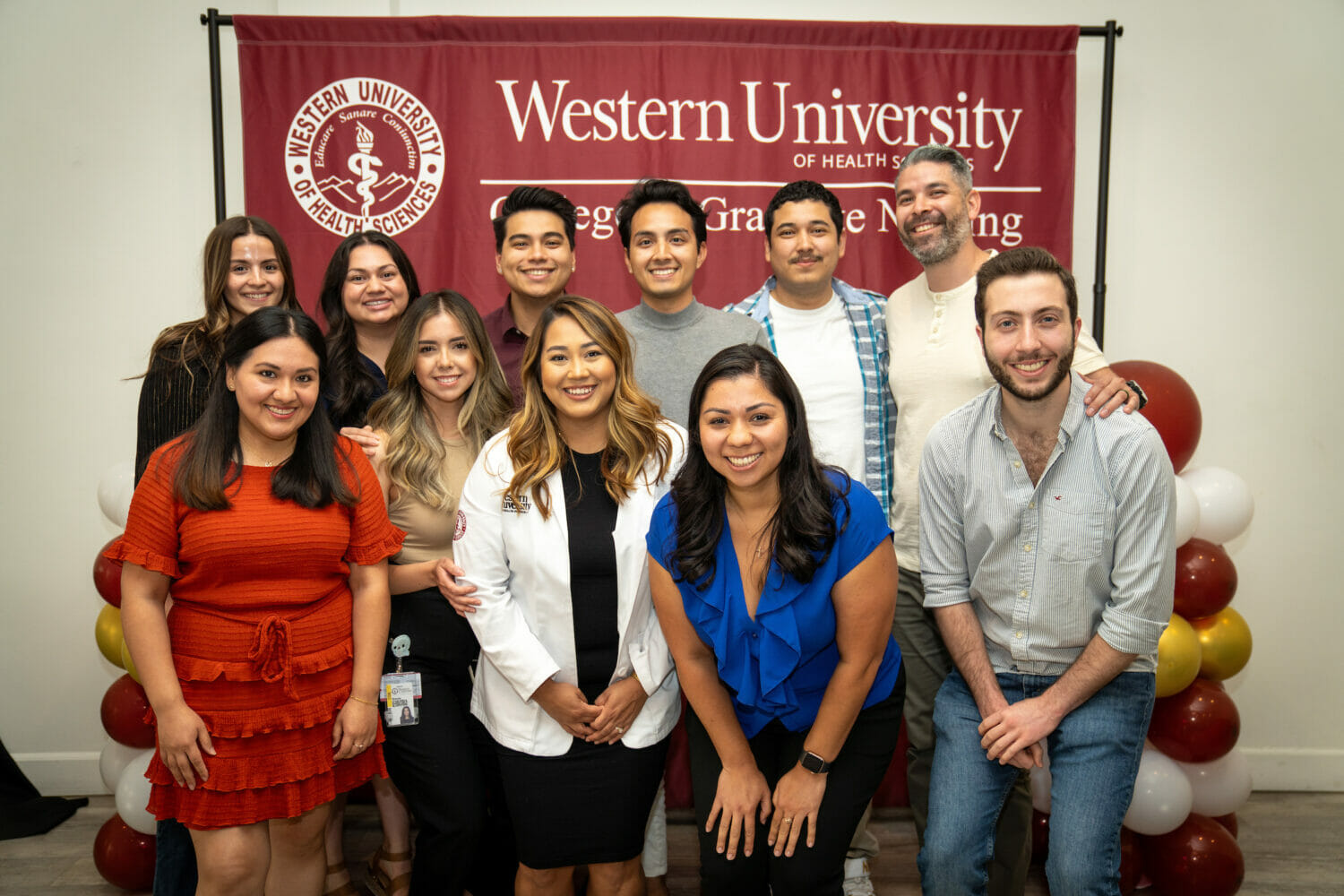 Western University of Health Sciences College of Graduate Nursing students who represent "the future of health care" were honored for their achievements at a special award reception.
The College of Graduate Nursing (CGN) received a $1.64 million Strategically Transforming and Advancing Nursing Diversity (STAND) grant from the Health Resources and Services Administration (HRSA) to provide scholarships to underrepresented minority nursing students as well as supportive services to help them succeed.
The funding supports 20 Master of Science in Nursing – Entry (MSN-E) students per year for the next three years. These inaugural STAND Scholars have each received $17,000. The grant also supports CGN adding a support coach and tutoring.
"We know that access to care continues to be an issue in Southern California. Most people prefer to access health care providers that look like them. We need to attract and support a wide array of diverse nursing students to mirror the population in Southern California," said CGN Dean Mary M. Lopez, PhD, MSN, RN. "The STAND grant helps CGN by providing students supportive services, recruiting and retaining diverse faculty and the creating an equitable and inclusive learning environment."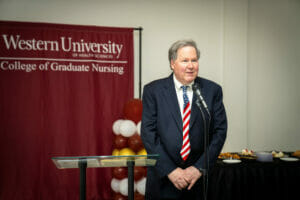 CGN held the 2023 STAND Award Reception on June 28, 2023, in Pomona, California. Each student received a certificate of recognition and words of encouragement from CGN and WesternU leaders.
Part of CGN's mission is to prepare a competent nursing workforce of the future, said CGN Associate Dean Rodney Hicks, PhD, APRN, FNAP, FAANP, FAAN. The College picked 20 individuals who they felt represented the future of the nursing workforce.
"We know that nursing school is expensive. We know the cost of attendance is one of the barriers for many people to continue their journeys, so whatever we can do reduce that barrier is our privilege," Hicks said.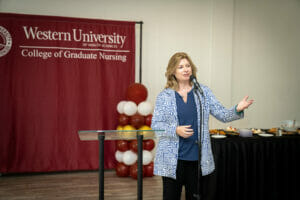 These STAND Scholars represent the future of health care, said WesternU Provost Paula M. Crone, DO '92.
"There is so much need out there in our communities. There is so much that needs to be done in health care to improve it and there is so much opportunity for us to do better, and one of the ways that we can do better is with programs just like this, and with the leadership that comes from colleges like the College of Graduate Nursing," Crone said. "This is a college that lives and breathes its mission every single day, and you are a reflection of that."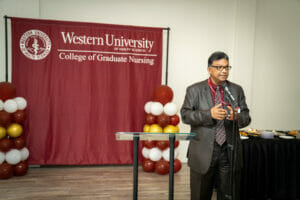 The 20 STAND Scholars are with us today because they have persevered and achieved. They have the talent, recognize their responsibility, and see themselves in the patients in their communities, said WesternU Vice President for Humanism, Equity, and Anti-Racism Suresh Appavoo, EdD.
"We at WesternU say to you, 'We see you.' We hope that you will be able to see the incredible amount of impact each one of you will have as you successfully embark not only on your journey of education, but think of yourselves as being the transformative leaders you have been waiting for," Appavoo said. "One day, I hope to be sitting in the audience when you are going to be welcoming not just 20 scholars but a multitude. That is what all of our communities deserve. You are going to be the face of transforming not only who we were, not only who we are, but most importantly, who we want to become."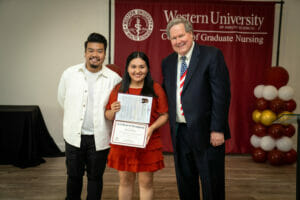 Master of Science in Nursing-Entry (MSN-E) student Mariafe Orihuela said she enjoyed the reception.
"It was very encouraging," she said. "I feel more connected with everyone."
She is appreciative of the opportunities that this scholarship will provide.
"My goal is to work with underserved communities and to give back to my community, especially the Hispanic community," Orihuela said. "A scholarship like this helps me get closer to my goal. It helps me in the process of giving back to my community."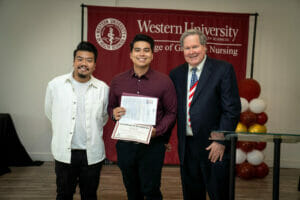 MSN-E student Joel Bonilla said the STAND scholarship provides a boost in multiple ways.
"This is a really big help both financially and it's nice being recognized for your hard work. Any help reducing my loan is very helpful. It levels the playing field, I would say," Bonilla said. "I love the faculty. WesternU is unique for being able to support their students."
MSN-E student Gabriela Enriquez said receiving the STAND grant has been such a benefit. She had been working as a phlebotomist but quit in order to focus fully on her studies.
"Having the STAND scholarship was extremely helpful financially," Enriquez said. "For the first two months in the program, having to navigate work and school and everything, my mental health was plummeting. Knowing the scholarship was there took the burden off."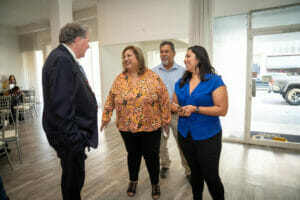 Enriquez has worked in a hospital setting the past seven years, which inspired her to pursue her nursing degree. She aspires to become an emergency room/critical care nurse.
"I've always known I wanted to go into health care. I didn't know if it would be medical school or nursing. With the bedside manner I have, the people interaction I enjoy, nursing is the way to go for me," she said. "For me, the emergency room is very much a beautiful chaos."
An important part of a nurse's job is to educate patients and answer family members' questions, Enriquez said.
"Being able to interact with families and encourage them about higher education, you get to plant seeds and inspire other generations to enter this beautiful field we're part of," she said.