WesternU College of Graduate Nursing celebrates 25th anniversary
Western University of Health Sciences' College of Graduate Nursing (CGN) celebrated 25 years of innovation and trailblazing in nursing education while looking ahead to even greater success to come.
CGN held a celebration May 10, 2022 on WesternU's Pomona campus. The event brought together CGN leaders past and present, WesternU and community dignitaries, and students, faculty and staff. Randolph F. R. Rasch, PhD, RN, FNP, FAANP, FNAP, FAAN, professor and advisor to the Executive Vice President for Health Sciences at Michigan State University, presented a Continuing Education address, "Living Into the Future of Nursing."
CGN Director of the DNP and ENP Post-Graduate Certificate programs Donna Emanuele, DNP, RN, FNP-BC, CNS, FAANP, served as the master of ceremonies.
"Our hearts are truly filled with joy here this evening because each and every one of you have made a contributing effort to allow us to grow, and to allow us to be the best of ourselves and to fill a mission a vision and a value and a future dream and promise for the College of Graduate Nursing and also WesternU," Emanuele said.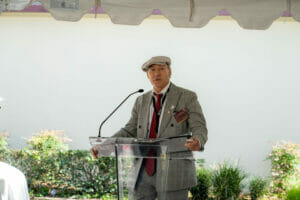 Emanuele introduced WesternU President Robin Farias-Eisner, MD, PhD, MBA, by extolling his many accomplishments, and the President followed his introduction by telling the audience, "Actually, my claim to fame is I am married to a nurse."
"The facts speak for themselves. Nursing is the key and the backbone to any health care and any hospital I've ever been," Farias-Eisner said. "Congratulations to all of you. Congratulations for what you do. Thank you what you do for the community and for this University."
WesternU Interim Provost Paula Crone, DO '92, congratulated CGN Dean Mary Lopez, PhD, RN, and CGN Founding Dean Emerita Karen Hanford, EdD, MSN, FNP, who was in attendance, for their leadership.
"Under these two incredible women, the College of Graduate Nursing has been so impactful," Crone said. "For the students that are here, you are why we are all here. You are the lifeblood of WesternU. And nursing is the lifeblood. You are joining a proud, noble discipline, one that truly makes an impact with your patients."
Lopez recounted the history of the College, when Hanford gathered a small group to write a self-study. Joining her were CGN pioneers Drs. Diana Lithgow, Ivy Tuason, Dawn Stone, Marci Luxenburg Horowitz, Jan Boller and Pat Callard and Assistant Dean for Student Affairs Mitzi McKay, MA.
"These nursing champions are our living legends and leaders in nursing education," Lopez said. "It is upon their shoulders that we stand. And their seeds are so carefully and thoughtfully planted and they nurtured and have grown the College into the might oak that it is today."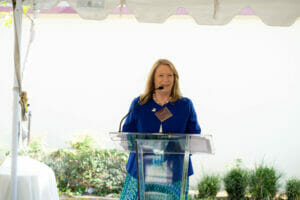 Lopez also credited the CGN staff and faculty.
"I believe CGN has the best staff at the University. The outstanding work of the CGN staff allows our students to get the best nursing education in the western region," Lopez said. "Lastly, establishing the legacy to identify a sense of meaning, purpose, personal congruence, and contribution, the CGN faculty continue to make a mark on the world that can't be erased. The faculty's dedication and expertise enable over 1,000 CGN nursing graduates to touch the lives of countless people."
Representatives from the offices of state Assemblyman Freddie Rodriguez and Los Angeles County Supervisor Hilda Solis presented proclamations celebrating CGN's milestone anniversary, as did Pomona City Council members Victor Preciado and John Nolte.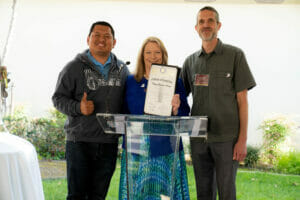 "As someone who owes his life to nurses, this is truly an honor," Preciado said. "This campus has always been a blessing. I am now a cancer survivor of 14 years. That experience was truly a blessing because of nurses. Even as recent as our most recent pandemic, nurses were the ones on the frontlines, so thank you very much."
CGN's structure has inspired other nursing schools and other colleges within WesternU, Hanford said. Schools of nursing are very complex, and CGN's "secret sauce" is creating a nurturing and positive work environment.
"You can be student centered, and that's great, but if you are not employee centered, you'll never make it," Hanford said. "That means there is a creative energy to actually transform education by listening to students. Faculty have the creativity to reach new innovations and create new problem-solving interpretations of how to do best practice. In my classes I always called this a learning community. But you have to have the right people, you have to have the right vision, and you have to support the people to make that happen."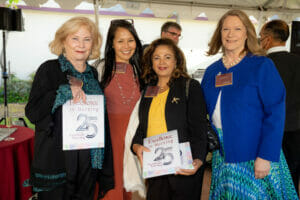 Tuason talked about evidence-based interventions to promote nurses' health and well-being. Nurses face stress, burnout, moral injury, depression, trauma and other challenges, especially those who work in impoverished settings. Nursing leaders in academia and in practice must put in place sustained interventions not only during this public health crisis, but day to day.
"Health care workers and nurses should be respected for the vital work that we do to keep our populations healthy. As leaders, as future leaders, we have a duty to find ways to meet our nurses' psychological needs and improve their welfare," Tuason said. "We need to invest in the mental health and well-being of our health care workforce on the individual, organizational and societal level. We cannot afford the cost of failing this aim."
Boller said she talked with the CGN program directors about navigating the pandemic and the changes and improvements they made to bring in new and expanded programs.
"I know the program has excellent DNA and will continue to be at the forefront of nursing and health care as everyone has said for the next 25 years and beyond," Boller said. "I am exceedingly grateful and thankful that so many CGN and WesternU students and alumni are out there working together to make health care the best that it can be. So thank you from the bottom of my heart."