WesternU College of Dental Medicine white coat ceremony: a symbol of humanism
August 14, 2023
Read 1 mins
Western University of Health Sciences College of Dental Medicine Class of 2027 students donned white coats for the first time and learned about the powerful role they will play in their patients' lives.
CDM held its white coat ceremony Aug. 11, 2023, at DoubleTree by Hilton Hotel Claremont in Claremont, California.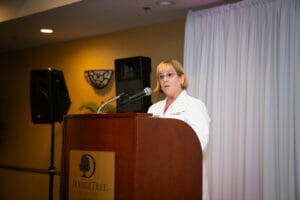 College of Dental Medicine Dean Elizabeth Andrews, DDS, MS, urged students to not take their professional oath lightly.
"You do hold a patient's health and well-being in your hands," Andrews said. "Treat these patients like a family member. Treat each patient as you would want to be treated. As I shared with you on Monday, you must ensure that all patients receive optimal patient-centered care. You are becoming an oral health care provider. Wear that white coat with pride and all that you have accomplished, and you will be rewarded greatly."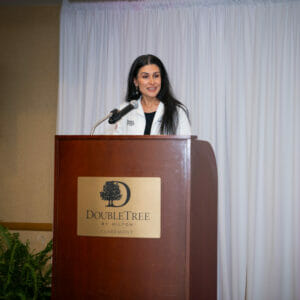 CDM Associate Professor Sahar Mirfarsi, DDS, spoke on behalf of Organized Dentistry. She said her involvement in multiple dental associations and organizations helped her find her dental home, connected her with mentors, and taught her about legislation and public policy.
"Your involvement in supporting organized dentistry plays a significant role in our dental profession and the future of our health care system. We need each other," Mirfarsi said. "It is through holding hands, reassurance and guidance, and education that we ensure the future success of our profession. Let's all collaborate and collectively contribute to the betterment of oral health and patient care because through our contributions, collaborations and support through organized dentistry we continue to be the driving force behind progress and advocacy in the dental profession."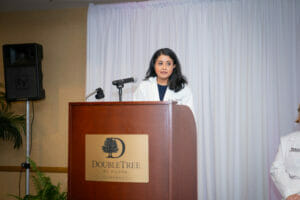 CDM alumna and Adjunct Clinical Assistant Professor Asma Patel Jan, DMD '17, who served as the keynote speaker, told students that she sat in their seat 10 years ago at her own white coat ceremony. She started her career as an associate dentist, then became an owner dentist and boss.
"I'm still growing and learning and figuring out the struggles as I go, but along all of these pathways throughout your whole dental career, you will have a support system, and that support system is in this room today," Patel Jan said. "You will have your classmates, who are sitting right next to you. You will have your family, that is here supporting you today. But you will also have this network of faculty and alumni at WesternU looking out for you.
I am 10 years from my white coat ceremony and my faculty and colleagues are here and they still give me advice on dental cases and help me make business decisions. This profession is about lifelong learning, and this school embodies that in each of their graduates and it embodies that in each of their faculty members."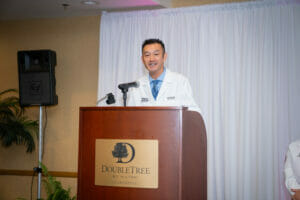 CDM Associate Dean for Patient Care and Clinical Education Brent Fung, DDS, talked about the privileges that come with wearing a white coat, as well as the responsibilities.
"By now you already know that at Western University of Health Sciences, humanism is a core concept along with caring and science. It reminds us that we are in fact the same as those we serve, who deserve the same respect and dignity we would expect for ourselves," Fung said. "Future dentists, please don't believe that because you are not a medical doctor that you won't have the power of life and death over others. You will have that power, the power to save lives by detecting oral cancer, diabetes or hypertension. The power to save a patient from a fatal drug interaction, perform life-saving resuscitation, or eliminate potential deadly oral infection from an organ transplant patient. The power to save someone from a life of depression and misery by giving them a smile they're proud to share with others. A means of enjoying life-sustaining nutrition, or maybe an opportunity for a good or even better job."
By donning the white coat, each student bears the responsibility to devote their life to serving others, a life of study, selflessness, ethical behavior, and excellence.
"We hope that your white coat becomes a symbol not only of your expertise and professionalism, but more importantly, of your humanism," Fung said. "We wish you all the very best as you begin your journey into this wonderful profession of dentistry."
Welcome Week has been an adrenaline rush, and preparing for classes to start on Monday is like waiting for your turn on the roller coaster and finally getting in that seat, said first-year CDM student Babajide Aina. His interest in dentistry started as an undergraduate, and he then shadowed a local dentist to learn the nuances of running a dental office. WesternU CDM was his No. 1 choice.
"I knew from my interview I truly felt like the faculty and staff truly want us to be successful," Aina said. "Our success is their success."
Welcome Week was very informative and it helped students get to know each other, said first-year CDM student Breana Cortez. Donning the white coat for the first time will be meaningful to her and to others who look up to her as a role model.
"I'm going to feel fulfilled, like I truly made it," Cortez said. "I want to show other people in the Hispanic community they can do it, too."