WesternU College of Dental Medicine students collaborate globally
July 13, 2017
Read 3 mins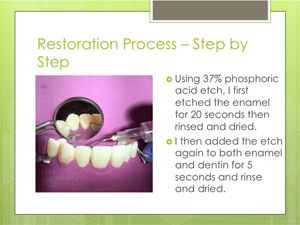 Western University of Health Sciences College of Dental Medicine (CDM) students are learning professionalism, evidence-based practice and interpersonal skills by collaborating internationally with other dental students.
CDM joined the Global Citizenship in Dentistry collaborative in fall 2013. CDM students currently are the only U.S. participants. The collaborative includes Hong Kong University (HKU) dental students. Manchester University UK and International Medical University of Malaysia are set to join the program in early 2018.
The web-based platform allows students to share clinical projects and exchange questions, feedback and critical appraisal. Students create a profile and write a letter of introduction, which helps them develop their professional digital identity, said CDM Assistant Dean of Dental Sciences Education Sandra Farah-Franco, DDS, MS. Each student posts a portfolio showcasing their best work on a common topic of interest.
Students are grouped into a "community of inquiry," typically composed of two or three first-year students, two second-year students and students from other universities. Within that community of inquiry, each student uploads a portfolio, posts announcements and microblogs.
This global exchange is part of CDM's curriculum. Students are graded based on their participation.
"They develop their professional identity and they learn how to communicate professionally," Farah-Franco said.
CDM first-year students have seen procedures in Hong Kong that they have not performed yet, so they are ahead of the learning curve.
"The discussions we had with the dental students of Hong Kong University included an exchange of techniques on teeth preparations and restorations and rationale for our methodology. As dentistry is as much art as it is science, almost every dental student and dentist has their own way of achieving a clinically acceptable result while adhering to a general set of guidelines," said second-year CDM student Michael Chan, DMD '20. "The Global Citizenship in Dentistry platform was a unique opportunity for dental students of both WesternU and HKU to share with each other our personalized 'routine,' as well as a way to gain an understanding of each other's curriculum in clinical dentistry."
Students take high-quality photographs and record their work, which is an important part of being a professional, Farah-Franco said. They also conduct a self-assessment and look at areas they can improve upon.
"Professionalism is integral to the development of our students," she said. "This lends to that professional development because we're establishing an opportunity for them to discuss dentistry in an intelligent and evidence-based practice manner."
"Dentistry can be very complex at times, and as dental students our curiosity is sometimes piqued about whether the skills and methods we apply here are the same ones being taught and practiced in other parts of the world as well," said second-year CDM student Shiva Amanat, DMD '20. "It was invigorating to discover that the dental techniques used in Hong Kong took strong resemblance with the techniques we use here at WesternU."
"It is exciting for the College and our students to help pioneer an initiative that is likely to become a foundation of global professional communication and collaboration in the future," said CDM Dean Steven W. Friedrichsen, DDS. "Dr. Farah-Franco and the students are to be commended for positioning WesternU at the forefront of this collaboration."
Categories: