WesternU College of Dental Medicine receives $600,000 grant from Envista, visits headquarters
September 6, 2023
Read 1 mins
Western University of Health Sciences College of Dental Medicine clinical entities and students recently visited the Envista Headquarters in Brea, California for an inspiring day. This followed the approval of a multi-year implant grant in excess of $600,000 from Nobel Biocare, a division of Envista.
The grant will cover the cost of implants for WesternU Dental Center patients who could not otherwise afford these services.
"The generous educational grant will help provide patient access to implant care for those who would not otherwise have access to this modality," said CDM Associate Dean for Patient Care and Clinical Education Brent Fung, DDS. "This grant will directly help patients and our students' education. It provides implant experiences for our students."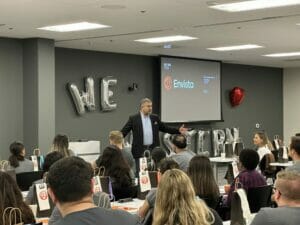 About 200 WesternU CDM students, faculty and staff visited Envista on Aug. 17, 2023. Envista President and CEO Amir Aghdaei shared Envista's vision and mission – helping providers do the right thing by giving them the confidence, tools, and support to give patients the best care they need and deserve.
Dr. Brian Goodacre provided a captivating presentation covering the digital implant workflow, from scanning a patient to taking digital measurements and creating surgery guides for implant placement.
CDM then took a short journey to tour the Nobel Biocare Implant manufacturing facility in Yorba Linda before returning to a catered lunch and 360-degree imaging to commemorate the event.
Envista's other business units were also represented. Kerr, Dexis, and Spark had booths at the event for CDM similar to what you might find at a dental convention.
"Envista were gracious hosts to CDM. The whole visitation ran like clockwork," Fung said. "It was nice to see an entire company focused on how good they can be, to be open to improvement, and embodying their mission and vision beautifully. It was a neat experience to have that kind of depth of insight into a company."
Tracy Glenn, Envista Director if Institutions and Community Health Centers, was instrumental in organizing and executing the visitation agenda.
"Thank you to Envista for hosting us at your World Headquarters and a heartfelt thank you to Tracy Glenn for making this all happen!" said CDM Associate Dean for Integration of Technology, Curriculum and Learning Environments Hubert Chan, DDS. "We are excited to partner with Envista to transform oral health and oral health education. We are looking forward to growing this partnership together and exploring all its possibilities."