WesternU College of Dental Medicine receives $1.5 million HRSA grant
July 19, 2017
Read 3 mins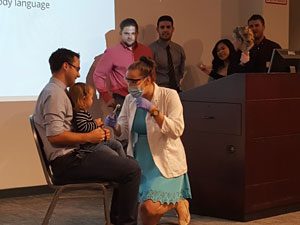 Western University of Health Sciences College of Dental Medicine received a $1.5 million Health Resources and Services Administration (HRSA) grant to train predoctoral dental students in providing care to vulnerable children ages 0-5 and children with special health care needs in rural and underserved areas.
The Predoctoral Pediatric Training Project (PPTP), a five-year grant, recognizes the curriculum and infrastructure built through College of Dental Medicine (CDM) partnerships with local school districts, nonprofits, hospitals and community health centers. It also will allow CDM to develop new programs that encourage diversity and provide care to underserved areas and populations.
CDM has partnered with Women, Infant, and Children (WIC) and Head Start programs to provide families with oral health education, dental prevention and referral services. CDM created school-based oral health centers in partnership with Pomona Unified and El Monte City school districts to provide comprehensive care and preventative education to children and their parents, including children referred from the WIC and Head Start programs. CDM students learn to care for patients with special needs at WesternU We Care Dental in Rancho Mirage.
"HRSA's support for this project allows the College and the University to continue building our capacity and expertise in community-based care," said CDM Dean Steven W. Friedrichsen, DDS.
The grant will allow CDM to expand its curriculum and utilize new technology such as the Virtual Dental Home, said CDM Associate Dean for Community Partnerships and Access to Care Jenny Tjahjono, DMD.
The virtual dental home sets up a dental auxiliary professional, such as a registered dental hygienist with or without alternative practice, in a school-based setting with portable equipment. The hygienist would perform preventative measures and collect data and transmit it to a CDM dentist to review and diagnose. When treatment required procedures beyond the scope of practice of the hygienist, the child would be referred to the "hub" dental clinic such as the CDM school-based oral health centers, and the dental students and CDM dentist would perform more complex procedures.
"These hygienists would perform regular, routine and preventative services, and hopefully decrease the rate of emergency room visits for dental emergencies," Tjahjono said.
The HRSA submission was a collaborative effort of the Community Based Dental Education (CBDE) team and involved several members of the College. Tjahjono will serve as PI on the project. Dr. Marisa Watanabe served as the primary grant writer, Josih Hostetler provided supporting documentation, Anna Enriquez drafted the budget, Dr. Bradley Henson provided technical advice, and Mary Foley will serve as Program Evaluator.
"Dentistry typically follows a surgical model – wait for disease to happen and fix teeth afterward," Foley said. "The idea behind this grant is to intervene early and avert disease right from the get-go. We are teaching dentists to have that new frame of mind."
The grant also covers the expansion of other health care providers into the oral health care arena, Friedrichsen said. CDM will work with nurse practitioners, physician assistants, family medicine residents and other health care providers to enhance their skill sets in oral health.
CDM will create the Student Diversity Support Program, which will provide training to students from underserved areas so they will be equipped to provide dental care to their community after graduation. The PPTP grant will also fund scholarships that promote student diversity.
"It's preparing the next generation of dental care providers," Friedrichsen said. "CDM is providing them with a different thought process as to what's involved in the care."
The project is supported by the Health Resources and Services Administration (HRSA) of the U.S. Department of Health and Human Services (HHS) under grant number D85HP30837 for Predoctoral Training in General, Pediatric, and Public Health Dentistry and Dental Hygiene for $1,499,999.00. This information or content and conclusions are those of the author and should not be construed as the official position or policy of, nor should any endorsements be inferred by HRSA, HHS or the U.S. Government.
Categories: