WesternU College of Dental Medicine holds first Research Day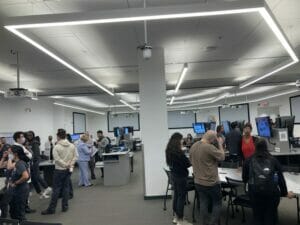 Western University of Health Sciences College of Dental Medicine (CDM) held its first Research Day Friday, May 5, 2023, providing the opportunity for CDM to share knowledge and showcase the exciting work taking place in the College.
Jennifer Webster-Cyriaque, DDS, PhD, Deputy Director of National Institute of Dental and Craniofacial Research, National Institutes of Health, provided the keynote address on "Research Pathways to Oral Health For All."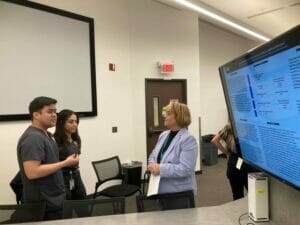 Students presented research posters in the Health Professions Center on WesternU's Pomona, California campus. CDM Dean Elizabeth Andrews, DDS, MS, walked to each station and talked with students about their research.
"Students are excited. People are asking them questions about their work. This will have a ripple effect and spark them to continue using evidence-based approaches with their patient care," Andrews said. "I wanted to make sure they know I thought it was important."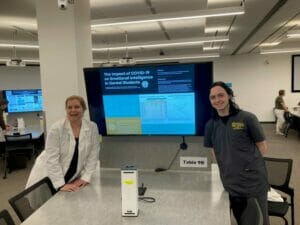 CDM Class of 2025 student Leo Taylor conducted research with CDM Associate Dean of Dental Sciences Education Sandra Farah-Franco, DDS. Conducting research helped him with his logical reasoning skills and also gave him perspective on why he's in dental school.
"I'm in preclinical right now. I felt participating in research helped me to focus on the end goal and big picture and not get as caught up in due dates and exams because I felt like I was contributing to a higher purpose," Taylor said.
All first-year CDM students participated in a pilot research course where they produced posters along with their faculty mentors. First-year student Merna Hanna said learning to analyze articles to find answers to your questions is important as a dentist, regardless of whether you pursue research. She enjoyed working on this research project with her classmates, some of whom she did not know well prior to this assignment.
"This got us to connect with classmates," Hanna said. "Working together on a project brought us closer and new friendships formed. I really enjoyed it."
"As we were starting to organize this event, we weren't sure how much interest there would be," said CDM Professor and Interim Assistant Dean for Research Jill Lewis, PhD. "However, as the planning progressed, we were excited by the level of enthusiasm that was expressed by faculty, staff, and students.  It is my hope that we will see even more participation in the future."
Dr. Webster-Cyriaque's keynote address is available to those with a WesternU login here: https://mediaweb.westernu.edu/Mediasite/Play/f9f1bf3725f9436ca1a7da87707ebc401d
Click here for a list of student researchers (from CDM and the MSMS and MSBS programs) and their faculty mentors. Groups 1-8 show the faculty mentors who worked with the first-year CDM students in the pilot program.