WesternU CHS-Northwest awarded M.J. Murdock Charitable Trust pediatric and rural health care services grant
April 6, 2022
Read 3 mins
Western University of Health Sciences' (WesternU) College of Health Sciences (CHS)-Northwest received a $673,000 grant from the M.J. Murdock Charitable Trust of Vancouver, Washington, to support its physical therapy (PT) and occupational therapy (OT) programs in Lebanon, Oregon. The funding will help CHS-Northwest provide hands-on educational opportunities through authentic learning experiences and provide health care services to rural and underserved communities.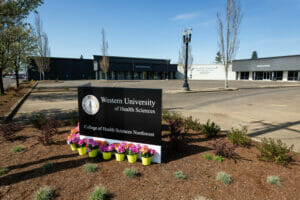 "In order to flourish, every individual, family, and community needs access top quality health care facilities. Programs like the facilities operated by WesternU help bring that access to rural and underserved communities," said Steve Moore, executive director, M.J. Murdock Charitable Trust. "We are inspired by and grateful for organizations like WesternU that are developing community-focused solutions based on the unique needs of residents."
"The M.J. Murdock Charitable Trust's mission, which is to enrich the quality of life in the Pacific Northwest by strengthening the region's educational, social, cultural, and spiritual base, aligns with WesternU's moral and humanistic approach to education and health care," said WesternU President Robin Farias-Eisner, MD, PhD, MBA. "We are grateful to the M.J. Murdock Charitable Trust for this generous grant, which will provide WesternU CHS-Northwest with tremendous opportunities to connect with and provide care to the Lebanon community and beyond."
The grant will support the Clinical Assessment & Rehabilitation Services (CARES) Clinic and the Activities of Daily Living (ADL) House, both located within the WesternU CHS-Northwest campus building in Lebanon. The CARES Clinic, which includes a therapy gym, will allow PT and OT students (under faculty supervision) to provide care to volunteer patients in the surrounding underserved, rural communities – including pediatric patients. The ADL House is a fully functional home in which students and faculty can evaluate and treat patients for optimal independent and safe living at home.
"The M.J. Murdock Charitable Trust provides WesternU CHS-Northwest the opportunity to expand service in Lebanon and the surrounding communities to meet community PT and OT health care services that are currently unmet or highly impacted," said WesternU CHS-Northwest Dean Dee Schilling, PT, PhD, FNAP. "This funding will facilitate development of clinical care that provides attention to adult safety and independence in the home and expanded Pediatric OT and PT services to the community. The expansion of clinical services to the community also enhances OT and PT student learning and clinical readiness for graduates with specialized skills and knowledge to be better prepared to deliver health care in rural and underserved communities."
The M.J. Murdock Charitable Trust funding will allow CHS-Northwest to develop pediatric spaces and a sensory room in the CARES Clinic, which addresses a vital need in the community. Lebanon pediatric therapy services are highly impacted resulting in a waiting list for care, Schilling said. Approximately 8.3% of Linn County residents are uninsured, according to the U.S. Census Bureau.
"We are grateful for all of our partners in the Pacific Northwest who are helping WesternU fulfill its mission to bring compassionate, patient-centered health care to rural communities," said Paula Crone, DO '92, Vice President of WesternU Oregon. "The M.J. Murdock Charitable Trust is another wonderful example of the momentum we are gaining to improve the quality of life for everyone in the region."
"The M.J. Murdock Charitable Trust not only supports programs like ours with grants, it also offers guidance and assistance at every level of development with their expertise and other resources," said WesternU Senior Vice President of Advancement, Diane Abraham, PhD, MBA, CFRE. "Through this M.J. Murdock Charitable Trust philanthropy, lives will be changed as access to health care increases, and our Northwest communities will thrive."
Categories: