WesternU celebrates the first of five Commencement ceremonies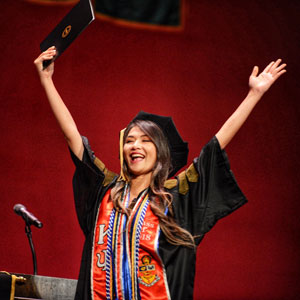 Western University of Health Sciences kicked off three days of Commencement ceremonies by awarding diplomas to about 200 College of Dental Medicine and College of Pharmacy graduates Wednesday, May 23, 2018 at the Pasadena Civic Auditorium in Pasadena, California.
Amid the pomp and circumstance, graduates reflected on their accomplishments.
"Everything in my life is a miracle," said College of Dental Medicine graduate Aleksey Kozlov, DMD '18. "The way I came to the United States is a miracle, how I got into dental school is a miracle, and how I'm standing here is also a miracle."
He identified his wife, Anna, as a key supporter during his time in dental school.
"My wife needs a trophy or a diploma because she's been there while I was away from home, coming home at midnight regularly, and she's just been so patient," Kozlov said.
The Commencement keynote speaker was Stanley M. Bergman, chairman of the board and CEO of Henry Schein Inc., the world's largest provider of health care products and services to office-based dental, animal health, and medical practitioners, with more than 22,000 Team Schein Members and operations or affiliates in 34 countries.
He provided graduates with inspirational quotes, and offered some of the advice that has helped him during his career.
"The most important way in which you can advance your goals, be it in private practice, academics, research, public health, or whatever you want to do, is to focus on relationships with people," Bergman said. "You have to show concern for people and be authentic and genuine, and really understand that is something people appreciate."
Quoting Eleanor Roosevelt, Bergman urged the graduates to "Do one thing every day that scares you," and to not be satisfied with mastering a procedure or a particular piece of science.
"Get out of your comfort zone every single day of your life," Bergman said. "When you are comfortable, you are not making progress. When you are uncomfortable you are moving yourself and those around you."
Bergman then quoted Robert F. Kennedy — "Some people see things the way they are and ask why. I dream of things that never were, and ask why not?" — and noted that the sentiment "goes hand in hand with Eleanor Roosevelt's notion of challenging yourself," Bergman said. "If you have a vision and an idea, ask yourself why not. Don't let anyone stand in your way. You are so well positioned to make a difference in this world. You can advance health care. In the words of Nelson Mandela, 'It always seems impossible until it's done.'"
Per WesternU Commencement tradition, graduates invited family members or friends to join them onstage to place an academic hood on their shoulders after they received their diplomas. College of Osteopathic Medicine of the Pacific graduate Michael Bowie, DO '18, and College of Pharmacy graduate Violet Valencia, PharmD '18, are doing the honors for each other at their respective ceremonies. They met at Walgreens as pharmacy technicians more than 10 years ago, and are now engaged.
"We got into WesternU at the same time, so it was amazing the way it all worked out and that we were able to do it all together," Bowie said. "She's overcome so many barriers to get to this point. She's an amazing person. I'm very proud of her and very honored to be able to hood her and that she invited us to do this."
Bowie and Valencia's mother, Sherri Stokes, shared hooding duties at the College of Pharmacy ceremony, lowering the doctoral garment over Valencia's head and placing it on her shoulders.
"Now we'll have two doctors in the family," Stokes said. "I am fulfilled. It's all meant something. It will make me cry."
Commencement ceremonies continue with the College of Allied Health Professions and the College of Podiatric Medicine later today. The College of Veterinary Medicine, College of Graduate Nursing and the College of Optometry will follow on Thursday, May 24. WesternU's Pasadena ceremonies conclude with the Graduate College of Biomedical Sciences and the College of Osteopathic Medicine of the Pacific at 9:30 a.m. Friday, May 25.
About 100 COMP-Northwest graduates will celebrate Commencement June 1, 2018 on WesternU's Lebanon campus. When the COMP-Northwest ceremony concludes, WesternU will have 15,465 alumni.
WesternU's Commencement ceremonies are broadcast live online. Click here to watch the ceremonies: https://commencement.westernu.edu/pomona/ceremony-webcast/