The Western University of Health Sciences Office of Research and Biotechnology held its annual Student Technology and Research Symposium (STRS), with WesternU students presenting findings from their summer research projects.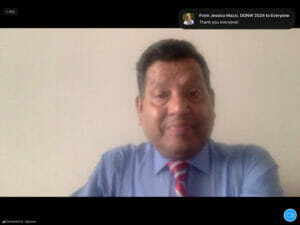 STRS is held each year to recognize and encourage our health sciences students who performed research and scholarly activities during the summer and beyond on an array of different pre-clinical and clinical research topics in their field of education and interest, said WesternU Senior Vice President for Research and Biotechnology Devendra K. Agrawal, PhD, MBA, MS, FAAAAI, FAHA, FAPS, FIACS. The diverse research topics show the depth and breadth of health science research conducted by WesternU students and faculty. This year, about 92 students, working independently or jointly with another student, were selected, and awarded the summer research stipend, trained, and mentored by faculty in various colleges at WesternU.
"Despite significant ongoing challenges and constraints, the hard work of our students shows their curiosity, initiative, genuine motivation, and engagement in the academic enquiry and contribution to science," Agrawal said. "Indeed, the hard work and vision as represented in the abstracts and the reports reflect the advancement in our quality and standard of health science research, which is critical to the overall mission of WesternU."
Thirty-three students were selected to present from a much larger number of abstract submissions. They presented their research via Zoom on Nov. 6, 2021. The symposium also featured remarks from WesternU Interim President Sylvia Manning, PhD, Dr. Agrawal, and College of Osteopathic Medicine of the Pacific (COMP) Professor Hendrik Szurmant, PhD, who serves as the WesternU Research Committee Chair.
The Office of Research and Biotechnology provides awards to the top presentations and research projects each year. This year, Senior Vice President and Chief Operating Officer Clive Houston-Brown, EdD, Senior Vice President and Founding Chief of Mission Integration Stephanie Bowlin, EdD, PA, and Senior Vice President for Student Affairs Beverly Guidry, EdD, provided matching contributions for 10 abstract and six presentation awards (see full list of award recipients below).
College of Optometry student Audrey W. Tam received a $100 abstract award for her research on "Impact of Yoga Exercise on Quality of Life and Balance Confidence in People with Visual Impairment."
"I was surprised and happy to receive this abstract award on behalf of my team. It was really a team effort and there were many brains and effort put together to make it possible," Tam said. "We hope to increase public awareness about the impact of yoga exercises in visually-impaired people through our research."
Tam is a research assistant with CO Associate Professor Kierstyn Napier-Dovorany, OD, FAAO.
"Dr. Napier has been a wonderful faculty mentor. She was always supportive and provided step-by-step guidance throughout this research project with encouragement," Tam said. "I've learned a lot from her, and I am very grateful."
This was her first research experience, and she learned a lot, Tam said.
"Research is invaluable for finding answers to difficult medical problems, filling gaps in knowledge and guiding the way that health professionals work. Also, doing research can increase public awareness of scientific findings and publications," Tam said. "From thinking of a research topic, reviewing literature of relevant topics, setting research questions, recruiting research subjects, and conducting research, it was an intellectually stimulating experience. I believe this experience laid a solid foundation for me to conduct research in my future career."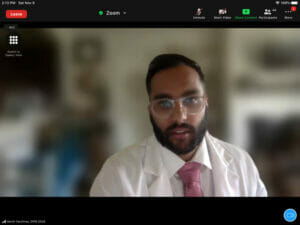 Getting involved in podiatric research has been a goal since starting medical school, said College of Podiatric Medicine student Harsh Varshney, who conducted research and presented at STRS with CPM classmate Douglas Weng.
"It's a great way to learn more about the profession as well as contribute to the advancement of the field," Varshney said "We really enjoyed presenting at STRS. It was our first symposium as medical students and a great learning experience. Our research focused on Podiatric Physician's Perspective on the use of medicinal Cannabinoid Products in Practice. It is a topic that we felt needed further examination and could provide potential insight into future practices. It allowed us to expand on the current literature present on this topic as well as learn about how this topic can be addressed further."
Speaker Awards (1st $500, 2nd $300, 3rd $150)
Prize
Name
College
Advisor
1st
Cory Kim
COMP-NW
Brian Johnstone
2nd
Ilish Gedestad, Meghana Munnangi & Abigail Matlack
COMP
Anita Nelson
2nd
Jessica Cornell
GCBS
Miou Zhou
3rd
Abrielle Goodwein
CVM
Curtis Eng
3rd
Hanh Do
COMP
Finosh Thankam
3rd
Keiko Inouye
COMP
Pinakin Davey
Abstract Awards ($100 each)
Prize
Name
College
Advisor
1st
Abrielle Goodwein
CVM
Curtis Eng
1st
Airam Caldera & Anish Sharma
CPM
Rebecca Moellmer
1st
Alice Kesler
COMP
Devendra Agrawal
1st
Audrey Tam
COO
Kierstyn Napier-Dovorany
1st
Cory Kim
COMP-NW
Brian Johnstone
1st
Hanh Do
COMP
Finosh Thankam
1st
Jessica Cornell
GCBS
Miou Zhou
1st
Nicholas Scrivens
COMP-NW
Jerel Fields
1st
Pearl Audon
COMP
Dylan Bach
1st
Ryan Burd
COMP-NW
Michelle Steinauer