WesternU celebrates past, present and future at Commencement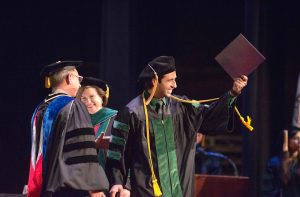 Click here to visit WesternU's Commencement website.
Western University of Health Sciences honored its past while celebrating its graduates' bright future at its 35th annual Commencement ceremonies in Pasadena, California.
WesternU held five Commencement ceremonies for its nine colleges May 18-20, 2016, conferring diplomas to nearly 1,000 graduates.
The Commencement ceremony for the Graduate College of Biomedical Sciences and the College of Osteopathic Medicine of the Pacific (COMP) on May 20 included one official – and one unofficial – changing of the guard. COMP Marshal Jeffrey Felton, PhD, was recognized for his service as he passed the ceremonial marshal duties on to Gerald Thrush, PhD. Meanwhile, in the front row of the audience, President Designate Daniel R. Wilson, MD, PhD, and his wife, Sandy, were introduced as they sat with President Emeritus Philip Pumerantz, PhD, and his wife, Harriet. Wilson officially assumes the presidency of WesternU on July 1.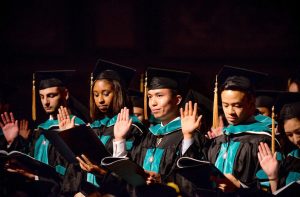 "As a result of the Pumerantzes, a strong foundation has been laid for dreams and visionary innovation at WesternU," said Interim President Gary M. Gugelchuk, PhD. "And we are eager that Dr. and Mrs. Wilson join the WesternU family and begin sharing their own dreams and plans as our university moves forward."
Gugelchuk, PhD, who presided over the Commencement ceremonies, received the inaugural Philip and Harriet Pumerantz Lifetime Achievement Award for Leadership and Service. In presenting the award, COMP Dean Paula Crone, DO, noted that over the course of a 30-year career at WesternU, Gugelchuk has served in a variety of roles with increasing responsibility, including Dean of the College of Allied Health Professions, Senior Vice President of Executive Affairs, and Provost and Chief Operating Officer.
Throughout, "he has fostered a deep well of loyalty and respect throughout our institution by virtue of his own commitment, tenacity and passion," Crone said. "If our institutional capacity for looking ahead and planning well are the result of standing on the shoulders of giants, then I submit to you that one of those giants is the man getting this award."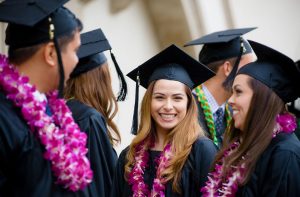 WesternU also honored College of Graduate Nursing Founding Dean Karen Hanford, EdD, MSN, FNP, who retired as dean earlier this year. CGN Interim Dean Mary Lopez, PhD, MSN, presented Hanford with a plaque.
"Dr. Hanford and her team established the College of Graduate Nursing 19 years ago," Lopez said. "As dean, Dr. Hanford has been the cornerstone of CGN, a graceful and powerful leader of professional nursing. Dr. Hanford, we commend you for your years of leadership to WesternU and the College of Graduate Nursing."
The five keynote speakers told WesternU graduates that they should be proud of their accomplishments, and that they are poised to make a true impact on the world.
"Class of 2016, we need you," said Wm. Jahmal Miller, MHA, deputy director of the California Department of Health's Office of Health Equity. "We truly need you in this struggle and journey to achieve health and mental health equity. The future of our state and our nation depends on dedicated health professionals like the graduating class of 2016, working with singular focus to ensure that everyone has access to the resources that enable them to lead healthy lives. When I look at you, I see key change agents in advancing our state and our nation's efforts to achieve health equity, and from what I see our future is bright."
Graduates said their time at WesternU was challenging, but prepared them for their careers.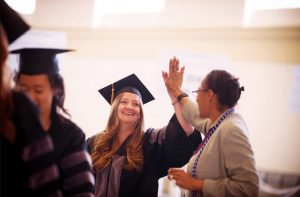 "My time here was great," said College of Graduate Nursing graduate Stephanie Umali, DNP '16. "There was a lot of laughter and I shed some tears, but it has been a great journey."
"My original PBL (Problem-Based Learning) group, the very first block my first year, just got together on Tuesday and did a final PBL session," said College of Veterinary Medicine graduate Sierra Adams Friedman, DVM '16. "It was very nostalgic. The PBL program really forces you to interact with people you might not have fallen into a group with if left to your own devices. It offers a sense of family. You're really working together toward a common goal. It brings you together in a very unique way."
The ceremonies provided family members with the opportunity to share the stage with their graduate and help place their academic hood over their shoulders. Bahram and Zohreh Abolmoluki, the parents of College of Dental Medicine graduate Ladan Lillian Abolmoluki, DMD '16, were excited about the hooding ceremony and joked that they worried about passing out onstage.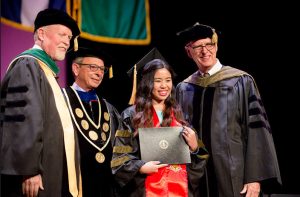 "It's every parent's dream to see their kids achieve what they like in life," Zohreh said. "My daughter really wanted to be a dentist. She loves to be with people. She likes to see people smiling. She cares for them."
Ann Pilato, mother of College of Optometry graduate JoAnn Henwood, OD '16, said her daughter is the first doctor in the family.
"I'm very proud," Pilato said. "She has worked very hard. It seems like a long road, but we're finally there."