WesternU celebrates opening of East Valley Spay/Neuter Center in Van Nuys
October 26, 2017
Read 3 mins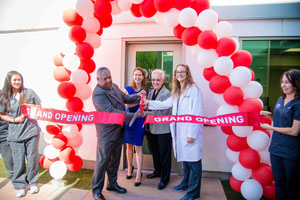 Western University of Health Sciences held a grand opening for its East Valley Spay/Neuter Center in Van Nuys Oct. 26, 2017, celebrating a partnership that will provide veterinary student training and protect public health.
Opening the WesternU East Valley Spay/Neuter Center was a seven-year process involving a partnership with WesternU, the City of Los Angeles Department of Animal Services and Michelson Found Animals Foundation.
"We're glad that we are able to do this because we had several goals we were trying to achieve," said College of Veterinary Medicine (CVM) Dean Phillip Nelson, DVM, PhD. "As part of the college's mantra, we want to contribute to the preservation and protection of the public health. The world of homeless animals is a potential breach in society's defenses against emerging zoonotic diseases. Our role as veterinarians fills that breech, and anything we do to reduce homelessness helps the public health."
The clinic will also help CVM reduce the number of homeless animals and ensure a vibrant, sustainable environment.
"Our last goal was to provide meaningful opportunities for our students so that they can safely and effectively acquire the skills needed to become competent veterinarians," Nelson said. "Our partnership with the city and county of Los Angeles and Found Animals Foundation is totally consistent with that goal, and we appreciate the opportunity to work with them."
Jeffrey Ebenstein, director of policy and legislation for Los Angeles City Councilman Paul Koretz, presented a proclamation celebrating the grand opening.
"Thank you for what you have done here today. We are going to save lives," Ebenstein said. "We are getting accolades from across the country. People ask us how are we able to achieve the goals we have been able to achieve, and we say it's because of our partners. Los Angeles is a model for the entire country because of partnerships like this."
Aimee Gilbreath, executive director of Michelson Found Animals Foundation, said providing funding support for this project is an honor.
"I'm thrilled to see how much good it's going to do in our community," she said. "It's so much easier to do things when we have multiple people bringing their talents to the table. We love the opportunity to partner and we are so very fortunate to have WesternU in our backyard."
The clinic already has seven surgeries scheduled for Oct. 27, the first day it will be open to the public, said Clinic Director and CVM Assistant Professor Zarah Hedge, DVM, MPH, Dipl. ACVPM. WesternU CVM students will begin rotations through the clinic in January 2018.
CVM's involvement in the partnership fulfills all three of its founding principles: lifelong student-centered learning, reverence for life and excellence in clinical training through strategic partnerships, Nelson said.
"We're looking forward to working with the city and working with the Found Animal Foundation," he said. "We're looking forward to showing our students what it means to truly be in service to the community."
The WesternU East Valley Spay/Neuter Center is adjacent to the East Valley Animal Shelter at 14409 Vanowen Street, Van Nuys, California 91405. The clinic provides spay and neuter services to the shelter and to local communities, along with preventive care. The clinic is open from 8 a.m. to 5 p.m. Tuesday through Saturday. Call 818-510-0197 to make an appointment.
Categories: