Western University of Health Sciences joined others around the world in celebrating One Health Day, which raises awareness about the One Health approach to complex health problems involving people, animals and the environment.
WesternU's event, held Nov. 2, 2018, was organized by College of Veterinary Medicine Associate Professor Suzana Tkalcic, DVM, PhD, with support from WesternU Vice President for Research and Biotechnology Steven Henriksen, PhD.
Several WesternU faculty that work in One Health on local and international levels, complemented by researchers looking into animal models and antibiotic resistance, presented their topics to WesternU students, faculty and staff in Pomona, California and Lebanon, Oregon. Several student clubs joined in by presenting their posters and club activities related to One Health outside the lecture hall. The event was recorded as a future Interprofessional Education student learning opportunity.
"We hope that this initiative will open the door for an annual event that WesternU's One Health initiative will organize in order to promote our University in a broader aspect of the world's health," Tkalcic said. "With several WesternU faculty already heavily involved in global health, various international health issues, and with Dr. Tracey McNamara chairing a panel at the World Health Summit in Berlin, there is a great momentum in the One Health arena that is putting WesternU on the map already. We are also a perfect place, with nine health science colleges, to bring forward and to broadcast One Health awareness to our students and faculty."
The official observance of One Health Day was Nov. 3. The goal of One Health Day is to build the cultural will necessary for a sea change in how planetary health challenges are assessed and addressed, according to the One Health Commission website.
The speaker panel included:
Dr. Helen Engelke, "One Health: A Brief Primer to Get Us Started."
Dr. Tracey McNamara, "One Health- Fact or Fiction?"
Dr. Pedro Diniz, "Ticks Don't Discriminate."
Dr. Donna Shettko, "Rwanda: Mountain Gorillas in the Land of a Thousand Hills."
Dr. Tonatiuh Melgarejo, "Super Bugs, Failing Drugs:  One Health in Flux."
Dr. Irina Vukmanovic Nosrat, "Innate overexpression of BDNF prevents taste dysfunction following chemotherapy."
Dr. Malika Kachani, "Applying One Health: A One Health rotation and a One Health Intervention project in Kenya."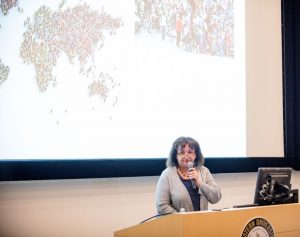 Engelke opened the panel by showing photos of trash littering the land and water in Southeast Asia. She showed photos of the Ebola outbreak in West Africa in 2014 and the 2017 outbreak of monkey pox in Nigeria. The world population is expected to grow to 9 billion or possibly 9.5 billion by 2050, she said.
"All three slides really speak to where veterinarians can get engaged, how we are part of the solutions to some of the stark problems that our species and other species on the planet will face and have been facing," Engelke said.
Of the newly emerging diseases in humans, 75 percent are associated with animals, Engelke said. In our sense of how humans get diseases, we have to appreciate the outbreak in humans will occur secondary to the outbreak in animals, she said.
"If the veterinary community is welcomed by the medical community and if effective communication links have been created, veterinarians can indicate to the medical community that something is going on in animals, and they can do so in advance of the human cases," Engelke said.
The same argument can apply in shifting the surveillance even further to the left, looking not just at animals but environmental drivers, whether it's something weather-related that might increase risk of disease in animals, or something vector borne.
"If we are using our environmental health experts and again creating conduits through which they can communicate with the veterinary and medical communities, we can once more circumvent not only human cases but animal cases, and ultimately decrease suffering," Engelke said.