WesternU celebrates One Health Day with interprofessional panel
November 12, 2021
Read 4 mins
Western University of Health Sciences (WesternU) celebrated One Health Day with its 4th annual One Health Day Panel on Wednesday, Nov. 3, 2021. WesternU students also held week-long activities to encourage their colleagues to embrace One Health.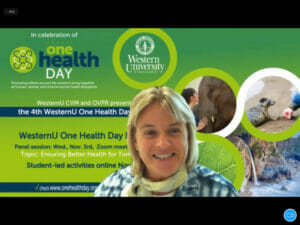 The panel featured an interprofessional array of speakers, emphasizing the importance of collaboration. WesternU College of Veterinary Medicine Professor Suzana Tkalcic, DVM, PhD, organized and hosted the event.
"As we are progressing in the world of COVID-19, it seems like that concept and initiative is getting more and more prominent," Tkalcic said. "I hope from now on you can enjoy and embrace One Health Initiative in your daily work and your daily duties. Students, I hope you are going to have a message and idea how to find yourself in your future practice and profession and incorporate the One Health approach into your practice."
CVM Assistant Professor Helen Engelke, BVSc, MPVM, MRCVS, provided the One Health Commission's definition of One Health: "One Health is a collaborative, multi-sectoral and trans-disciplinary approach, working locally, regionally, nationally and globally to achieve optimal health and well-being of all animals, people, plants and their shared environment, recognizing their inextricable interconnections."
There are many joint efforts that we need to work together on, such as developing curriculum that really focus on the interplay of all these different health professionals and encouraging students to read journals outside their disciplines, Engelke said.
"Think about joint efforts in the development and evaluation of new diagnostic methods, medicines and vaccines," she said. "We need to do much more work in cross species disease surveillance. We need to do a better job of training our graduates in informing and educating decision makers, and doing so persuasively."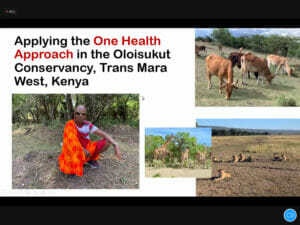 CVM Professor Malika Kachani, PhD, DVM, CVM alumna Christina Trabanco, DVM '19, and CVM student Deanna Overton presented "Applying the One Health Approach in the Oloisukut Conservancy, Trans Mara, Kenya." WesternU students traveled to Kenya for a global One Health clinical rotation.
"We were investigating about diseases of people, of animals, and of wildlife. We were also asking them about their basic needs – access to water, health care, education, and others. And we took samples from cattle, sheep, dogs, goats, and also people and also the environment," Kachani said. "As an incentive, we vaccinated and dewormed all their dogs – 880 dogs for free. And so our One Health interventions are going to be disease control and prevention measures such as vaccines, dewormers, health education, and help them also to address their basic needs."
CVM student Danielle Merichko, MPH, helped organize the student-led One Health events as part of the SAVMA (Student American Veterinary Medical Association) Public Health and DART committees. The group led students through an interactive case adapted from the CDC and held a trivia night and raffles to encourage participation.
"One Health is one of the main reasons I decided to attend veterinary school. Coming from New Jersey, I must pay especially close attention to the environmental component of One Health, particularly climate change. New Jersey is experiencing changes in frequency and strength of storms, which in turn alters disease dynamics," Merichko said. "Similarly, the understanding of disease dynamics is also important for the WesternU community to understand. Understanding of One Health is a powerful tool for preventative medicine."
Additional panel speakers:
WiRED International Founder and Executive Director Gary Selnow, PhD.
COMP Director of Academic Innovation and Telehealth Gregory Pecchia, DO, FACOFP, "Telemedicine for the Underserved."
CVM Associate Professor Pedro Diniz, DVM, PhD, "One Health – One DNA… a clinician's perspective on next-generation sequencing impact and potential."
College of Pharmacy Assistant Professor Wonhee So, PharmD, BCPS, BCIDP, "Ivermectin Myth in COVID-19."
COMP-Northwest Assistant Professor Charles Ross, DO, "A physician's journey to help patients make healthier lifestyle choices."
CVM Professor Tracey McNamara, CVM, DACVP, "COVID-19 – A Seismic Shift in Making One Health a Reality."
CVM Assistant Professor Annika Linde, DVM, PhD, MPH, "A True One Medicine Perspective."
COMP Director of Medical Simulation Anne E. Swanson, DMin, LMFT, "Mental Health – Trauma and Resilience. Connection and Unity."
WesternU Senior Vice President and Provost David Baron, DO, MSEd, "COVID 19 related stress in the academic environments."
Bernadette Dunham, DVM, PhD, from the Milken Institute School of Public Health, The George Washington University, "COVID-19 – Citizen Science and One Health."